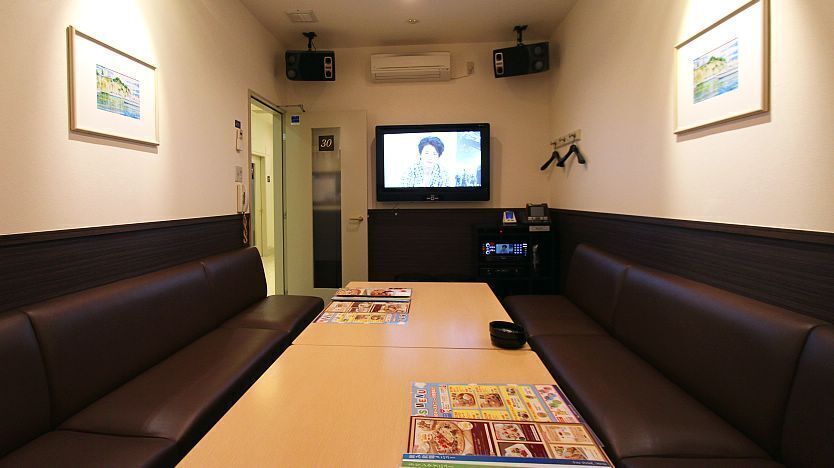 Karaoke (カラオケ) is the singing of songs to music accompaniment synchronized with lyrics displayed on-screen. It originated in Japan and is now popular around the world, especially in Asia. Karaoke is a well-liked pastime enjoyed by people of all ages in Japan and also makes an interesting activity for tourists to Japan, especially those looking for some night entertainment. Karaoke establishments usually open from around 11:00am to 3:00am the following morning, with longer operation hours on Friday and Saturday evenings.
Modern karaoke establishments consist of multiple private rooms (karaoke boxes) that are each equipped with a karaoke player and microphones. Besides countless Japanese songs, a reasonable selection of English songs is usually available. Songs in Chinese, Korean and other languages may be available to a lesser degree. One can also order food and drinks in most karaoke boxes via phones that connect them directly to the reception.
Old-fashioned karaoke bars, where patrons sing in front of everyone instead of in a private environment, can also be found in entertainment districts. They tend to be small drinking places catering to a male clientele.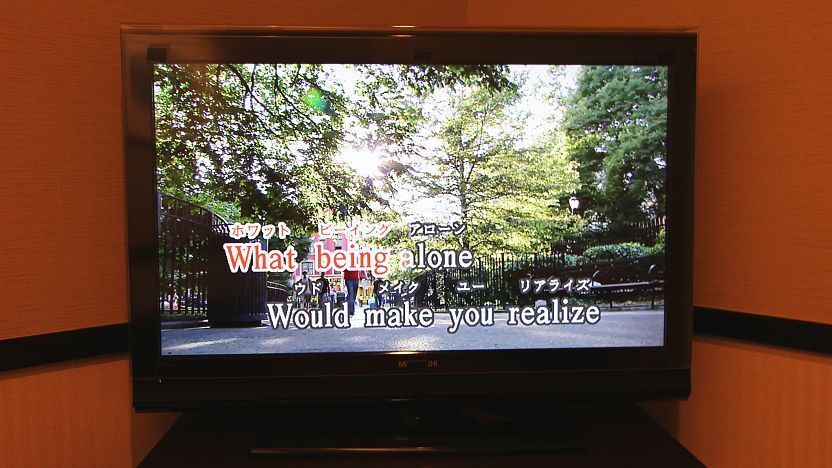 Where to do karaoke
Across the country, karaoke establishments can be found in numbers, particularly in big cities. They are often located close to train stations. There are mom-and-pop karaoke centers, but the easiest way to enjoy karaoke is to go to an outlet from one of the more prominent karaoke chains, such as Big Echo, Cote D'Azur or Karaokekan. These chain outlets usually offer a more up-to-date selection of songs than individual shops.
Going to a karaoke center
Although practices vary at different karaoke establishments, the general procedure for a karaoke session at a karaoke chain outlet is as follows:
Head to the reception counter, where the receptionist will inquire about the following points:

Is it your first time there? Many establishments require a registration for first-time customers. This involves filling out a simple form and showing a proof of identity, such as a passport.
The number of people in your group.
How long you expect to sing or the plan you would like to purchase.
A possible initial food or drink order.
What karaoke player type you would like to use. Some establishments offer more than one type as elaborated further in the following section.

A room will be assigned according to the size of your group, and a tab will be given to you indicating your session's starting and ending times.
Go to your room, pick your songs through the remote controls and sing with the provided microphones.
When your time is up, bring your tab to the counter for payment or inquire about an extension.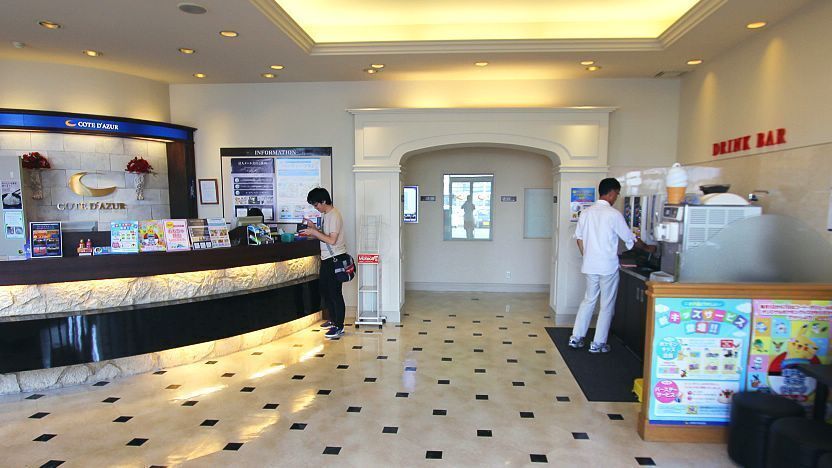 Picking songs with the karaoke player
Karaoke establishments often offer more than one karaoke player type, differing slightly in the selection of songs, interface and sound options. Songs available include both the latest hits and popular classics. While the most recent songs are available across the different karaoke systems, the back catalog of older songs can vary more strongly. The selection of Japanese songs is naturally more current than that for foreign languages.
Modern karaoke players are fully digitized and allow you to select songs either by keying in their number as recorded in the catalog or by searching and selecting them using a touch screen panel. Within seconds of making a selection, the song starts to play and a video clip with the lyrics appears on the screen. Additional selections will be added to the queue of songs to be played. Karaoke players also allow you to purge songs, adjust the volume of the music or the microphones and alter the pitch and tempo of the song.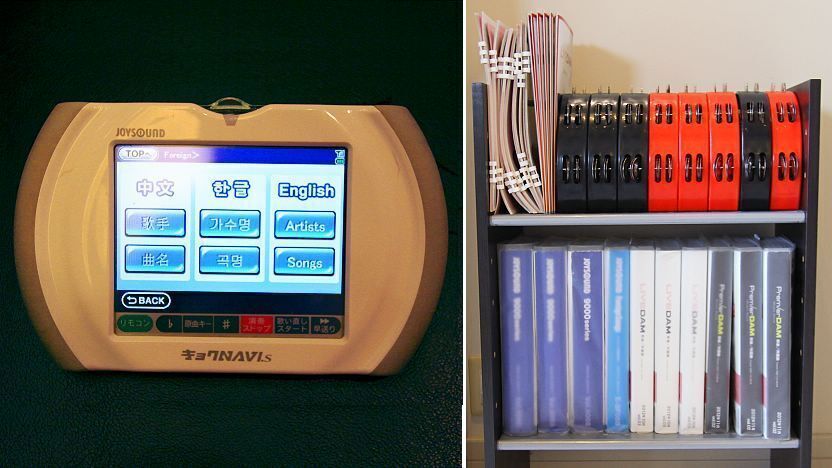 Typical charges and policies
Karaoke charges vary by establishment. They are typically levied on a per-person, half-hourly basis. Charges range from around 100 yen during off-peak periods to around 400 yen during peak periods. Generally, off-peak periods are on weekdays before around 19:00, while weekday evenings and entire weekends and national holidays are considered peak periods.
There is usually also an all-you-can-sing option at a fixed rate for the entire peak or off-peak periods. Charges for these packages range from around 500 yen per person during off-peak periods to around 2500 yen per person during peak periods.
Many karaoke establishments offer food and drinks at a separate cost and may prohibit customers to bring their own. A minimum requirement of one order per person is maintained by some. Drinks are sometimes available from "drink bars" with a free flow of selected non-alcoholic drinks, while all-you-can-drink plans for alcoholic beverages are also widely available.
Advance reservations are possible but not mandatory. Note, however, that there may be long waiting times in the evenings on Fridays, Saturdays and eves of national holidays. Requests for extensions to the pre-determined ending times are often possible, and charges would then be adjusted accordingly, but such requests depend on the room's availability.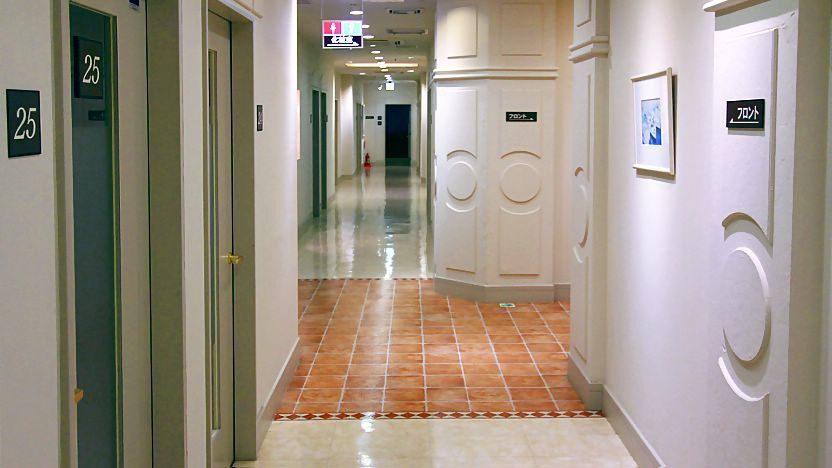 Questions? Ask in our forum.