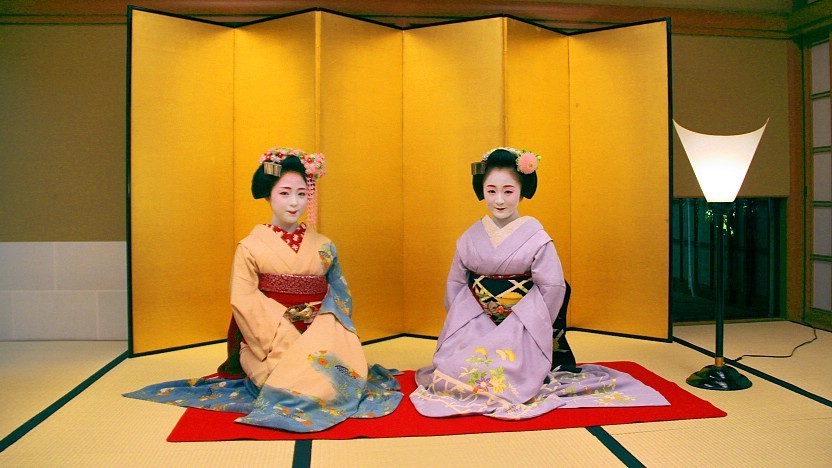 Geisha (or geiko) are professional entertainers who attend guests during meals, banquets and other occasions. They are trained in various traditional Japanese arts, such as dance and music, as well as in the art of communication. Their role is to make guests feel at ease with conversation, drinking games and dance performances.
Gion Geisha Show & Experience Maikoya
Distinguished teahouse in GION that holds geisha shows, geisha tea ceremony and geisha dinner show everyday. The venue also has genuine geisha artifacts and organizes Gion walking tours. Service hours: 10:30 ~ 19:00.
Where does the geisha culture survive?
Geisha can be found in several cities across Japan, including Tokyo and Kanazawa, but the former capital of Kyoto remains the best and most prestigious place to experience geisha, who are known there as geiko. Five major geiko districts (hanamachi) remain in Kyoto. Four of them, Gion Kobu, Gion Higashi, Miyagawacho and Pontocho, are located in or around the Gion district in central Kyoto, while the fifth, Kamishichiken, is located near Kitano Tenmangu Shrine.
Geiko and geiko aspirants live in special houses (okiya) in the geiko districts. In Kyoto, young girls move there typically at age 15 to be taught communication and hospitality skills and various traditional Japanese arts. After an introductory training and examination, the talented and determined will go on to become a maiko (geiko apprentice) and eventually a geiko a few years later.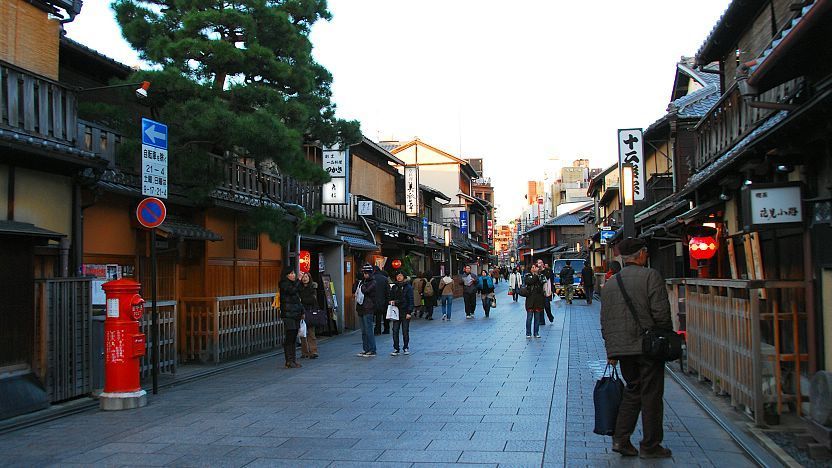 Where do geiko dinners take place and who can attend?
The typical location for a geiko dinner are ochaya (tea houses), another important element of geiko districts. The ochaya provides just the tatami room where the dinner takes place, while the food and the geiko themselves are ordered from the outside. Ochaya are highly exclusive places due to their traditional way of doing business and will grant entry to trusted customers only.
Unlike a regular restaurant, an ochaya does not bill its guests at the end of the evening. Rather it adds the entire evening's expenses, including the costs for the room, food, geiko and taxi rides, to a running tab, and charges the customer's bank account once per month. Since this system is obviously based on a trust relation, new customers are only accepted if an existing customer serves as their guarantor.
A former ochaya in Kanazawa's Higashi Chaya district, the Shima Ochaya, has been opened to the public as a museum, allowing tourists to see a traditional ochaya from the inside, including the tatami rooms and exhibits of utensils, accessories and music instruments.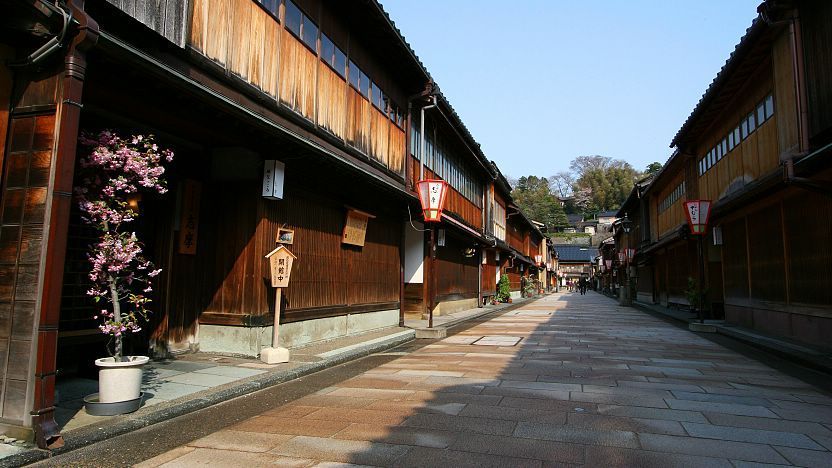 What happens at the ochaya?
Participants at a geiko dinner eat and drink while being entertained by the maiko and geiko. The task of the maiko and geiko is to engage in witty conversation with their guests, while keeping everybody's glasses filled. Another element of a geiko dinner are a whole range of games in which the loser usually has to drink up another glass of beer.
The cultural highlight of the evening is the geiko's performance of a seasonal dance, accompanied by traditional music, typically played on the shamisen by another geiko. The total number of geiko and maiko present depends on the party's size and the customer's budget.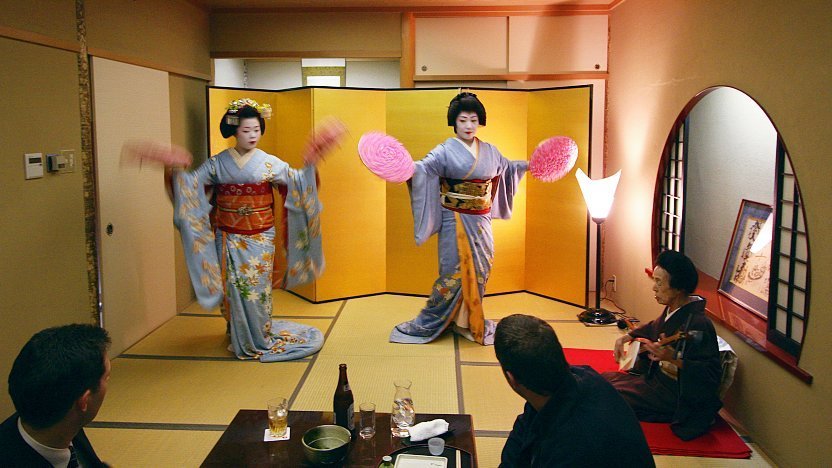 How can regular tourists participate in a geiko dinner?
Geiko dinners have always been exclusive and expensive, high class events. But like other businesses, the ochaya have been suffering from the economic downturn in recent decades. As a result, they have become less restrictive, and it is now possible for almost any tourist with a sufficient budget to have a dinner with a geiko thanks to travel agencies and hotels serving as the go-between. There are even a few companies which target foreign tourists without Japanese language skills, such as Voyagin.
If you book through a travel agency, the typical cost for a full-fletched geiko dinner is around 50,000 yen per maiko or geiko plus the cost for the meal which is typically between 10,000 and 30,000 yen per person. Since English conversation is not among the skills learned by geiko (they are supposed to communicate in Kyoto dialect), some services can arrange an interpreter at an additional cost.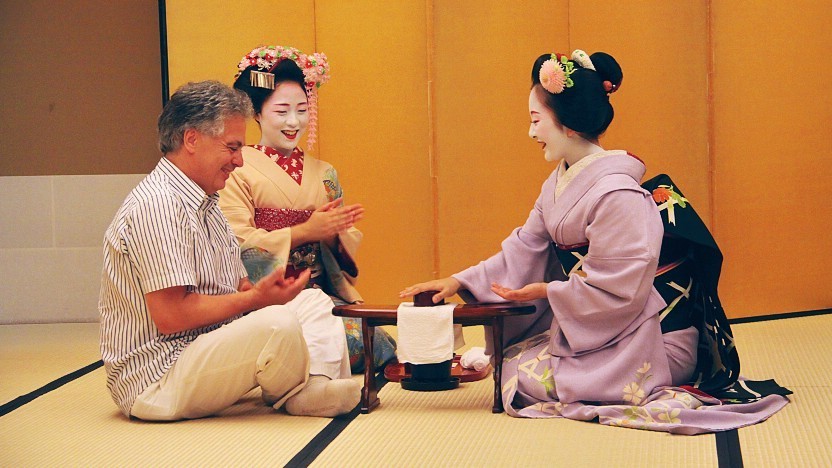 What are other ways to experience the geiko culture?
There are also various other ways for people with a smaller budget to experience the geiko culture. The easiest is to watch a daily performance at the Gion Corner, a theater which targets foreign tourists with performances of a wide variety of Japanese arts, including a maiko dance.
During the month of April, the Miyako Odori is an even better opportunity to watch dance performances by maiko and geiko. There are several one-hour performances held every day on the stage of the Gion Kobu Kaburenjo theater in Gion.
A popular service in Kyoto these days is to get dressed up as a maiko or geiko. There are maiko studios all over the city, resulting in quite a few "fake maiko" on the streets of Kyoto around popular sightseeing spots during daytime. Some studios also target foreign tourists, and a typical experience costs around 10,000 yen per person including photos in the studio or outdoors.
Last but not least, with a bit of luck it is possible to spot a real maiko or geiko in the streets of Kyoto, especially in the evenings around Gion or Pontocho. However, if you spot a geiko, act respectfully. Complaints about tourists behaving like ruthless paparazzi have been on the increase in recent years.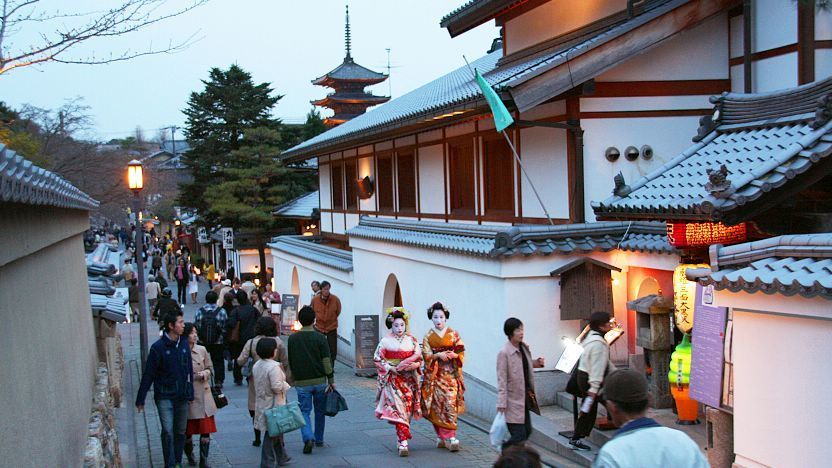 Questions? Ask in our forum.
Tours and Travel Services