For many centuries, the people of Japan have been designating the best and most beautiful places and events in their country from Japan's top three gardens and festivals featuring floats to Kyoto's top five Zen temples, Kamakura's top ten wells and countless other rankings.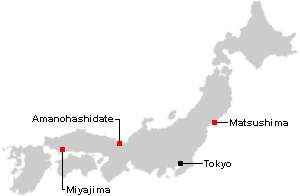 Most famous among the many designations are probably Japan's three most scenic places (日本三景, nihon sankei). Selected several centuries ago, they consist of the following places:
While the urban and touristic development of more recent decades may not have enhanced the scenic beauty of Matsushima, Miyajima and Amanohashidate, the three spots remain outstanding sights today. Miyajima, in particular, stands high on our list of Japan's best attractions, while the less easily accessible Amanohashidate and Matsushima are certainly worth detours if you are in the area.
Questions? Ask in our forum.