Shinshoji Temple
Unique Zen temple with large temple grounds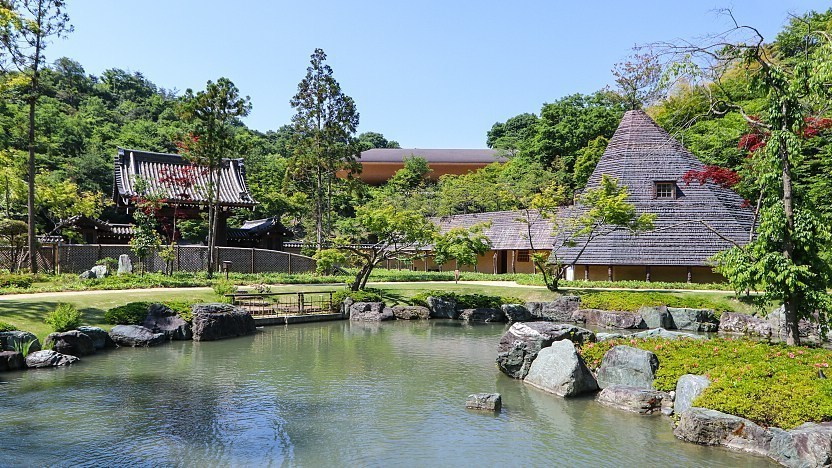 Shinshoji Temple (神勝寺, Shinshōji) is a Buddhist temple of the Rinzai Zen school about 15 kilometers southwest of central Fukuyama. Constructed in 1965 by a local industrialist, the temple is built on sprawling, forested grounds with a hill at the back and a pond in front. There is a network of walking trails, and the temple buildings are spread across the grounds.
The facilities at Shinshoji Temple are intended to provide visitors a Zen experience through various mediums, including tea houses, meditation classes, a museum gallery dedicated to artwork by Zen master Hakuin, as well as a unique contemporary art installation.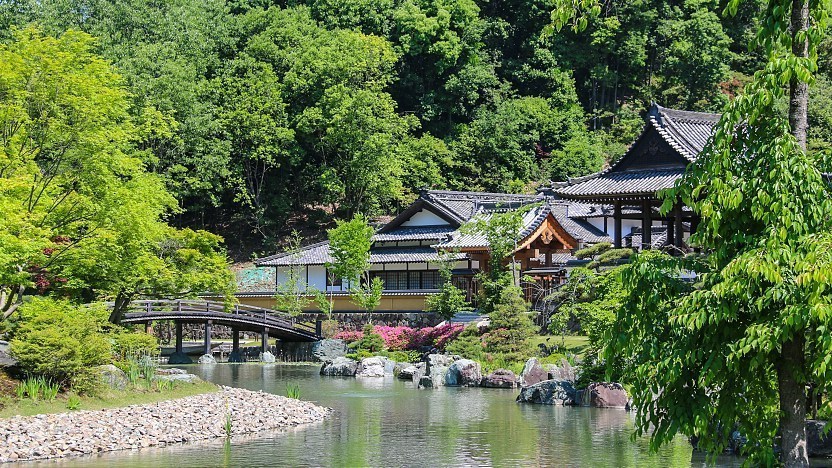 From the outside, Shinshoji Temple looks like a regular temple with its main front gate. However, the difference is evident once you step over the threshold. Visitors are greeted by the low sloping roof of the unique visitor center which houses the ticket counter as well as a temple and museum shop, and by a large pond. Nearby stand a 350 year old building brought over from another temple in Shiga Prefecture, which has been repurposed into a teahouse, and a bathhouse. Both teahouse and bathhouse are open to visitors for an additional fee.
The main hall is located at the far end of the temple grounds beyond the pond on a hill. From the entrance gate, it takes about 15-20 minutes to reach it by walking past the pond and then up a flight of stairs or via a more scenic nature trail through the woods. The main hall houses a small museum that showcases the works of Hakuin, a prominent Zen master. The scenic nature walk also passes two teahouses in the woods. Visitors can appreciate the designs of the teahouses as well as enjoy tea and sweets in an atmospheric setting.
Shinshoji Udon is the only item on the menu at the restaurant in Shinshoji Temple. The noodles are longer and fatter compared to regular udon noodles and are meant to be dipped into a broth and accompanied with simple side dishes. The restaurant stands near the far end of the pond.
Kohtei is the eye-catching, contemporary art installation on the hill across the road from the visitor center. It stands out from the rest of the temple buildings with its seemingly shimmering, traditional wooden shingles, arranged to resemble a floating ship. Inside is a light show over a small body of water which is meant to be experienced with your five senses. The performance is held every 30 minutes and lasts about 15 minutes. Note that the Kohtei performance is not suitable for those who are claustrophobic or have a fear of the dark.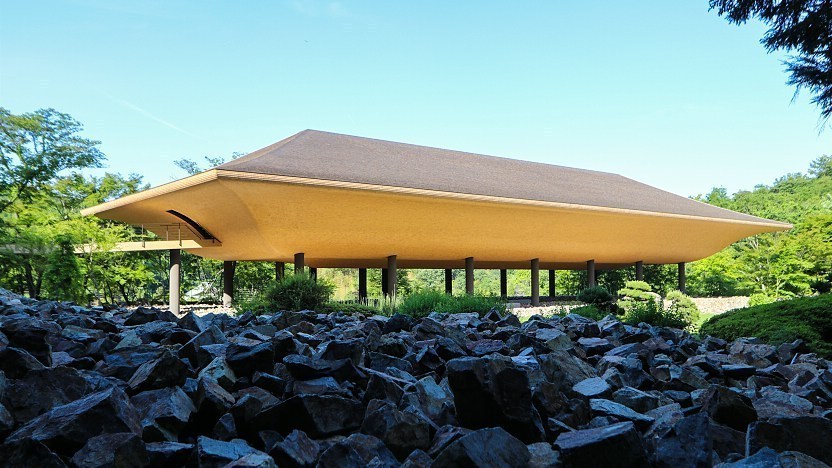 At an additional cost, visitors to Shinshoji Temple can participate in hands-on activities like sutra copying (1000 yen, no advance reservation required) or Zen meditation (600 yen, reservation and at least three participants required). Meditation sessions are held in the International Zen Training Monastery which is off-limits to regular visitors so as not to disturb those meditating.
Furthermore, the temple offers a one-day Zen experience (4600 yen per person, advance reservation required). The day begins with Zen meditation followed by an udon lunch. The second half of the day continues with sutra copying before ending with tea at one of the teahouses. A monk introduces the concepts and leads participants through the process. An English speaking monk is available on certain days, and it is best to inquire about his availability when making your reservation.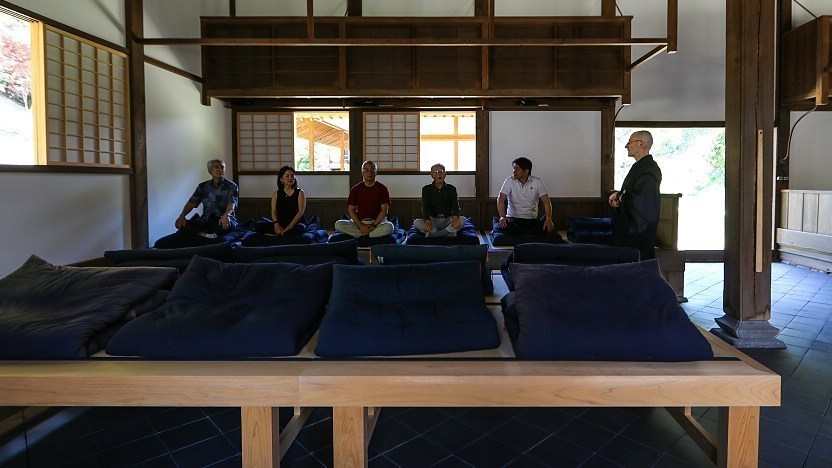 Shinshoji Temple is located on the rural, hilly peninsula south of central Fukuyama, about ten kilometers from Fukuyama Station.
From Central Fukuyama
By bus
Buses operate twice per hour from Fukuyama Station (South Exit) in direction of Miroku no Sato (みろくの里). Get off at the Tenjinyama bus stop (天神山, 25 minutes, 530 yen one way) from where the temple can be reached in a 20 minute walk. On weekends, a small number of buses serve the Shinshoji bus stop (30 minutes, 580 yen one way) next to the temple.
By car
It takes just under 30 minutes to drive from central Fukuyama to Shinshoji Temple. Rental car outlets can be found around Fukuyama Station. A taxi ride costs around 4000 yen one way.
From Tomonoura
By regular bus
There are infrequent buses between Tomonoura and Matsunaga Station (松永駅南口) that stop at the Shonan High School (Shonan Kōkō, 沼南高校), from where it is a 30 minute walk to Shinshoji Temple. The bus ride from Tomonoura to Shonan High School takes 30 minutes and costs 470 yen one way.
By car
It takes about 20 minutes to drive from Tomonoura to Shinshoji Temple.
How to get to and around Fukuyama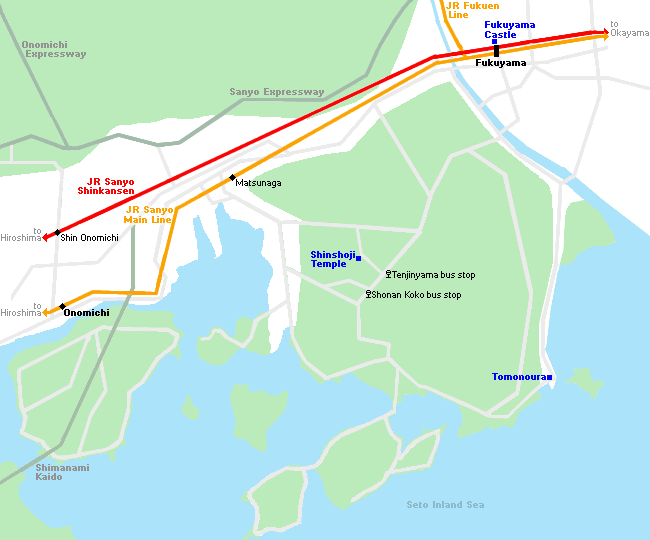 Hours
9:00 to 17:00 (entry until 16:30)
Typical Visit Duration
1-3 hours
Questions? Ask in our forum.