Huis Ten Bosch (ハウステンボス, Hausu Ten Bosu) is a theme park in Nagasaki Prefecture which recreates a Dutch town. It is named after one of the residences of the Dutch Royal Family. The spacious resort is suffused with a European atmosphere with its picturesque canals, iconic windmills, beautiful gardens and architecture.
Seasonal flowers further enhance the attractiveness of the scenery. Visitors can have a good time indulging in the view, enjoying the many attractions, savoring a meal at one of the many restaurants or relaxing in a leisure boat touring the canals. Various events also take place at different times of the year, for example, a tulip festival during spring and a fireworks competition in the summer.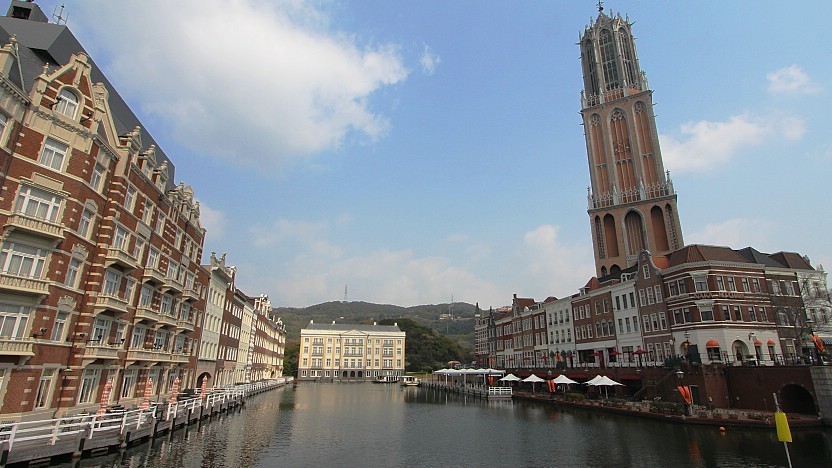 The resort is divided into two areas: the Theme Park Zone and the Harbor Zone. Both zones feature multiple free and paid attractions, although the majority of them are located in the Theme Park Zone. While access to the Theme Park Zone is restricted to park ticket holders, note that the outdoor areas of the Harbor Zone are also accessible to non-ticket holders except on days when there are fireworks.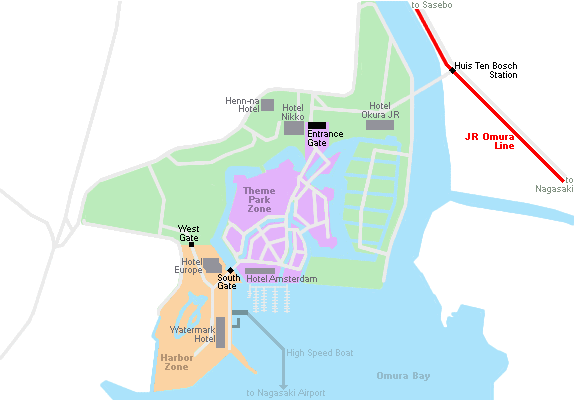 The Theme Park Zone houses various amusements in the buildings of its reproduced Dutch old town. Many of them are modern theaters featuring 3D technology and the like. There is also a haunted house, mirror maze, Ferris Wheel and a replica of the Domtoren (Dom Tower) of Utrecht with panoramic views from its observation deck. The Harbor Zone's main attractions are a theater and a replica of the Palace Huis Ten Bosch, which houses an art museum.
Several hotels with a European theme are located around the theme park, including the Hotel Europe with refined restaurants and occasional classical concerts and the Hotel Amsterdam which stands inside the Theme Park zone. Staying guests at the respective hotels are advised to check at the counter for discount tickets to the Theme Park Zone.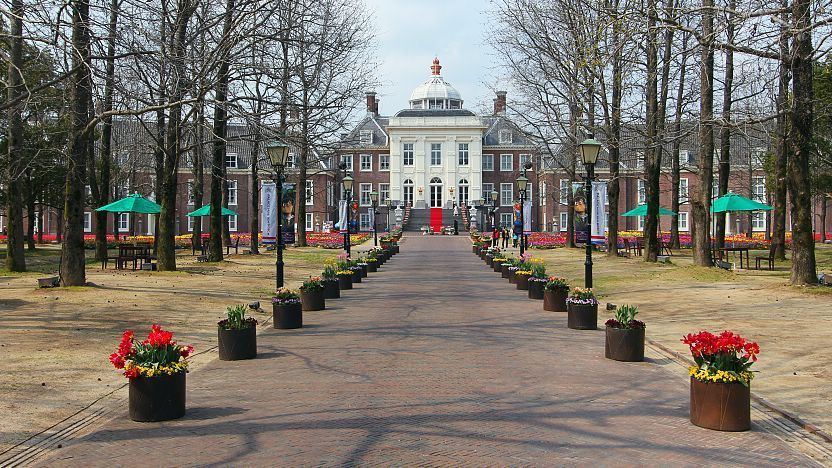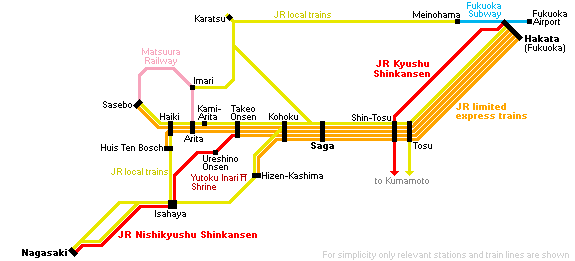 From Fukuoka
Huis Ten Bosch Station and Hakata Station are connected by hourly JR limited express trains (110 minutes, around 4000 yen one way, fully covered by the Japan Rail Pass and Kyushu Rail Pass). There are a few direct connections, while the others require a transfer to a local train at Haiki Station, which is six minutes from Huis Ten Bosch Station. How to get to Fukuoka.
From Nagasaki
Huis Ten Bosch Station and Nagasaki Station are connected by the JR Seaside Liner (75 minutes, 1500 yen one way, hourly trains, fully covered by the Japan Rail Pass and Kyushu Rail Pass). How to get to Nagasaki.
From Nagasaki Airport
The most convenient way to get to the resort from Nagasaki Airport is via the high speed boat service (50 minutes, 2000 yen).
Hours
Varying hours, typically from 9:00 to 22:00; see the
official website
for details. Admission ends one hour before closing time.
Admission
7000 yen (park admission and unlimited entry to most attractions)
Questions? Ask in our forum.