How to get to Nozawa Onsen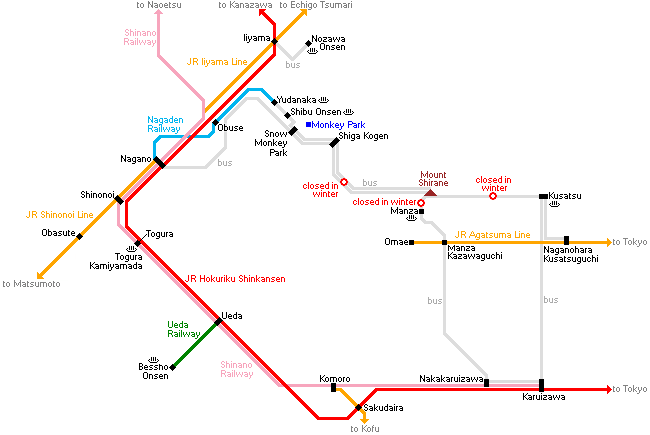 From Tokyo
Take the Hokuriku Shinkansen from Tokyo to Iiyama (100-120 minutes, around 8500 yen one way, 1 train/hour) and transfer to the Nozawa Onsen Liner bus (40 minutes, 600 yen one way, departures every 1-2 hours) for Nozawa. Unfortunately, bus departures are often not timed to shinkansen arrivals and vice versa. The Japan Rail Pass and JR East Nagano Niigata Area Pass cover the shinkansen ride, but not the bus ride.
From other major cities by highway bus
In winter, several companies operate ski tour buses to Nozawa Onsen. A variety of packages are available that may include lift tickets, gear rentals and/or accommodation in addition to transportation. Buses depart from Tokyo's Shinjuku and Ikebukuro bus terminals, as well as from Osaka and Nagoya to the Nozawa Onsen Chuo Bus Terminal at the center of town.
Above fees and schedules are subject to change. For the current yen exchange rate, click here.
Orientation
Nozawa Onsen town is located at the base of the Nozawa Onsen Ski Resort. The town is compact and the ski resort, hotels and hot spring baths are all within walking distance of the Nozawa Onsen bus terminal at the center of town.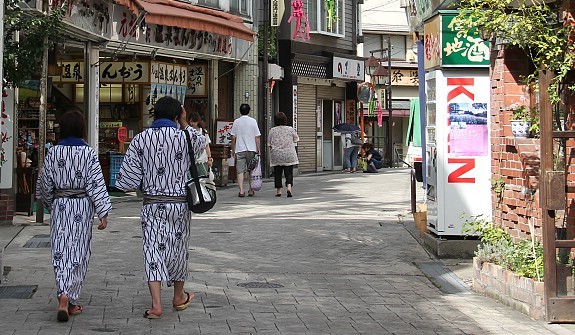 External Links and Resources