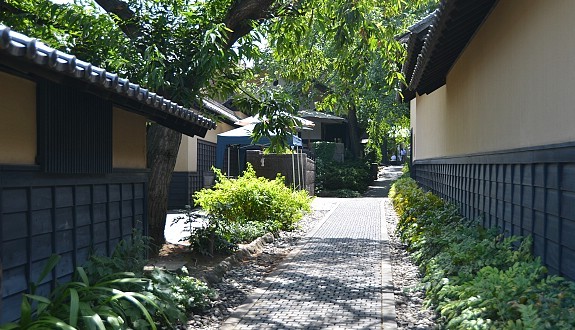 During the Edo Period (1603-1867), Obuse was a prosperous town rich in art and culture. Staying true to its heritage, the small town continues to offer visitors a variety of art museums, a sake brewery, shops and restaurants around the narrow lanes and attractive, traditional style buildings at its center. Obuse owes much of its acclaim to the famous painter, Hokusai, who spent several years here. A collection of his work can be seen at the Hokusai Museum at the center of town.
A short walk away down the narrow Chestnut Alley is the rear entrance of the Takai Kozan Memorial Museum. This was the former residence of Takai Kozan, the wealthy merchant who brought Hokusai to Obuse as his patron and student. The museum exhibits several of Kozan's paintings, many of which depict scenes of Japanese ghosts and goblins, as well as some of his calligraphy works. The building itself is notable for its hidden rooms and secret passages.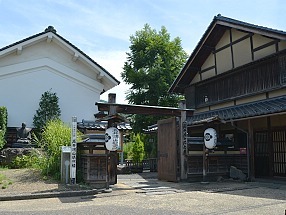 A short walk outside of the town center lies the Obuse Museum and Nakajima Chinami Gallery. The former is a contemporary art museum that displays temporary exhibitions, including those of local artists, along with the town's festival floats; while the latter is a gallery devoted to the work of local painter Nakajima Chinami, which includes several of his highly detailed murals of cherry trees. The museum and gallery are connected and entry to both is included in the price of admission.
Several other museums can be found around Obuse, as well as a host of traditional shops and trendy restaurants. The town also has a unique "My Garden" program where residents and restaurants open up their private gardens for visitors to explore. These gardens are scattered around the town and recognizable by the "My Garden" placard inviting guests inside.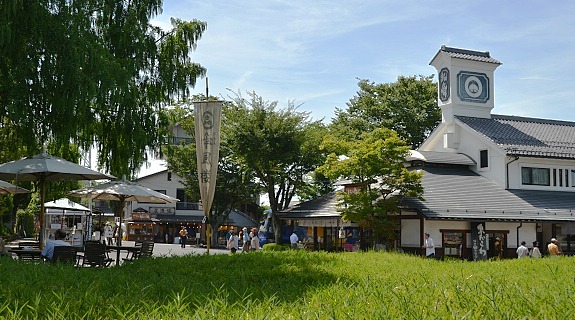 Further outside of the town center is the Floral Garden Obuse. This Western style flower park has walking paths which lead through a variety of flowers planted around ponds, lawns and a greenhouse. The floral garden additionally has a restaurant and gift shop where you can purchase different flowers and plants. Opposite the garden is a small market selling local produce.
Most famous among Obuse's local produce are its chestnuts. Reportedly cultivated in the area for over 600 years, chestnuts and chestnut related products, such as chestnut rice, chestnut jelly, chestnut cream and chestnut ice cream, are served and sold in shops and restaurants across town. Various fruits, such as apples and grapes, are also produced in Obuse.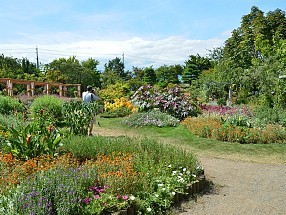 Takai Kozan Museum
Hours
9:00 to 17:00 (until 18:00 in July and August)
Closed
December 31 and between exhibitions
Admission
300 yen (museum only)
1300 yen (also including
Hokusai Museum
and Obuse Museum)
Obuse Museum/Nakajima Gallery
Hours
9:00 to 17:00 (until 18:00 in July and August)
Closed
December 31 and between exhibitions
Admission
500 yen (museum and gallery only)
1300 yen (also including
Hokusai Museum
and Takai Kozan Museum)
Floral Garden Obuse
Hours
9:00 to 17:00 (entry until 16:30)
Closed
Thursdays from January to March, New Year holidays
External Links and Resources