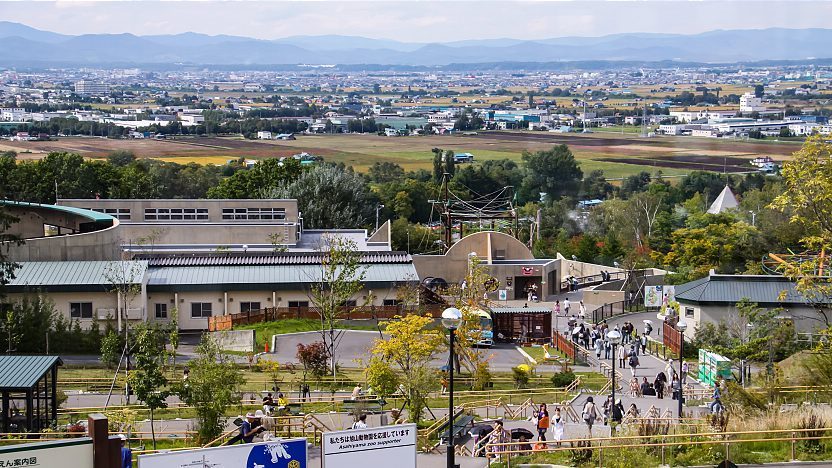 Asahiyama Zoo (ˆ®ŽR"®•¨‰€, Asahiyama Dōbutsuen) is a very popular zoological garden just outside of central Asahikawa City in the middle of Hokkaido. Its popularity lies in the enclosures which allow visitors to observe the animals from various angles, many of which are unique to Asahiyama Zoo.
Highlights include a glass tunnel through the penguin pool that allows visitors to observe the birds' underwater flights, and small glass domes in the middle of the polar bear and wolf enclosures that can get visitors right among the animals. The zoo was also one of the first to organize penguin walks in winter. Work on new enclosures and improvements to existing ones is constantly ongoing.
Animals on display include native wildlife from Hokkaido, including deer, eagles, cranes and (now extinct) wolves, as well as various animals from across the world, such as polar bears, apes, big cats and giraffes. If possible, try to visit the zoo outside of weekends and holidays to reduce the crowds.
Some unique enclosure at Asahiyama Zoo:
From Asahikawa Station
Take bus number 41, 42 or 47 from Asahikawa Station to Asahiyama Zoo. The one way ride takes 40 minutes and costs 450 yen. There are about two buses per hour.
By car, the zoo can be reached from central Asahikawa in about half an hour. The taxi fare is around 3000-4000 yen one way.
The closest train station to the zoo is Kitahinode Station, a 30-40 minute walk away.
From Asahikawa Airport
There are very infrequent direct buses between the airport and the zoo (35 minutes, 560 yen one way). During the rest of the day, take a bus from the airport to Asahikawa Station (35 minutes, 630 yen, departures timed with flight arrivals) and then take another bus from there to the zoo (see details above). By car, it takes about 25 minutes from the airport to the zoo. The taxi fare is around 3500-4500 yen one way.
From Furano
Take the JR Furano Line from Furano to Asahikawa (70 minutes, 1290 yen, one train per hour) and then a bus from Asahikawa Station to the zoo (see details above). By car, it takes about 70-90 minutes.
How to get to and around Asahikawa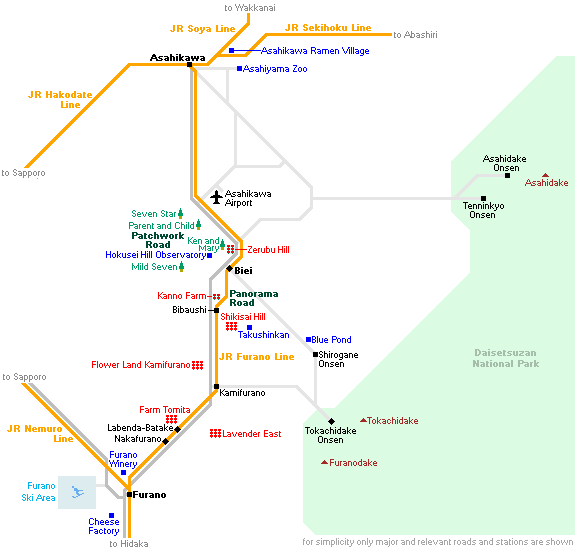 Hours
Late April to mid October: 9:30 to 17:15 (entry until 16:00)
Mid October to early November: 9:30 to 16:30 (entry until 16:00)
Mid November to early April: 10:30 to 15:30 (entry until 15:00)
Closed
April 8 to 28
November 4 to 10
December 30 to January 1
Questions? Ask in our forum.