Asahikawa: Access and Orientation
How to travel between Asahikawa and Tokyo
By air
JAL and Air Do (co-shared with ANA) operate multiple flights per day between Tokyo's Haneda Airport and Asahikawa Airport. The regular one way fare by JAL is around 45,000 yen, however, discount tickets are typically available for between 12,000 and 21,000 yen. The fares by Air Do are typically around 20 percent lower than those by JAL. Buses connect Asahikawa Airport with central Asahikawa (35 minutes, 630 yen, departures timed to flights).
By train
The journey from Tokyo to Asahikawa by trains involves transfers at Shin-Hakodate-Hokuto and Sapporo, takes about 10 hours, costs just over 30,000 yen one way and is fully covered by the Japan Rail Pass.
Above fees and schedules are subject to change. For the current yen exchange rate, click here.
Orientation
Asahikawa is located in the center of Hokkaido and well connected with the prefectural capital of Sapporo by train, bus and expressway. Urban public transportation is provided by a bus network, which also connects Asahikawa Station in the city center with Asahiyama Zoo in the city's eastern outskirts.
Asahikawa Airport is located 10 kilometers south of the city and provides flights to Tokyo (Haneda Airport), Osaka (Kansai and Itami Airports), Nagoya and Seoul. The airport is connected with the city center by bus (35 minutes, 630 yen).
Asahikawa can serve as a base for exploring Furano and Biei to the south and Daisetsuzan National Park to the southeast.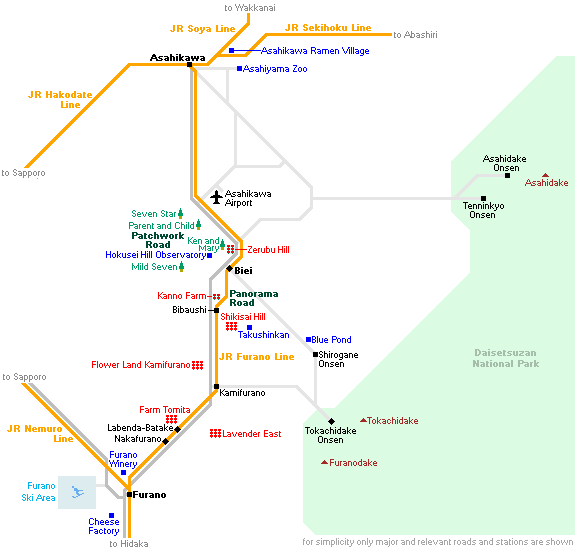 Questions? Ask in our forum.