Awarded with three Golden Globes (including best comedy/musical), and nominated for four Oscars (including best picture), "Lost in Translation", directed by Sofia Coppola and starring Bill Murray, has become one of the year's most critically acclaimed movies. It was shot entirely in Japan.
"Lost in Translation" tells the love story between Bob Harris (Bill Murray), an American actor in his mid life crisis, who travels to Japan for an appearance in a whiskey commercial, and Charlotte (Scarlett Johansson), an equally depressed, young American lady, who accompanies her husband on a business trip.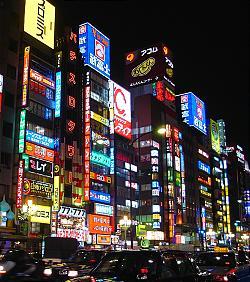 "Lost in Translation" was almost entirely shot in Tokyo's two loudest and most colorful districts, Shinjuku and Shibuya.
Shinjuku, a large business and entertainment district around Japan's busiest railway station, is the location of the Park Hyatt Tokyo, the hotel where Bob and Charlotte stay and meet each other.
Occupying the 14 top floors of a 52-storey skyscraper, the Park Hyatt Tokyo is one of the city's best and most expensive hotels. It can be reached in a 15 minute walk or 5 minute bus ride from Shinjuku Station.
Bob spends most of his nights in the New York Bar on the hotel's top floor. While the bar offers an amazing view of Tokyo, budget travelers note, that a bottle of domestic beer for 1,000 Yen is the most inexpensive item on the menu, and that a 2,000 Yen cover fee applies after 8pm (7pm on Sundays).
If you want to get to know more of the Park Hyatt Tokyo, consider the hotel's "Tokyo Escape Package", which includes a one night stay, access to the hotel's spa and training facilities (also featured in the movie) and a free cocktail in the New York Bar for 55,000 Yen (double occupancy). A five night version named "Lost in Translation Package" for 380,000 Yen is also available.
Several other scenes were also shot in the Shinjuku district, for example Charlotte's visit to a small temple in the beginning of the movie (she mistakenly calls the temple a shrine). Note however, that you won't encounter chanting monks there most of the time.
The neon lit building facades, shown repeatedly in the movie, are located around the entrance to Shinjuku's notorious entertainment district Kabukicho along Yasukuni Dori, just northeast of Shinjuku Station.
Many other scenes of the movie were shot in Shibuya, a youthful entertainment district three stations south of Shinjuku on the Yamanote Line. They include the pictures of the busy intersection in front of Shibuya Station's Hachiko Exit, which gets periodically stormed by huge crowds of pedestrians and is surrounded by large and noisy advertising screens.
Bob, Charlotte and their friends are enjoying karaoke at the Shibuya branch of Karaoke-kan (30-8 Utagawacho), less than five minutes from Shibuya Station by foot. Also found around Shibuya is the sushi restaurant Ichikan (9-5 Daikanyama), where Bob and Charlotte once dine.
A few other Tokyo landmarks shown in the movie include Tokyo Tower and the Rainbow Bridge to Odaiba.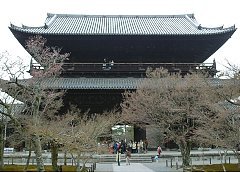 The only scenes shot outside of urban Tokyo show Bob playing golf in front of Mt. Fuji and Charlotte traveling to Kyoto. Riding the shinkansen (bullet train), Charlotte passes Mt. Fuji and the coastal hot spring resort of Atami (in the wrong geographical sequence). In Kyoto, she visits Heian Shrine and Nanzenji Temple, where she observes a newly wedded couple in traditional attire.
Finally, if you happen to be in the Tokyo region on a Wednesday evening around 11:15pm, turn your television to channel 10 (TV Asahi) to watch "Matthew's BestHitTV", the crazy television show, which features Bob's guest appearance in the movie. The TV show is as real as Suntory, one of Japan's leading producers of alcoholic and non-alcoholic beverages.
Questions? Ask in our forum.