Okuribito Filming Locations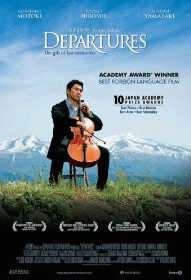 Okuribito is a Japanese movie about the profession of nokanshi (encoffineer), who prepare deceased bodies for funeral ceremonies. Known as "Departures" in English, the movie won the Oscar for Best Foreign Language Film in 2009.
Okuribito contains many scenes of rural Japan and natural beauty which probably made some viewers wonder where in Japan the movie had been filmed. The following article will answer this question.
The main location of outdoor scenes was the city of Sakata and surroundings in the Shonai Region of Yamagata Prefecture in northern Japan. Located along the Sea of Japan coast, the Shonai Region has no shinkansen connection and is hardly visited by foreign tourists, except for a few heading to the Dewa Sanzan mountains.
The unique building, which housed the encoffineer's company office, is the most prominent of several filming locations in the city center of Sakata. Several street scenes were taken there, as well. And the concert hall, where the orchestra plays in the beginning of the movie, stands directly next to Sakata's city hall.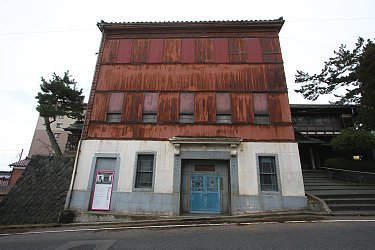 Probably the most memorable outdoor scenes were those of the wide fields with a river and a snow covered mountain in the background. The mountain is Mount Chokaizan (鳥海山, 2236 m) and the river is Gakko River (月光川). Most of the scenes were taken around the old Asahi Bridge just outside the town center of Yusa, ten kilometers north of Sakata.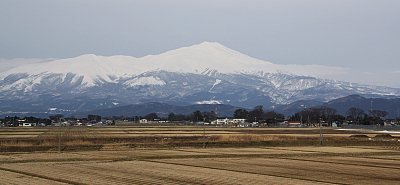 The bath house Tsurunoyu, also repeatedly featured in the movie, was an actual public bath house in Tsuruoka City, 25 kilometers south of Sakata. Like in the film, the bath was run by an elderly lady. Enjoying the sudden increase in interest in her bath house, the lady postponed her plans to close the place down; however, in the meantime the bath was closed and the building torn down.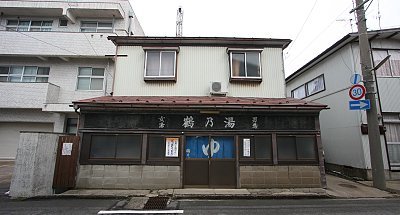 In between Tsuruoka and Sakata stands the home in which the movie's first scene takes place, and which also appears on the movie's Japanese poster. The house was designed by an architect, who also worked on imperial villas, and is now open to the public as cultural exchange facility.

Only a few of the outdoor scenes were filmed outside of the Shonai Region. Most prominently among them are the scenes of the outside of the main character's home. The interesting building stands a two hour car drive southeast of Sakata in Kaminoyama City, just south of the prefectural capital of Yamagata City.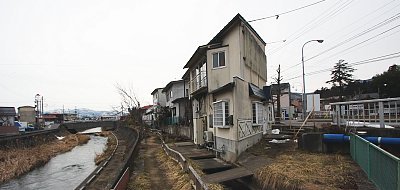 Questions? Ask in our forum.