Konotori no Sato Park
Sanctuary for the endangered Oriental Stork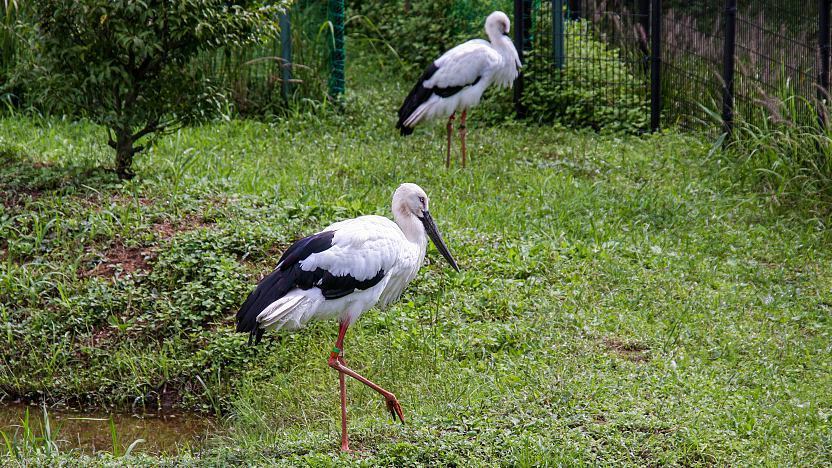 The Oriental Stork (konotori) became extinct in Japan due to modern farming practices, which led to a decrease of the storks' prey, such as frogs, fish and other wetland animals. The last bird died near Kinosaki in 1971.
Konotori no Sato Park (コウノトリの郷公園 , Kōnotori no Sato Kōen) was built to reintroduce the storks to Japan using birds from Russia. The storks themselves are now designated a special protected animal by the government and have become a symbol of the Tajima region around Kinosaki, where even the local airport is named after them (Konotori Tajima Airport).
Located 10 kilometers south of Kinosaki, the Konotori no Sato Park is part museum and part breeding habitat, where visitors can learn about the storks, the breeding program and conservation, as well as see the birds on the sanctuary grounds.
The aims of the program are being realized as local farmers are altering their farming practices to preserve the wetland habitat, and the storks are being successfully reintroduced into the wild. In May 2007, for the first time since 1964, a stork chick hatched in nature. Its parents were born at the sanctuary and released into the wild.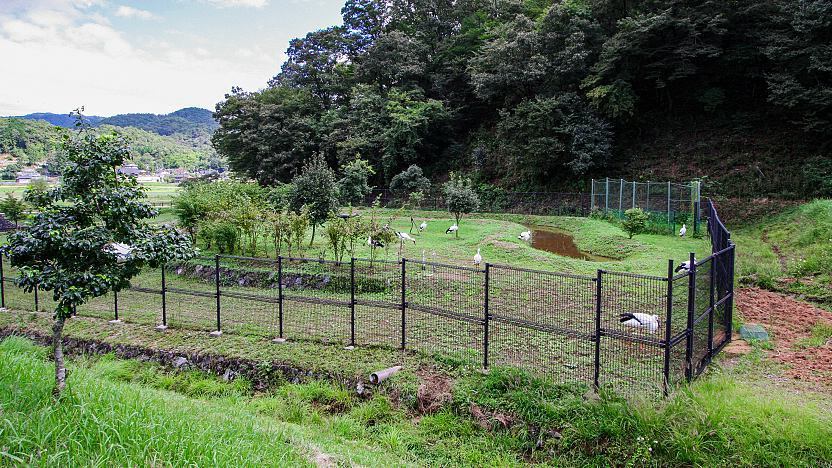 The Konotori no Sato Park is located roughly 10 kilometers south of Kinosaki Onsen and 4 kilometers east of Toyooka's city center. There is about one bus every 90 minutes from Toyooka Station to the park (15 minutes, 250 yen one way). A taxi ride takes about 10 minutes and costs around 1500-2000 yen.
Toyooka Station can be reached in a 10 minute train ride from Kinosaki Onsen Station. Limited express trains from Kyoto and Osaka to Kinosaki also make a stop at Toyooka Station. The bus ride from Konotori Tajima Airport to Toyooka Station takes 15 minutes.
How to get to and around Kinosaki Onsen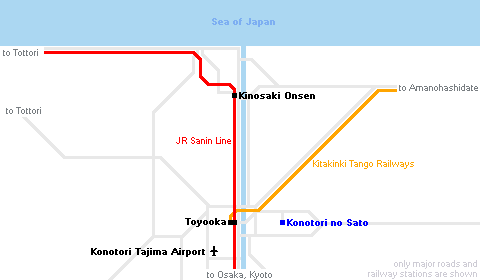 Closed
Mondays (or following day if Monday falls on a
national holiday
)
December 28 to January 4
Questions? Ask in our forum.