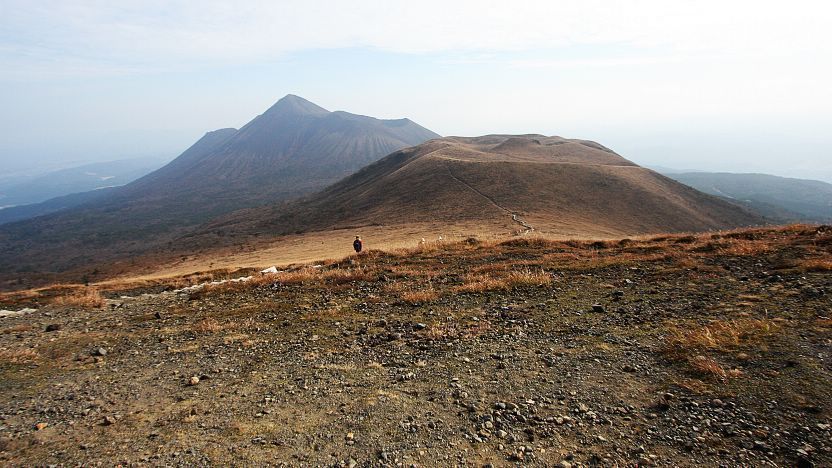 The mountains of Kirishima offer some of the most fascinating volcanic landscape and hiking in Japan with numerous gracefully shaped volcanic cones and craters. There are several hiking courses, which are best explored from spring to autumn, as some trails may be inaccessible during the winter months.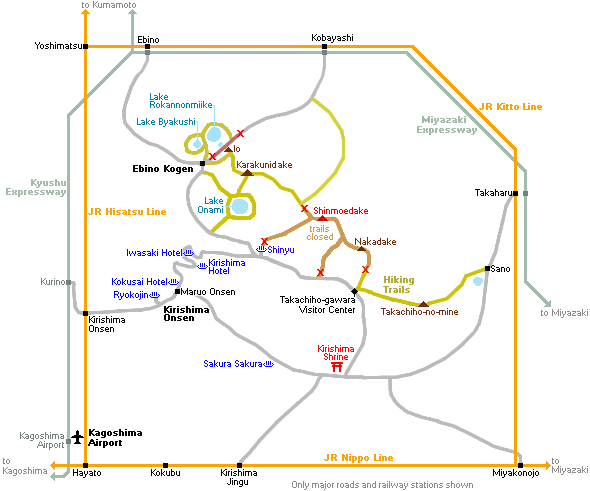 A highly recommended course is the Kirishima Ridge Trail, which follows Kirishima's entire mountain chain from Ebino Kogen to the Takachiho-gawara Visitor Center. It is approximately 12 kilometers long and takes about six hours to complete. It is possible to start from either end, however, due to a lack of good public transportation, it is important to think about your return transport ahead of time.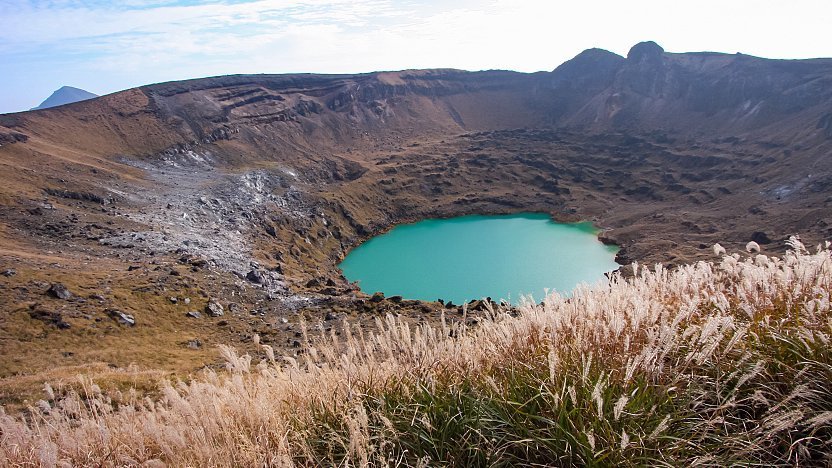 Starting from Ebino Kogen, it is a steep 2.5 kilometer ascent (90-120 minutes) to the summit of Mount Karakunidake, Kirishima's tallest peak at 1700 meters, and so named because you are said to be able to see Korea from it (Karakuni is an alternate reading of the kanji for Korea). From Karakunidake, the trail continues for 4.5 kilometers (2-3 hours) to Mount Shinmoedake (1421 meters above sea level).
Until 2011, James Bond fans could recognize Shinmoedake with its pretty crater lake as the underground base of Ernst Blofeld from the movie "You Only Live Twice". However, during the mountain's recent eruptions a new lava dome has unfortunately displaced the crater lake. From Shinmoedake the trail continues for two more kilometers (one hour) to Nakadake (1332 meters above sea level), from where it is a 2.5 kilometer descent (one hour) to the Takachiho-gawara Visitor Center.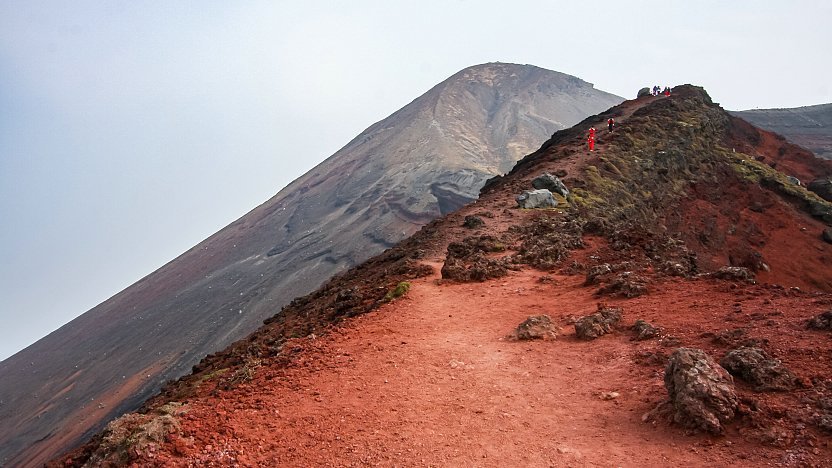 The Kirishima mountains are also an important site in the creation mythology of Japan. It was here that Ninigi no Mikoto, grandson of the Sun Goddess, is said to have descended to Earth to establish the lineage of Japanese Emperors and rule over the land. His spear, the same one used earlier to create the islands of Japan, was thrown into the summit of Mount Takachiho-no-mine, marking the spot where Ninigi no Mikoto descended from heaven. The spear remains there to this day.
Not only because of its mythological background but also for its scenic beauty, Takachiho-no-mine is another popular hike. 1574 meters tall, the mountain sits on the southern end of the Kirishima mountain range. The ascent starts at the Takachiho-gawara Visitor Center, takes about 90 minutes and leads over very steep terrain with loose volcanic rocks. The hike can be done on its own or combined with the Kirishima Ridge Hike into a very long but rewarding day in the volcanoes.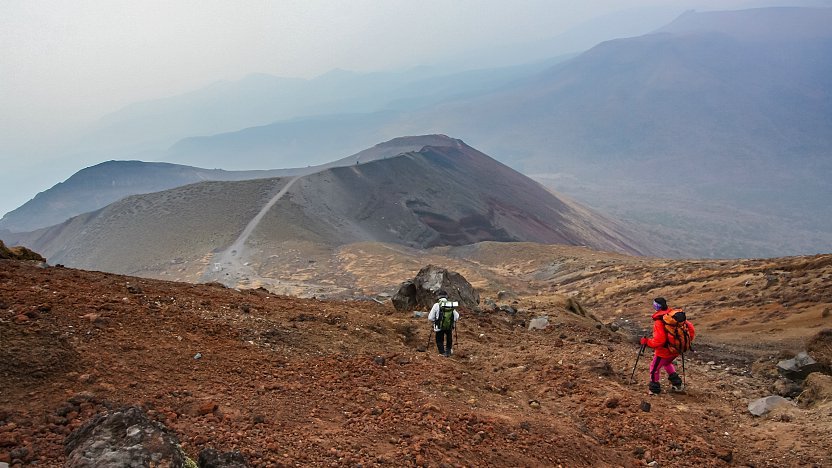 Public transportation to and from the various trailheads is rather infrequent and inconvenient. Considering this, it is recommended to get a rental car for traveling around Kirishima. Rental outlets are located in Kagoshima, Miyazaki and at Kagoshima Airport.
Access by bus
2-3 buses per day run between Maruo Onsen via Ebino Kogen to the Takachiho-gawara Visitor Center. The one way ride between Maruo Onsen and the visitor center via Ebino Kogen takes one hour and costs 750 yen.
Bus Network around Kirishima: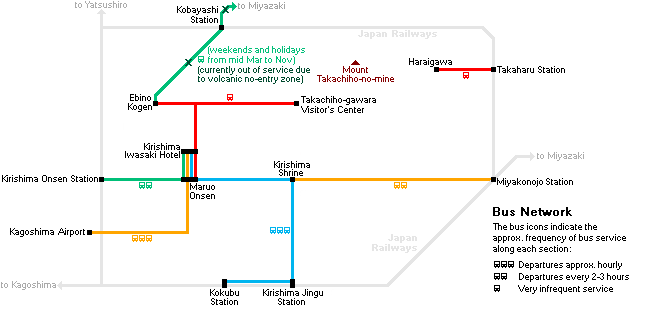 Access by taxi
A taxi is the only other means of transportation to the Takachiho-gawara Visitor Center trailhead from Ebino Kogen and costs about 4500 yen one way. Taxi service should be available at both ends of the trail, but you may have to call to arrange to be picked up. Phones are available at Ebino Kogen and the Takachiho-gawara Visitor Center.
Questions? Ask in our forum.