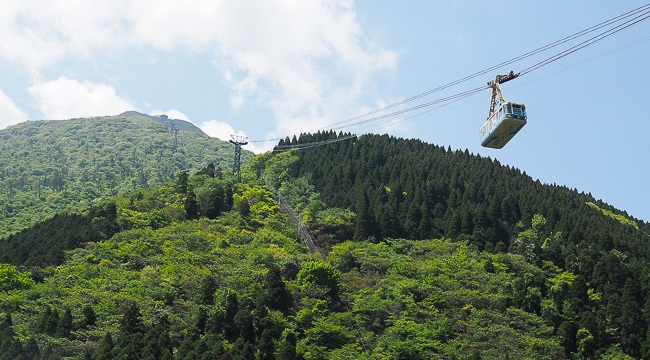 Mount Tsurumi (ĺ▀îęŐx, Tsurumidake) is a 1375 meter high mountain that overlooks Beppu. The mountain is accessible via the Beppu Ropeway which takes visitors nearly 800 meters up the steep slopes to a small park near the summit. The park offers multiple observation decks with panoramic views of Beppu and Oita City, Mount Yufu and as far as the Kuju Mountains when visibility is good.
The small park is covered by a network of walking paths that lead to the various nearby viewpoints. The actual summit of Mount Tsurumi can be reached in a 15 minute walk from the upper ropeway station. More demanding hiking trails connect Mount Tsurumi to the surrounding mountain peaks. It is also possible to bypass the ropeway and climb up the entire mountain in about two hours via a hiking trail that starts at the lower ropeway station.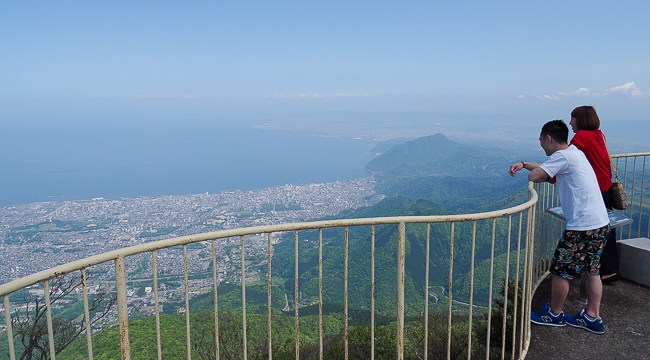 The scenery around Mount Tsurumi changes with the seasons. In early to mid April, over 2000 cherry trees bloom around the ropeway's lower station, turning the area into one of Beppu's most popular hanami spots. Rhododendrons color the mountain slopes typically from mid May to early June.
Fall colors start appearing around the summit in early October and slowly make their way down the mountain over the course of five or six weeks. In winter, hoarfrost covers the trees and bushes around the summit in a delicate, crystalline coat of ice. The hoarfrost typically appears between December and mid March.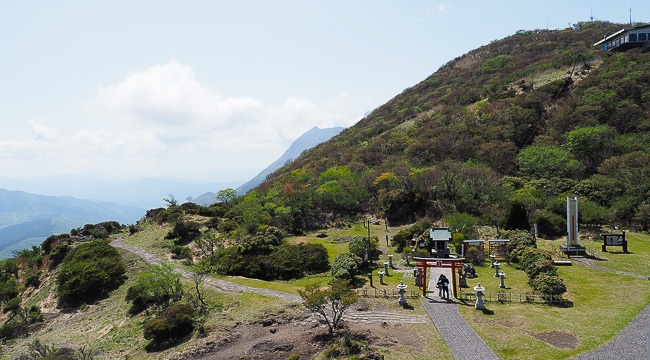 The lower station of the Beppu Ropeway is located along the regular road that connects Beppu with Yufuin. It can be reached by bus number 36 or 37 in about 20 minutes from Beppu Station (440 one way, 1-2 buses per hour).
How to get to and around Beppu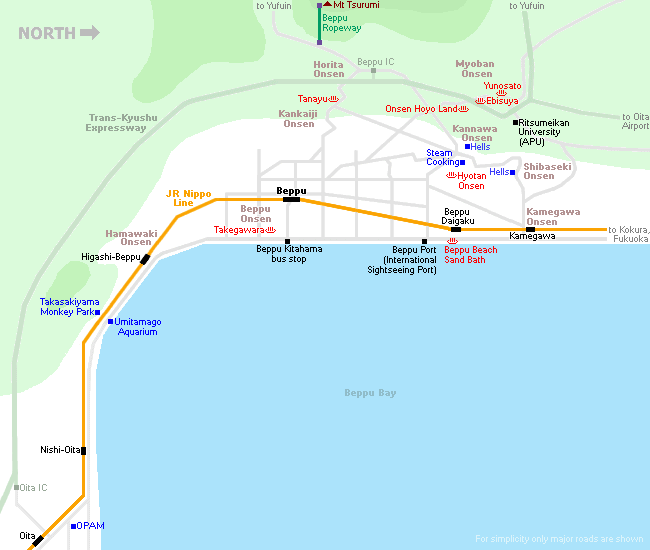 Hours
9:00 to 17:00 (until 16:30 from mid November to mid March); departures every 15-20 minutes
Closed
Infrequent irregular closures due to maintenance and strong winds
Admission
1600 yen (roundtrip), 1000 yen (one way)
Questions? Ask in our forum.