Bitchu-Takahashi: Getting there and around
How to travel to Takahashi
By train
Takahashi lies north of Okayama along the train line to Matsue. From Okayama Station take either a Yakumo limited express (35 minutes, about 2000 yen, hourly departures) or a local train (one hour, 860 yen, 1-2 trains per hour) along the JR Hakubi Line and get off at Bitchu-Takahashi Station. The trip is fully covered by the Japan Rail Pass.
By Sunrise Izumo night train
Japan's last surviving night train, the Sunrise Izumo, connects Tokyo with Matsue and Izumo every night, stopping in Bitchu-Takahashi Station along the way. The overnight journey between Tokyo and Bitchu-Takahashi takes about nine hours and costs around 15,000 yen one way if using the most basic, carpeted nobi-nobi compartment. Other compartments are considerably more expensive. Advance reservations are mandatory.
The Japan Rail Pass fully covers the journey in nobi-nobi compartments, but it covers the base fare only if using another compartment, in which case the express supplement and compartment fee (totaling around 10,000 yen or more) have to be paid separately.
Above fees and schedules are subject to change. For the current yen exchange rate, click here.
Getting around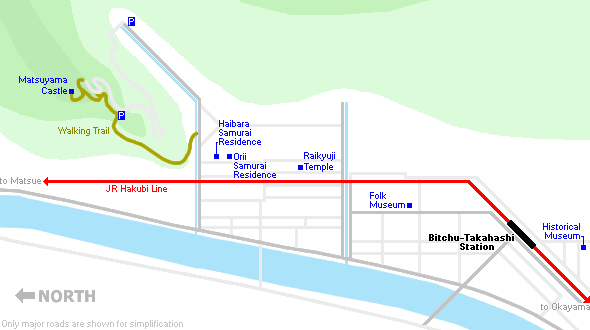 Takahashi is a compact town. Its old town is in easy walking distance of Bitchu-Takahashi Station and can be explored entirely on foot. The castle, however, is located on top of a steep mountain north of the town. While good walkers will enjoy the walk and climb there, others may want to opt for a taxi or taxi shuttle to the castle's parking lot from where it is only a short hike to the castle.
There are two bus lines that can help reduce walking distances: The Youme Town Shuttle Bus (100 yen per ride, operated by the local Youme Town shopping center) and the Takahashi City Loop Bus (160 yen per ride) run along an almost identical loop from Bitchu-Takahashi Station through the old town. Neither bus goes up to the castle, but both stop at the trailhead of the walking trail to the castle. Combined, they provide about 1-2 bus connections per hour.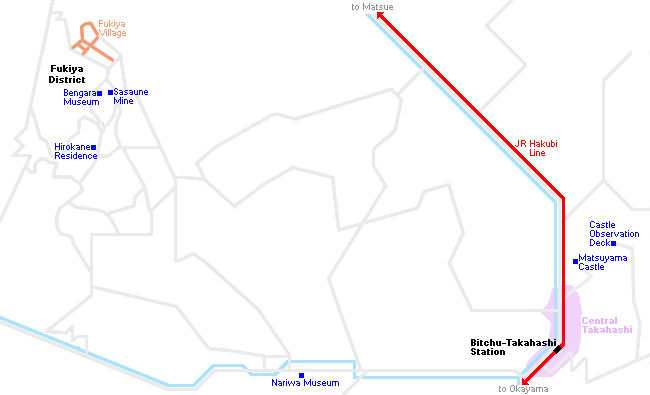 Questions? Ask in our forum.