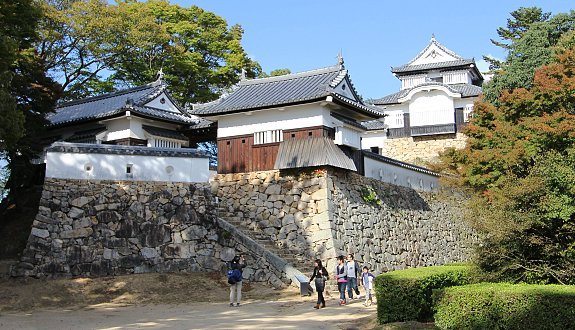 Matsuyama Castle (松山城, Matsuyamajō), also called Bitchu-Matsuyama Castle to differentiate it from Matsuyama Castle in Shikoku, stands on a steep mountain north of Takahashi's town center. It is the oldest surviving castle in Japan and the only mountaintop castle among the twelve original castles which have survived the post-feudal age intact. At an elevation of 430 meters it is also Japan's highest.
Matsuyama Castle was originally constructed in 1240 when castles primarily served as defensive fortresses and, accordingly, were built on steep mountains that were difficult to attack. They were not the great status symbols and administrative and cultural centers yet that castles became in the 16th century when the lords started to build them on more easily accessible hilltops and in the flatlands.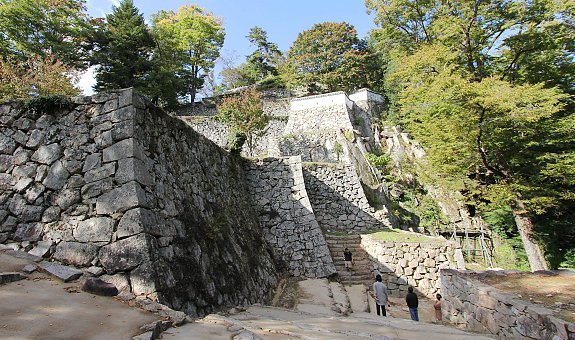 Even today, Matsuyama Castle is not easily accessed, and visitors must hike for about 20 minutes to reach the castle keep from the nearest parking lot. The approach passes the ruined foundations of former castle structures and then leads through multiple successive circles of defense before reaching the innermost castle grounds and the castle keep. Views over the town can be enjoyed from several points along the way, but not from the castle keep itself.
Typical for mountaintop castles, Matsuyama Castle's keep is with only two stories relatively small. Inside the keep there are displays explaining the history of the castle and the efforts to preserve it in Japanese, including interesting photographs about the big renovations of 1940, 1960 and 2003.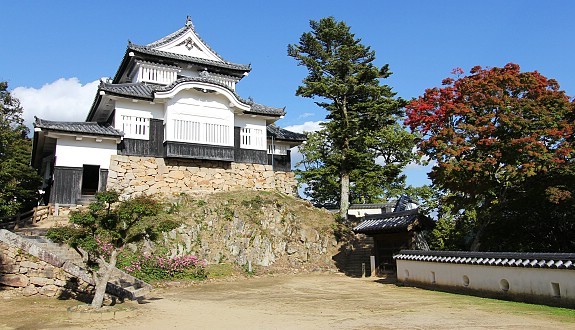 By car
On weekdays, cars can access the castle's upper parking lot from where it is a 20 minute walk to the castle. On weekends and holidays from March to late December, however, private cars are only allowed as far as the lower parking lot from where it is a 45 minute walk or five minute shuttle bus ride (300 yen round trip, departures every 15 minutes) to the upper parking lot.
By taxi
Take a taxi from Bitchu-Takahashi Station to the castle's upper parking lot (15 minutes, 1500 yen from the station) from where it is an additional 600 meter, 20 minute hike to the castle.
Alternatively, from March to November Takahashi Kanko operates four scheduled "shuttle taxis" per day between the station and the upper parking lot for 500 yen one way per person. Reservations are required, but can be made upon arrival at the station.
By bus
Take the Youme Town Shuttle Bus (100 yen) or Takahashi City Loop Bus (160 yen) from the Takahashi Bus Center next to Bitchu-Takahashi Station to Matsuyamajo Tojoguchi or Matsuyamajo Tozanguchi bus stop respectively, from where it is a two kilometer, one hour climb to the castle.
On foot
It takes about 80 minute to walk all the way from Bitchu-Takahashi Station to Matsuyama Castle.
How to get to and around Takahashi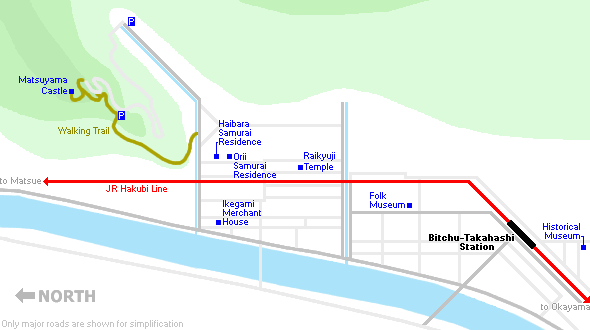 Hours
9:00 to 17:30 (until 16:30 from October to March)
Closed
December 28 to January 3