Iwami Ginzan: Getting there and around
How to get to Iwami Ginzan
Iwami Ginzan is located off the beaten track along the Sea of Japan coast of Shimane Prefecture. It is most easily accessed from Izumo (how to get to Izumo) or Matsue (how to get to Matsue):
By train and bus from Matsue
Take a JR train from Matsue to Oda (Odashi Station) and transfer to a bus to Iwami Ginzan. The one way ride takes 45 minutes and costs around 3000 yen by limited express train or 90 minutes and 1170 yen by local train. All trains are covered by the Japan Rail Pass. The bus journey between Odashi Station and Iwami Ginzan takes about 30 minutes, costs 760 yen one way (640 yen if you get off at the Omori Daikansho bus stop instead of the Sekaiisan Center bus stop) and is not covered by the Japan Rail Pass. There are 1-2 buses per hour.
Above fees and schedules are subject to change. For the current yen exchange rate, click here.
Getting around
The attractions of Iwami Ginzan are concentrated around Omori Town and the nearby former mining area. Omori Town stretches for about one kilometer along a river, while the mining area is found another two kilometers further up the valley.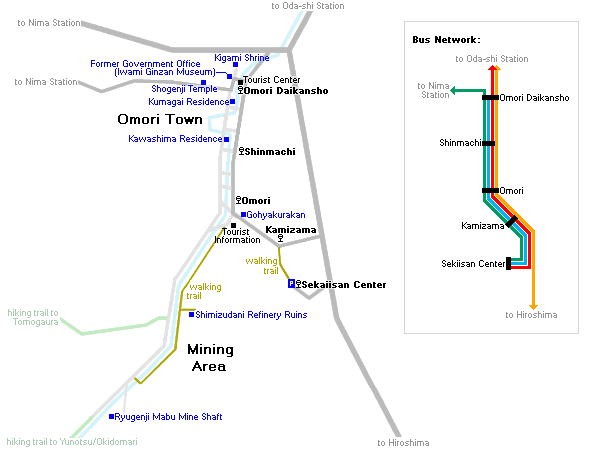 Buses operate every 15 minutes between "Omori Daikansho" at the northern end of Omori Town (Daikansho refers to the nearby Former Government Office) and "Sekaiisan Center" where the main parking lot is located. A few of these buses offer direct connections to Oda-shi Station (about 18 round trips per day) and Nima Station (about 5 round trips per day).
While buses run along the entire length of Omori Town, they do not provide access to the mining area, which can only be reached on foot. The two kilometer walk from the closest bus stop, Omori bus stop, to the Ryugenji Mabu Mine Shaft takes about 30-45 minutes along an easy and pleasant walking trail.
Private cars are banned from Omori Town and the former mining area. Travelers visiting by car need to use the Iwami Ginzan parking lot, which is located next to the Sekaiisan Center and is well connected with the town by bus (5 minutes, 200 yen to Omori; 7 minutes, 240 yen to Omori Daikansho). Alternatively you can walk from the parking lot to the Omori bus stop in about 20-30 minutes.
How to travel between Omori and Yunotsu
Take a bus to Nima or Oda-shi Station and transfer to the JR Sanin Line to Yunotsu. With a good connection, the journey takes about 45 minutes via Nima Station or about one hour via Oda-shi Station, but note that the train and bus services are rather infrequent. By car, it takes less than 30 minutes.
It is also possible to reach Yunotsu from the mining area by walking along the 12 kilometer long Yunotsu-Okidomari hiking trail, the former main route to transport the silver to Okidomari Port.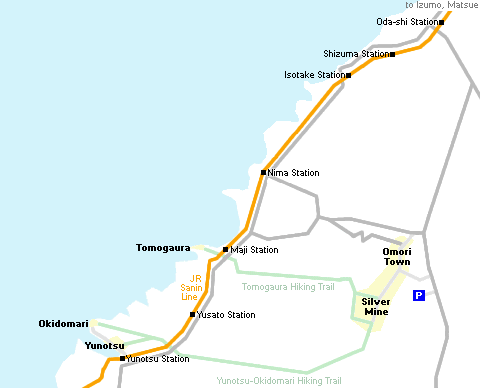 Questions? Ask in our forum.