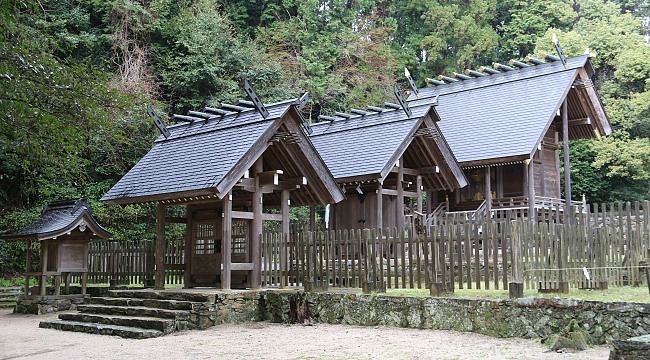 Yamaguchi Daijingu (山口大神宮, Yamaguchi Daijingū) is a much smaller and simpler version of the Ise Shrines. It was built in 1518 after the local lord had traveled to Ise and returned home wishing to have a shrine that houses the same deities as those at Ise. Henceforth, the locals who were unable to travel to Ise in person had the opportunity to visit Yamaguchi Daijingu instead, and the shrine became known as the "Ise Shrines of the West".
Like the Ise Shrines, Yamaguchi Daijingu consists of an outer and an inner shrine, which are rebuilt every 20 years. Unlike the Ise Shrines, however, the shrines of Yamaguchi Daijingu are located just next to each other. The shrine structures come with a simple, wooden appearance, portraying a purely Japanese architectural style with little influence from mainland Asia. Yamaguchi Daijingu is located within a forest at the outskirts of the city, providing the serene setting for a tranquil visit.
Yamaguchi Daijingu stands about two kilometers northwest of Yamaguchi Station. It can be reached on foot (30 minutes) or by rental bicycles, which are available outside the station (300 yen for two hours or 700 yen for the whole day).
Alternatively, take a bus from the station bound for Yamaguchi Daigaku (山口大学) or Nakaoguchi (中尾口) and stop at Kenchomae (県庁前) bus stop (6 minutes, 170 yen, 2-3 departures per hour). From the bus stop it takes five minutes to walk to the shrine.
How to get to and around Yamaguchi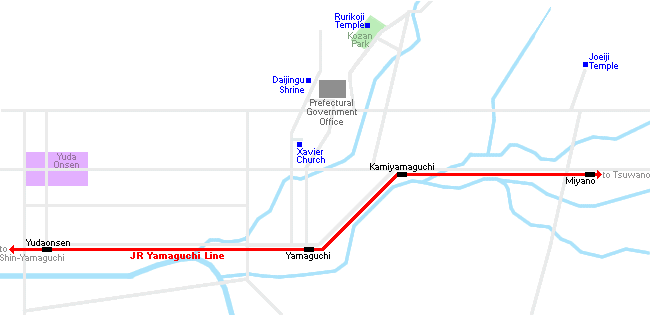 External Links and Resources