Iwakuni: Getting there and around
How to get to Iwakuni
From Hiroshima
The vast majority of travelers will approach Iwakuni from Hiroshima by either local train or shinkansen. (How to get to Hiroshima.)
Shin-Iwakuni Station is a station along the JR Sanyo Shinkansen, but only kodama trains stop at the station. The one way trip from Hiroshima to Shin-Iwakuni takes 15 minutes and costs 1640 yen for a non-reserved seat or around 3000 yen for a reserved seat.
Alternatively, Iwakuni Station can be reached by frequently departing local trains along the JR Sanyo Main Line. The one way trip from Hiroshima takes 50 minutes and costs 770 yen. Miyajima is located about halfway in between (25 minutes, 330 yen from Iwakuni Station).
By direct flight from Tokyo
ANA operates multiple flights per day between Iwakuni Kintaikyo Airport and Tokyo's Haneda Airport. Flight duration is about 1.5 hours. The regular one way fare is 33,000 yen, but discount fares are usually available for around 13,500 yen. Buses connect the airport to Iwakuni Station (15 minutes, 200 yen one way).
By direct overnight bus from Tokyo
Bocho Bus runs an overnight bus between Tokyo Station and Iwakuni Station. The one way trip takes approximately 11 hours and costs about 11,000 to 15,500 yen depending on the day of travel. Online reservations can be made through Willer and Japan Bus Online.
By direct highway bus from other major cities
Kintetsu Bus runs a night bus connecting Kyoto Station, Osaka Station, Osaka's Namba Station, Kobe's Sannomiya Bus Terminal and Iwakuni Station. Buses depart once per day in each direction, taking approximately 7 to 9.5 hours and costing about 6700 to 9000 yen one way depending on the day of travel.
Above fees and schedules are subject to change. For the current yen exchange rate, click here.
Getting around
Iwakuni has two main railway stations, Iwakuni Station (served by local trains) in the city center and Shin-Iwakuni Station (served by shinkansen) in the outskirts of the city. Kintai-kyo Bridge is located in between the two stations, about five kilometers from either station, and best reached by bus or taxi.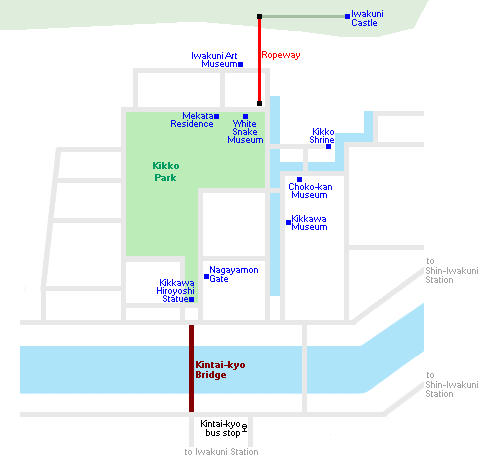 From Iwakuni Station, buses depart every 5-15 minutes in direction of the bridge, and the one way ride takes about 20 minutes and costs 300 yen. From Shin-Iwakuni Station, one or two buses per hour depart in direction of the bridge, and the one way ride takes about 15 minutes and costs 350 yen.
All of Iwakuni's other main attractions are located within walking distance of the Kintai-kyo Bridge, while a ropeway lifts tourists to Iwakuni Castle.
Iwakuni Station and Shin-Iwakuni Station are also connected with each other by the Nishikigawa Railway (15 minutes, 420 yen, one train every two hours). The train is partially using non-JR tracks. Consequently, the ride is not fully covered by JR passes.
Questions? Ask in our forum.