Fujinomiya: Getting there and around
How to travel between Fujinomiya and Fuji Five Lakes
Fujikyu Bus operates 3-4 buses per day between the Fuji Five Lakes and Shin-Fuji Station, which stop at the Shiraito Falls and Fujinomiya Station along the way. The one way ride between Kawaguchiko Station and Fujinomiya Station takes about 90 minutes and costs 2100 yen. In the Fuji Five Lake area, the buses also stop at Fuji Q Highland and some at Fujisan Station.
Above fees and schedules are subject to change. For the current yen exchange rate, click here.
Getting around
The transportation hub of Fujinomiya City is Fujinomiya Station at the center of town. From there it is an easy walk to Fujisan Sengen Shrine, while buses run to the Shiraito Falls, the Fuji Five Lakes and during the hiking season to the Fujinomiya 5th Station.
Another transportation hub is Shin-Fuji Station along the Tokaido Shinkansen, which is served by Kodama trains exclusively. From Shin-Fuji Station, there are infrequent buses to Fujinomiya Station, the Shiraito Falls and the Fuji Five Lakes. Note that local trains stop at Fuji Station, which is 1.5 kilometers away and not served by many of the buses in direction of the Fuji Five Lakes.
The Mount Fuji West Side Story Passport provides two days of unlimited use of buses on the west and north side of Mount Fuji for 2500 yen, including the bus between Shin-Fuji Station and Kawaguchiko Station and the tourist buses around Lake Kawaguchiko and Lake Saiko. In addition it provides discounts at selected tourist attractions, shops and restaurants. The pass can be purchased at Shin-Fuji Station, Fujinomiya Station, Kawaguchiko Station and Fujisan Station.
Despite all the buses that run though the area, the connections around Fujinomiya may not be very convenient for those wishing to visit multiple sites in a day. Those visitors may be better off exploring the area by rental car. Rental car outlets can be found around Shin-Fuji and Kawaguchiko Stations.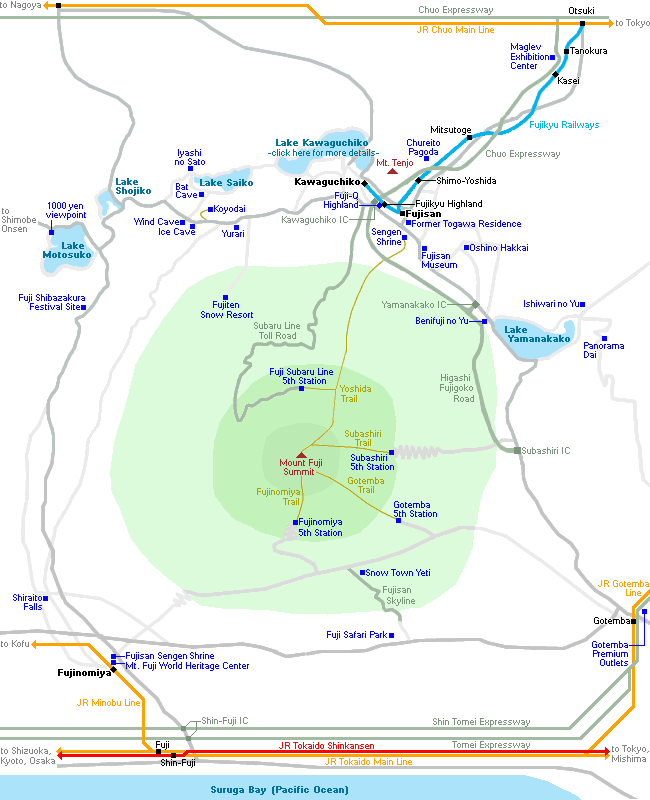 Questions? Ask in our forum.