Tomioka: Getting there and around
How to get from Tokyo to Tomioka
Take the JR Joetsu Shinkansen (50-60 minutes, around 5000 yen one way) or a local train along the JR Takasaki Line (about 110 minutes, around 1980 yen one way) from Tokyo to Takasaki. At Takasaki, transfer to the Joshin Railway to Joshu-Tomioka (35 minutes, 810 yen one way). A special round trip ticket is available for 2200 yen that includes admission to the Tomioka Silk Mill in addition to the train rides between Takasaki and Joshu-Tomioka. The JR Tokyo Wide Pass covers the entire trip from Tokyo to Tomioka, but other JR passes are not valid on the Joshin Railway.
Above fees and schedules are subject to change. For the current yen exchange rate, click here.
Getting around
The Tomioka Silk Mill is relatively easily reached by public transportation, but the other three related sites are not, as they are distributed over a wide area, and access by public transportation is infrequent at best. Consequently, a rental car is recommended to those who intend to visit the other related sites. There are a number of rental car outlets available around JR Takasaki Station and one outlet near Joshu-Tomioka Station.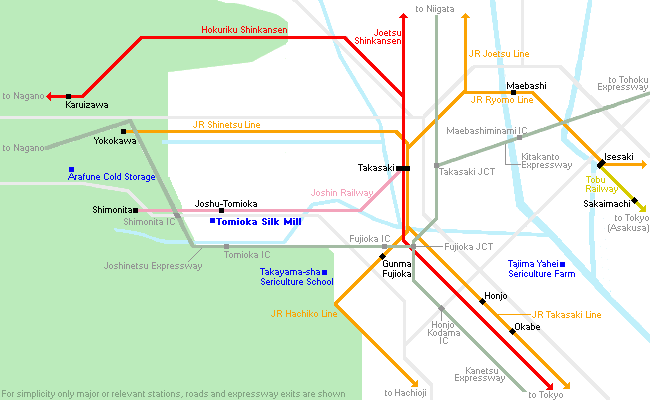 Questions? Ask in our forum.