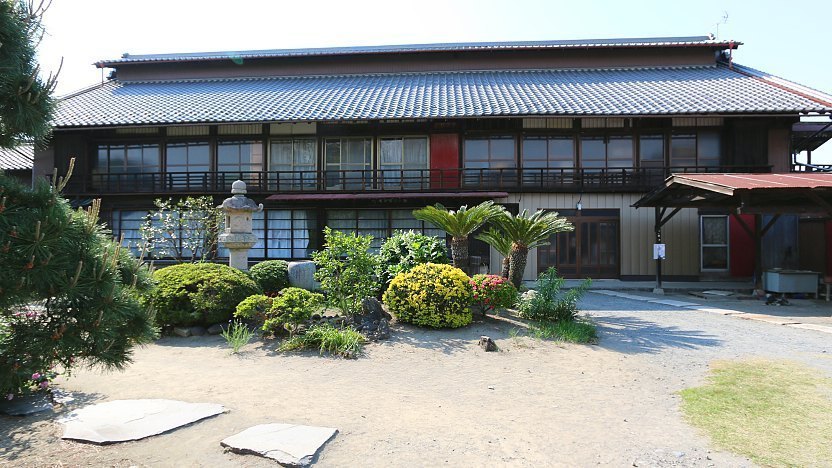 The Tajima Yahei Sericulture Farm (田島弥平旧宅, Tajima Yahei Kyūtaku) is a farmhouse residence in Isesaki City, built in 1863. Tajima Yahei was a silkworm farmer who developed a ventilation system to grow silkworm eggs of a consistent, high quality. Many silkworm growers visited the farm to learn and research about raising silkworm eggs. In recognition of its contribution towards the advancement of the silk industry, the farmhouse is one of three sites alongside the Tomioka Silk Mill that attained world heritage status in 2014.
The ventilation system developed by Tajima Yahei uses two-story buildings with smaller raised roofs (yagura) on top of the main roof. The higher roof and windows below the yagura allowed for the silkworm eggs to be ventilated naturally. In addition to being ventilated, silkworm eggs were also monitored to breed silkworms that produced the highest possible quality of silk. The farm used to consist of two houses that were connected by a bridge on the second floor, but only one house and the bridge remain today.
Visitors are allowed to enter the former farm's garden and view the building from the outside between 9:00 and 16:00. It is not possible however to enter the building as it still serves as the residence of some descendants of Tajima Yahei. There is a small museum on the farmhouse grounds showcasing some silk production tools and an information center a few hundred meters away. The information center has a few exhibits, a movie and pamphlets, and is also the starting point of guided tours in Japanese.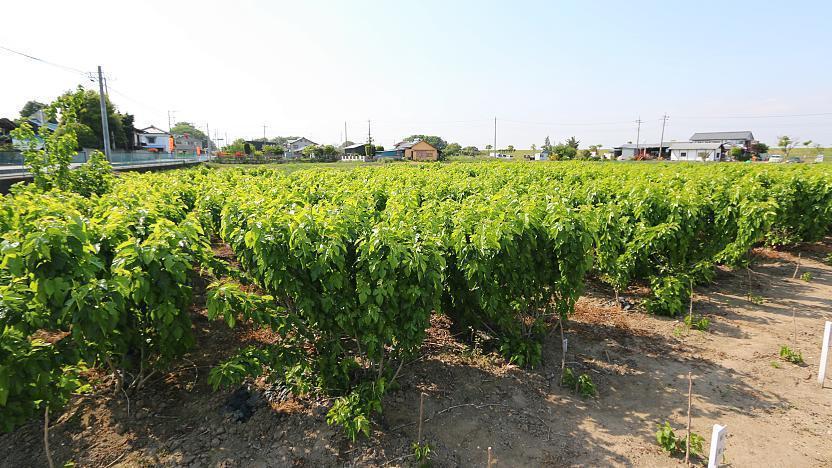 By train
The closest train station is Okabe Station along the JR Takasaki Line (25 minutes, 420 yen from Takasaki) from where it is about five kilometers or a ten minute taxi ride (around 2000 yen one way) to the farm. Alternatively, a free, hourly shuttle bus connects Sakaimachi Station on the Tobu Isesaki Line with the farm in about 25 minutes, but it operates only on weekends and public holidays.
By car
The Tajima Yahei Sericulture Farm is about a 20 minute drive from Honjo-Kodama IC on the Kanetsu Expressway. From the Tomioka Silk Mill, the farm can be reached in about 60-75 minutes by toll-free roads or in about 45 minutes by expressway (950 yen one way). Free parking is available at the information center and at the nearby parking lot of Shimamura Kaiko-no Furusato Park.
How to get to and around Tomioka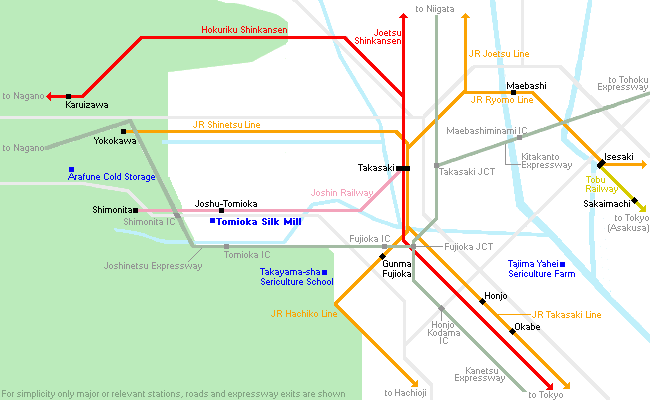 Closed
No closing days, but visitors are asked to refrain from entering the property over the
New Year
holiday
Typical Visit Duration
Around 60 minutes with tour
Questions? Ask in our forum.