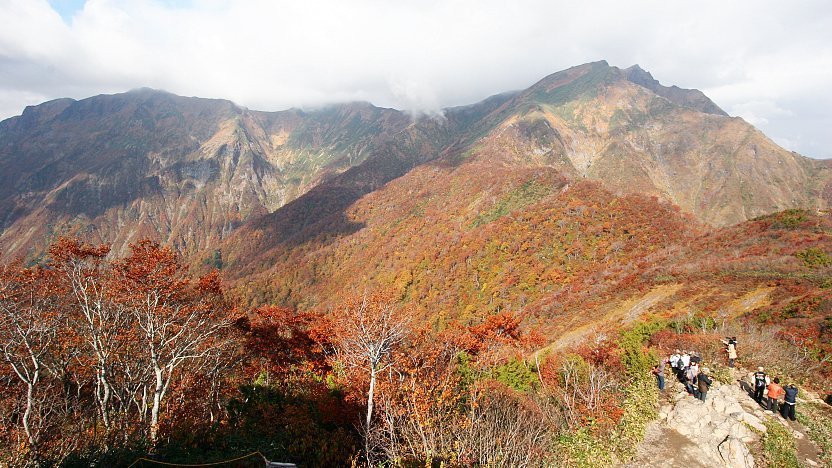 Mount Tanigawa ('JěŠx, Tanigawadake) is a craggy, rugged mountain found on the border of Gunma and Niigata Prefectures in northern Minakami. Measuring 1977 meters at its highest point, the mountain gets buried in deep, powdery snow during the winter months, which in turn feeds the clear waters of the Tone River when it melts in spring. Autumn, especially in mid October, brings vistas of fall colors as the leaves change in the surrounding valleys.
Mount Tanigawa has the distinction of being one of Japan's 100 Famous Mountains which draws countless hikers and mountain climbers to its tricky slopes. While off-trail climbing should be left to the experienced and properly equipped, there are easier hikes for casual hikers, as well as the Tanigawadake Ropeway for those who want to enjoy the mountain's views without having to hike.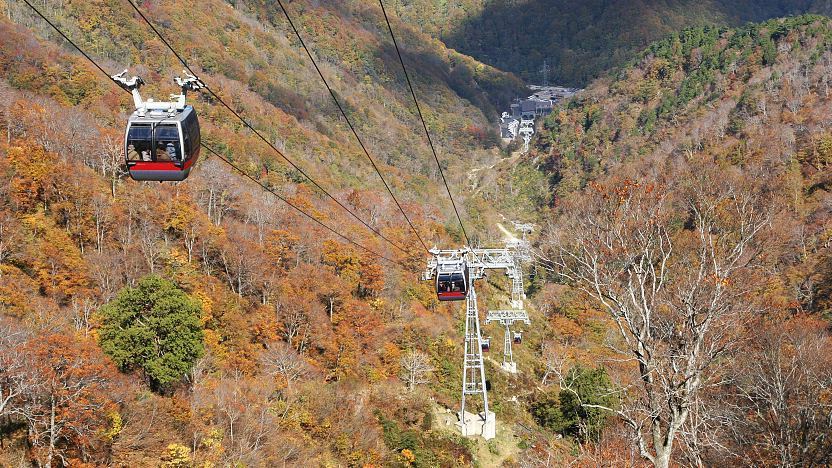 The hiking season runs from July to November and varies in length depending on when the trails are clear of snow. From the base of the mountain you can either take the ropeway or hike 2.5 hours to the upper ropeway station from where it is an additional two hour hike to the summit. From there you can either return the way you came or continue on another six hours or so into Niigata.
During winter the Tanigawa Ropeway delivers visitors to Tanigawadake Tenjindaira ski resort halfway up the mountain. With just six chair lifts it is a rather small resort; however, it does offer some of the deepest snow and one of the longest ski seasons in Japan. During a good year the resort may be open as early as mid November and can stay open through May.
A bus runs between Minakami Station and the lower station of the Tanigawadake Ropeway (20 minutes, 760 yen, 1-2 buses/ hour). Alternatively, take a train from Minakami Station to Doai Station (8 minutes, 240 yen, infrequent departures), and walk 10 to 15 minutes up the hill to the ropeway.
How to get to and around Minakami
Tanigawadake Ropeway
Hours
8:00 to 17:00 (Weekdays from April through November)
7:00 to 17:00 (Weekends and
national holidays
from April through November)
8:30 to 16:30 (Every day from December through March)
Admission
1250 yen one way, 2100 yen round trip
Questions? Ask in our forum.