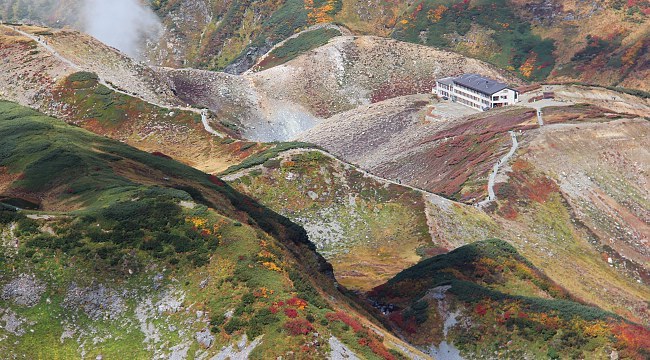 At 2450 meters above sea, Murodo (Ä║ô░, Murodō) is the highest point along the Tateyama Kurobe Alpine Route, offering fantastic views of the Tateyama Mountain Range. In summer and early autumn, Murodo attracts mountain lovers with an interesting network of hiking trails of various levels of difficulty, while late autumn and spring come with large amounts of snow. Murodo is not accessible during the winter.
Murodo's best known attraction is the snow corridor, a road flanked with up to 20 meters high snow walls when it opens in mid April after months of heavy snowfall. It is not usually until July that all the snow has melted. The corridor can be seen from the buses that connect Murodo with Bijodaira. Furthermore, a several hundred meter long section of the road near the Murodo Bus Terminal is open for pedestrians to walk.
In 2020, pedestrians were not allowed to walk along the snow corridor due to the coronavirus outbreak. The corridor could only be seen from buses. On the opening day, the snow walls reached a height of up to 15 meters.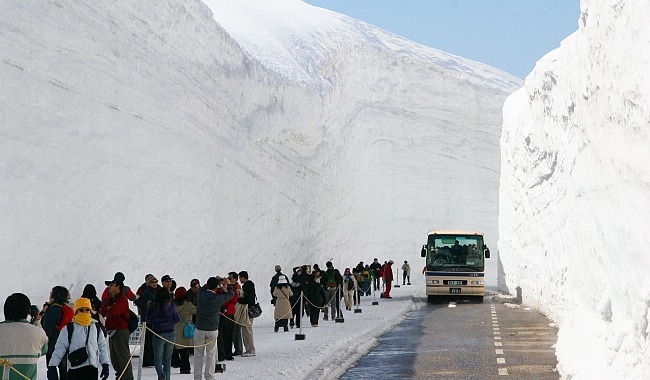 From around late June to mid October, Murodo presents attractive hiking opportunities. Easy trails around the bus terminal lead to nearby ponds, while the wider network of trails offers more challenging hikes. Most popular is the ascent to the 3015 meter high summit of Mount Tateyama, one of Japan's highest peaks. The ascent takes only about two hours (one way) and is not too challenging, although proper hiking shoes are required.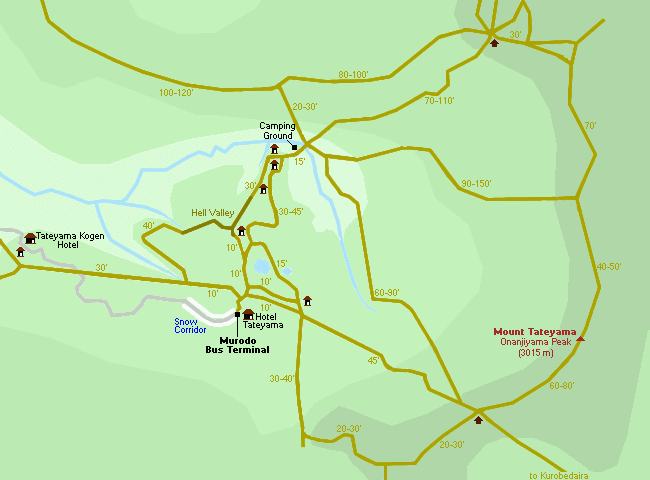 Alpine flowers are abound in summer, typically from June through August, while the fall colors that decorate the mountain slopes in autumn tend to be at their best from late September to early October. Volcanic activity can be observed at the Jigokudani "Hell Valley" via boardwalks in the area, although the trails are sometimes closed due to high concentrations of volcanic gases.
The Murodo Bus Terminal complex includes Hotel Tateyama, Japan's highest-located hotel. It offers the widest range of meals and services among the various stations along the Tateyama Kurobe Alpine Route. Several other mountain lodges - many with hot spring baths - provide further accommodation to travelers. There is also the Raichozawa camping ground about an hour walk from the bus terminal.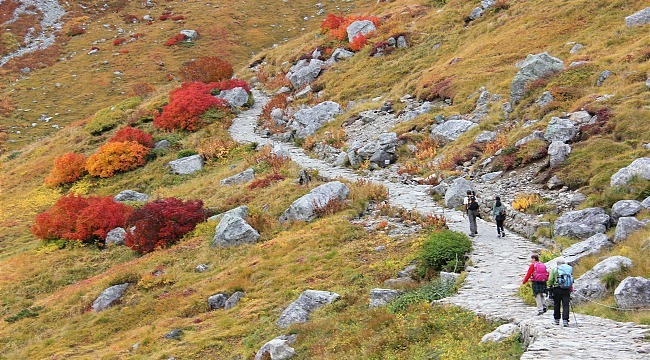 Murodo is located at about one third into the Alpine Route when accessed from the Toyama side. From Dentetsu Toyama Station, it takes about 2.5 hours and 3700 yen to get to Murodo via train, cablecar and bus. On the other hand, from JR Shinano-Omachi Station on the Nagano side, it takes about 2.5 hours and 7350 yen via buses, cablecar and ropeway.
How to get to and around the Alpine Route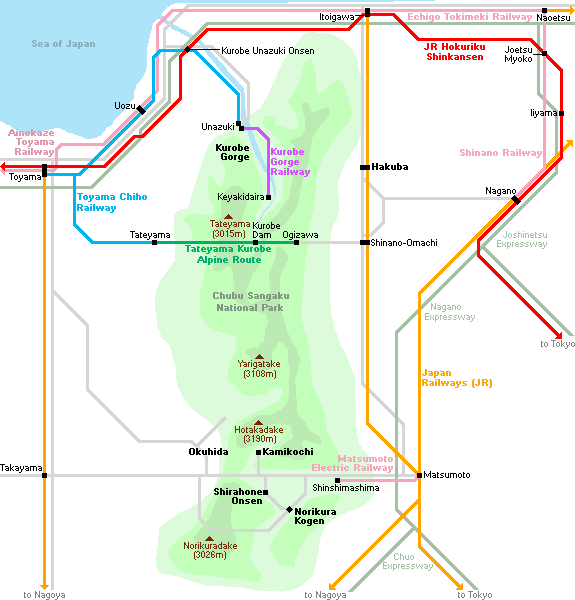 Questions? Ask in our forum.