Alpine Route: Access and Orientation
How to travel between Tateyama Kurobe Alpine Route and Tokyo
Via Toyama
Take the JR Hokuriku Shinkansen from Tokyo to Toyama. The one way ride takes about 130 to 160 minutes, costs around 12,500 yen and is fully covered by the Japan Rail Pass. The JR East Nagano Niigata Area Pass is not valid all the way to Toyama, but only as far as Joetsu-Myoko Station.
Via Nagano
Take the JR Hokuriku Shinkansen from Tokyo to Nagano (100 minutes, around 8000 yen one way) and then a bus directly to Ogizawa along the Alpine Route (105 minutes, 2800 yen one way). The Japan Rail Pass and JR East Nagano Niigata Area Pass cover the shinkansen, but not the bus.
From Nagano Station, foreign travelers can make use of the "Tateyama Kurobe Option Ticket" which covers the bus from Nagano Station to Ogizawa and a one-way traverse of the Tateyama Alpine Route for only 9800 yen. This option ticket is not available to residents of Japan.
Via Shinano-Omachi
Take the JR Azusa limited express from Tokyo's Shinjuku Station to Matsumoto (about 2.5 hours) and transfer to the JR Oito Line to Shinano-Omachi Station (1 hour). The one way journey costs 7390 yen and is fully covered by the Japan Rail Pass and JR East Nagano Niigata Area Pass. A small number of Azusa limited express trains run all the way to Shinano-Omachi.
Above fees and schedules are subject to change. For the current yen exchange rate, click here.
Orientation

Tickets
Tickets can be bought at stations along the Alpine Route between Toyama and Ogizawa, but not at Shinano-Omachi Station. Tickets covering the entire route allow for stop-overs along the route but not for backtracking. They are valid for up to five days. It is also possible to purchase tickets for smaller sections of the route or discounted round trip tickets. The cost for a ticket from Toyama to Ogizawa is 9,660 yen one way or 16,610 yen for a round trip.
The Tateyama Kurobe Option Ticket is a discount ticket available for 9800 yen exclusively to foreign tourists. It cannot be used by residents of Japan, and a passport is required at the time of purchase. The ticket allows for a one-way trip along the Alpine Route between Nagano and Toyama (including the bus ride between Ogizawa and Nagano). The ticket is sold at selected JR ticket offices, including the ones at Narita Airport, Haneda Airport, Tokyo, Shinjuku, Ikebukuro, Osaka, Shin-Osaka, Kyoto, Kanazawa, Nagano and Toyama stations, but not at Shinano-Omachi Station. The ticket has to be purchased at least one day in advance. It cannot be purchased for same-day use. The ticket is valid for up to five calendar days. In 2020, it is sold from April 13 to November 5 and can be used between April 15 and November 10.
Note that the Tateyama Kurobe Alpine Route gets very busy during holidays such as the Golden Week, summer holidays and weekends during the autumn leaf season, resulting in possible waiting times at bottlenecks along the route. A system with numbered tickets is put into effect on such busy days, which assigns travelers with a time after which they are allowed to board affected vehicles.
On selected days (weekends, public holidays and peak seasons), a bilingual online reservation system allows travelers to make reservations for the cablecar from Tateyama Station to Bijodaira at the route's western gateway and the electric bus from Ogizawa Station to Kurobe Dam at the route's eastern gateway. Reservations are not possible on other days and for any other sections where passengers board on a first-come first-serve basis.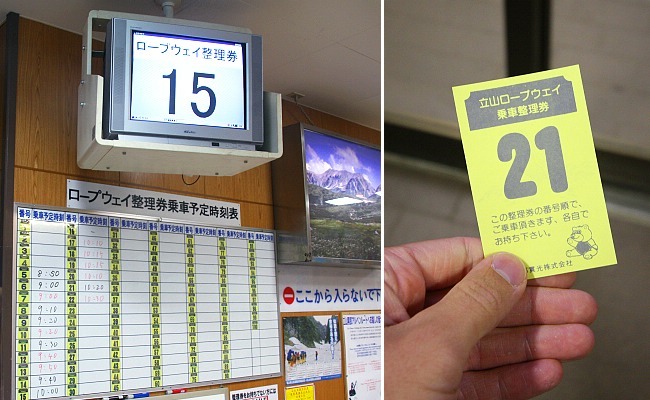 Accommodation
While the Alpine Route can be covered in a day trip from cities such as Tokyo, Kyoto, Osaka and Nagoya, staying over along the route itself or at either end of the route is recommended for a less hectic pace. There are several accommodation options along the Alpine Route, especially around Murodo. Among them are hotels and large mountain lodges, some of which feature hot spring baths. The Hotel Tateyama, Japan's highest-located hotel, is located on top of the Murodo bus terminal.
At the western end of the route, many hotels can be found in Toyama City, while at the eastern end Omachi Town offers hotels and hot spring lodgings. Not far away is the city of Matsumoto, which is a major tourist destination in itself.
Luggage
A baggage forwarding service is offered along the Alpine Route. The cost is around 1800 yen per piece. Drop-off and pick-up locations include Dentetsu Toyama Station (drop off by 9:50 for same-day delivery), Tateyama Station (drop off by 10:10), the "Alps Roman Kan" beside JR Shinano-Omachi Station (drop off between 8:00 and 11:20) and several hotels along the route. The baggage is usually ready for pick-up around 15:30 to 18:00. Details differ with the specific location. An alternative is using a regular takuhaibin delivery service.
Parking
The section between Tateyama Station and Ogizawa is closed to private vehicles. Visitors arriving by car should park their cars at either Ogizawa (limited free parking or 1000 yen per calendar day) or Tateyama Station (free parking). For car users, who do not wish to backtrack, several companies provide car forwarding services between Ogizawa and Tateyama Station, charging around 27,000 yen.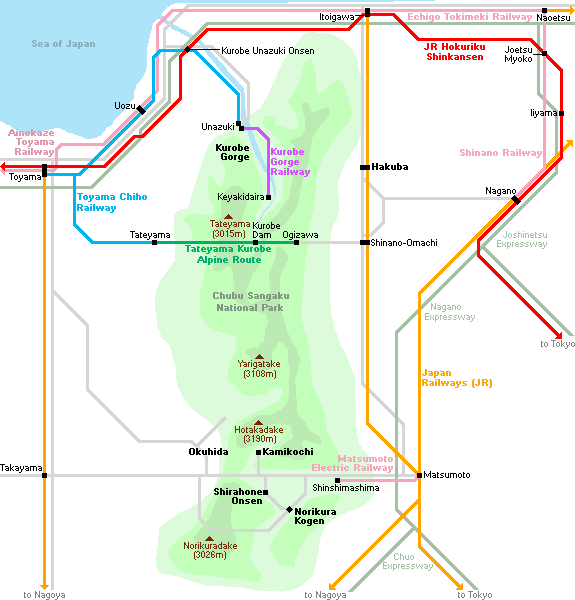 Questions? Ask in our forum.