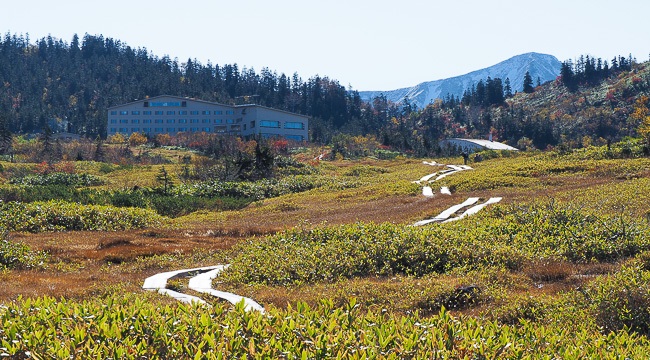 Midagahara (弥陀ヶ原) is an alpine marshland along the Tateyama Kurobe Alpine Route on an expansive highland plateau 1930 meters above sea level. It is located west of Murodo, just a few kilometers down the mountain from the Tateyama Snow Corridor in an area that is covered in snow from late autumn through spring. From June to October, however, the wetland marsh becomes a popular hiking spot for its natural scenery and the variety of plants that grow there. Autumn is especially nice, as many of the alpine plants change colors around October.
Buses along the Alpine Route run by the marsh, stopping at the Midagahara bus stop next to the Midagahara Hotel, a fully provisioned, Western-style hotel. A network of hiking trails, centered at the bus stop, covers the marshland and surroundings. Many trails lead along elevated, wooden boardwalks built to protect the environment. Trail maps are available at the information center near the bus stop.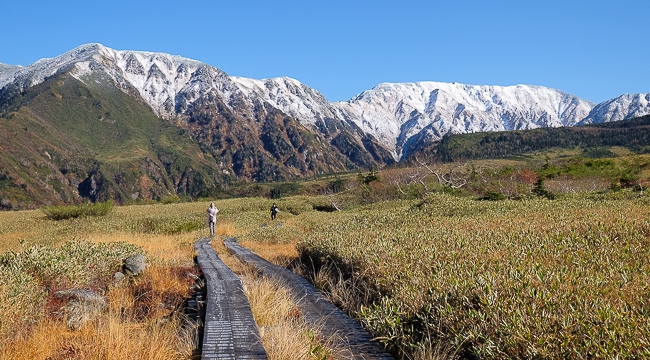 Among the trails, two circuits are particularly popular: an easy 1-km loop that takes about 30 minutes, and a longer 2-km loop that takes about one hour to pass by all of the marsh's ponds and viewpoints. But it is also possible to hike all the way to Murodo in about three hours. Furthermore, a separate, 40 minute long trail leads from the Midagahara Hotel up the slope to the Tateyama Caldera Observatory from where you can look out at the expansive plateau below.
Along the marshland's trails, hikers are treated to beautiful views of the marsh set against the backdrop of the Tateyama Mountains in one direction and views of Toyama City, the Noto Peninsula and the Sea of Japan in the other. The marshland is also high enough that visitors might be lucky enough to witness a sea of clouds that sometimes forms over the Toyama Plain below.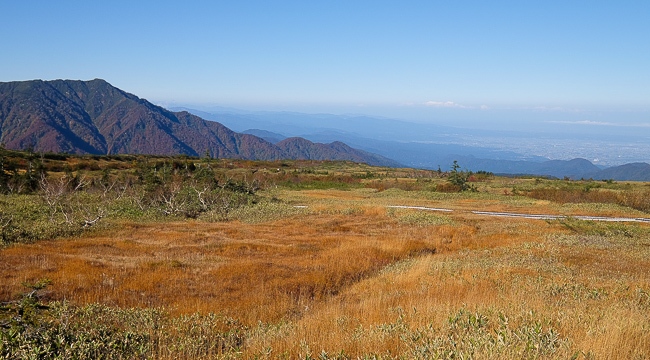 External Links and Resources