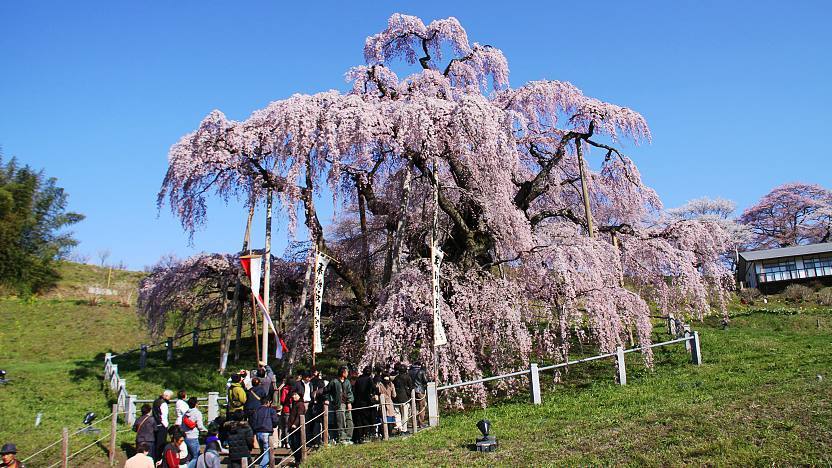 The Miharu Takizakura (三春滝桜) is considered by many as the single most beautiful cherry tree in Japan. It is located in Miharu, a town in central Fukushima. "Takizakura" literally means "waterfall cherry tree" in Japanese; a fitting name as the 12 meter tall tree's wide drooping branches spread out over 20 meters east-west and 18 meters north-south, making it appear like a cascading waterfall. The tree is estimated to be over a thousand years old and its trunk has a girth of 9.5 meters.
Around mid April every year, the Miharu Takizakura reaches the peak of its flowering season and hundreds of thousands visit to admire its cherry blossoms. Despite the size of the crowds, human traffic is usually well regulated and the process of touring around the tree is thereby kept smooth and pleasant. Visitors are advised to go as early as possible though, as roads leading to the location can get extremely congested.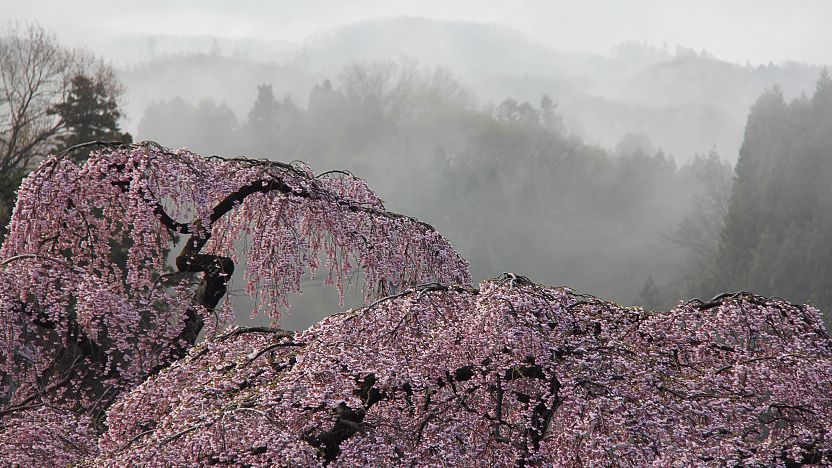 The Miharu Takizakura is located in a rural and remote area difficult to access by public transport for most of the year. A temporary bus service is offered between Miharu Station and the Miharu Takizakura during the peak of the cherry blossom season (25 minutes, 700 yen for a 1-day pass). In 2023, the bus is scheduled to operate from April 1 to 9.
Miharu Station can be reached via the JR Banetsu-to Line from Koriyama Station (12 minutes, 240 yen, every 1-2 hours). Tokyo and Koriyama are connected by the JR Tohoku Shinkansen (80 minutes, about 8000 yen, 3-4 trains per hour). The trip from Tokyo to Miharu Station is fully covered by the Japan Rail Pass, JR East Tohoku Area Pass and JR East South Hokkaido Pass.
Admission
300 yen (only during cherry blossom season)
Questions? Ask in our forum.