How to get to Arita and Imari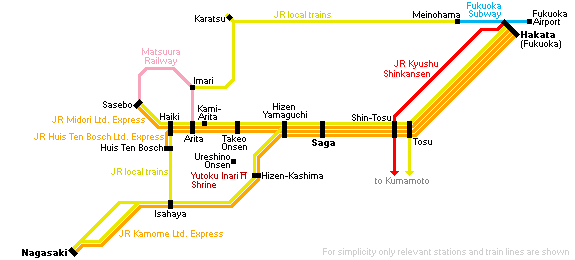 Fukuoka's Hakata Station and Arita Station are connected with each other once per hour by direct JR Midori and JR Huis Ten Bosch limited express trains. The one way trip takes around 90 minutes, costs about 3000 yen and is fully covered by the Japan Rail Pass and both versions of the Kyushu Rail Pass.
Note that the limited express trains do not stop at Kami-Arita Station, which is closer to many of the town's attractions than Arita Station. People wishing to travel to Kami-Arita Station should take the limited express train as far as Hizen-Yamaguchi (45 minutes) and transfer to a local train to Kami-Arita (35 minutes).
Alternatively, Imari can be approached via the JR Chikuhi Line from Karatsu (1 hour, 650 yen one way, one train every 1-3 hours).
Above fees and schedules are subject to change. For the current yen exchange rate, click here.
Orientation
Arita is located 15 kilometers inland from the port town of Imari, while Okawachiyama is located a short bus ride in the mountains just south of central Imari. Arita Station and Imari Station are connected with each other by the Matsuura Railway (25 minutes, 460 yen one way, not covered by JR passes, 1-2 trains/hour), but note that many of Arita's main attractions are located around Kami-Arita Station rather than Arita Station.
When visiting Arita in combination with Okawachiyama, a rental car provides a lot of convenience over the infrequent public transportation. Rental car outlets can be found in central Imari and in larger nearby cities such as Karatsu, Sasebo, Saga and Nagasaki.
External Links and Resources