Okawachiyama Village
Village made up of dozens of pottery workshops
Okawachiyama (大川内山, Ōkawachiyama) is a small, isolated village in the mountains just outside central Imari. Alongside Arita (in the neighboring valley), it was the first place in Japan to produce porcelain after kaolin - the mineral essential to making porcelain - had been found in the area and craftsmen with the necessary skills had been brought from Korea into the country.
Porcelain was an extremely valuable resource for the local ruler because of its superior quality to contemporary pottery. For that reason, the ruling Nabeshima Clan directly controlled porcelain production at Okawachiyama and built the village well defended and isolated in order to keep the technology secret, earning Okawachiyama the moniker "Village of the Secret Kilns". The pottery produced in Okawachiyama became known as Nabeshima-yaki and was among the most exclusive.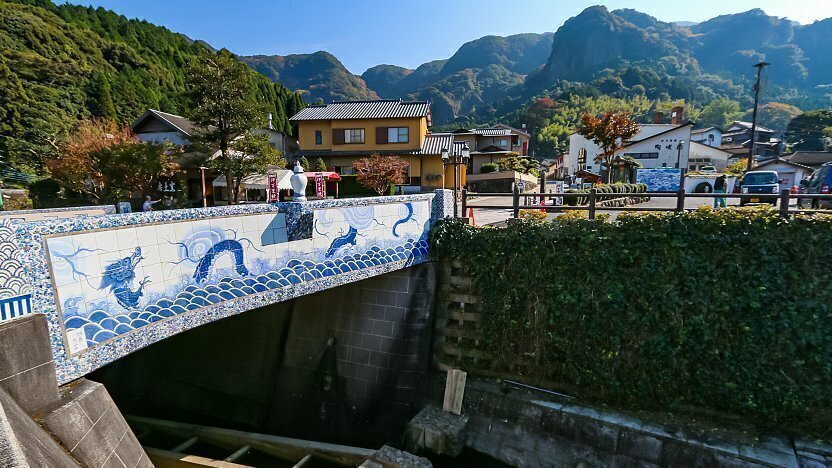 Today, Okawachiyama Village consists mostly of pottery workshops and their store fronts. About 30 of them line the village's narrow lanes, and several of them preserve their tall chimneys. The village is relatively small and easily explored on foot. At the entrance of the village around the Nabeshima Clan Kiln Bridge stands the Imari-Arita Ware Traditional Crafts Center that displays some local ceramics. Nearby is a shop that double-serves as the Imari Nabeshima Ware Exhibition Hall. This is also one of only a couple of places in the town where tourists can find something to eat.
On the opposite side of the river lies a graveyard where a pyramid-shaped monument is dedicated to the Korean potters who were brought to Japan. In the forested slopes above the village is the Nabeshima Hanyo Park. The ruins of several stepped kilns from the Edo Period can be seen there in combination with modern ceramic artwork and nice views onto the village.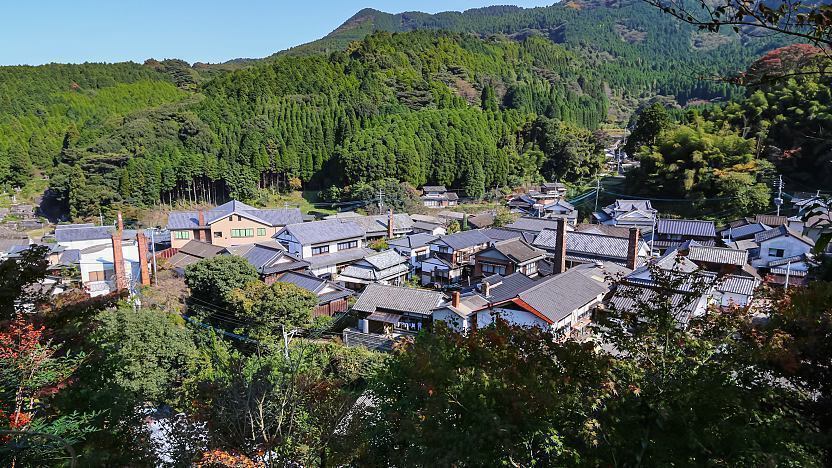 Okawachiyama Village is located in the mountains just outside of central Imari. From Imari Station, there is about one bus every two hours to Okawachiyama (15 minutes, 170 yen one way). Alternatively, a taxi ride takes about ten minutes and costs around 1800 yen one way. Good walkers could even walk to the village in about one hour and a half.
How to get to and around Arita and Imari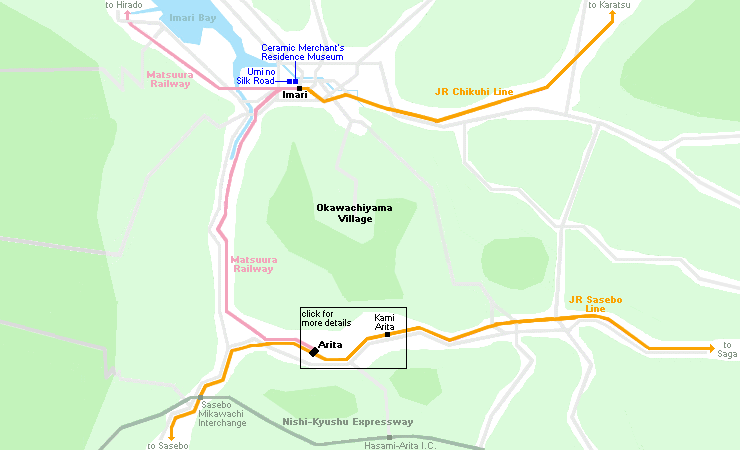 Questions? Ask in our forum.