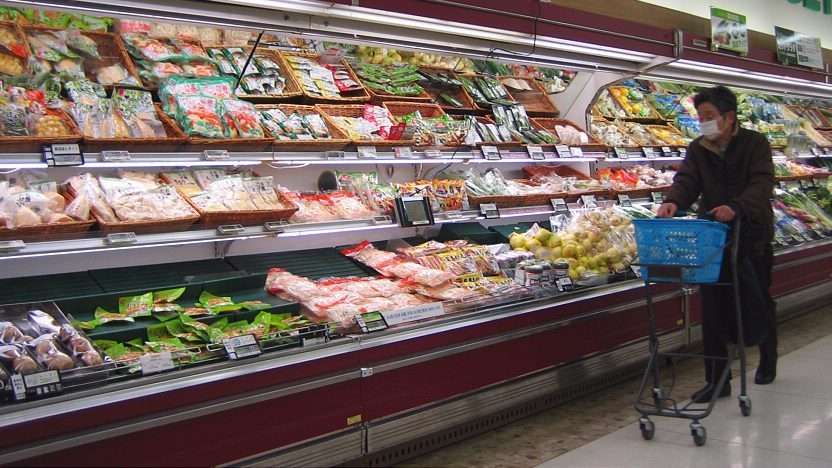 Japanese supermarkets are organized in much the same way as in other parts of the world. All major food groups are accounted for, including fresh fruits and vegetables, seafood, meat, tofu, pickled, dried and canned food, bread, dairy products, snacks, ready-to-eat meals and alcoholic and non-alcoholic beverages. Supermarkets in Japan also typically sell a wide range of household articles and cleaning supplies.
Foods typically sold in Japanese supermarkets
Meat: beef, pork, chicken
Produce: vegetables, fruits, mushrooms
Dairy Products: milk, yogurt, cheese, eggs, butter, margarine
Snacks: Japanese sweets, international candies, rice crackers, potato chips
Pre-made deli dishes: salads, yakitori, deep fried dishes
Others: rice, bread, noodles, cereals, canned and frozen foods, sauces, condiments
Supermarkets are most numerous in the suburbs and in medium sized cities and towns; however, they are more difficult to find in the centers of Japan's largest cities. For tourists staying in these cities, the easiest places to find food are convenience stores and the food floors of department stores. Typically comprised of an array of booths purveying a wide range of foods and prepared dishes, these food departments provide a pleasant and varied experience but can be considerably more expensive than the average supermarket.
Speaking of cost, Japanese supermarkets are in general reasonably priced, with a mixture of branded and cheaper 'off brand' products on sale that usually span frozen foods, bread, snacks, sauces and other goods. As a rule, supermarkets are slightly cheaper than convenience stores, however it is worth noting that unlike convenience stores, supermarkets tend not to be open 24 hours, usually closing around nine or ten in the evening.
Note that many supermarkets begin to mark down their unsold lunch items around 14:00 and their other prepared foods from around 19:00. Discounts start off at a modest 10 to 20 percent, but progressively increase until closing and may end up as high as 50 to 70 percent. Many supermarkets also discount fruits and vegetables that are either blemished, overripe or otherwise not fit for sale at full price.
As in other countries, customers pick desired items off the shelves into their basket and then proceed to a checkout to pay. Shopping carts are a cleverly-designed, rolling frame into which baskets slot. Most checkouts in Japan are manned, however an increasing number of self-service scanning machines are appearing. Although shopping bags are sometimes provided by default, it is common for supermarkets to charge a few yen for them.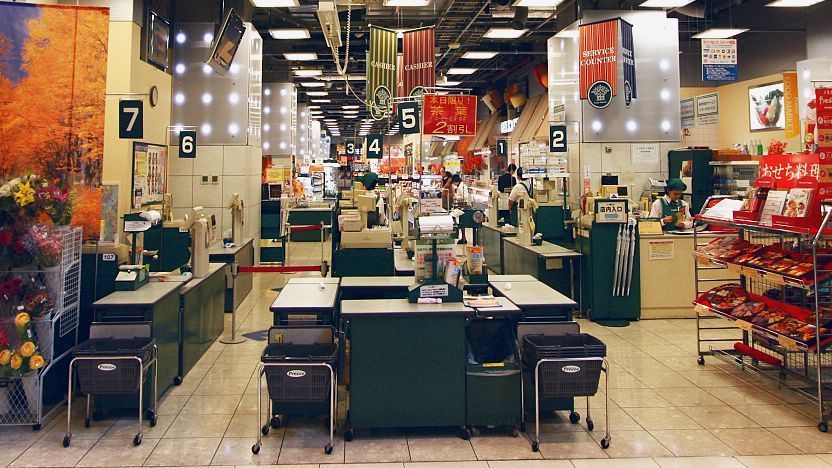 Questions? Ask in our forum.