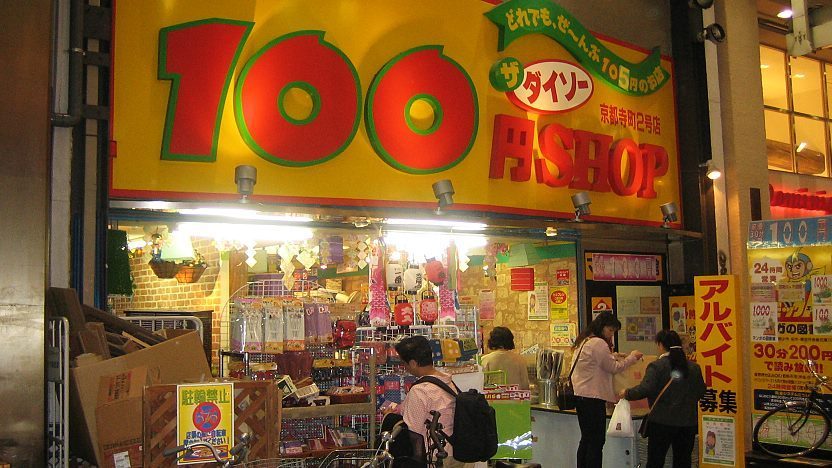 100 yen shops (100円ショップ, Hyaku En Shop or 百均, Hyakkin) are a type of discount store that sell a wide range of products for 100 yen plus consumption tax. This corresponds roughly to one US dollar, making these shops a great source for travelers and residents on a budget.
Typically everything in the store costs 100 yen per item; however, they often sell smaller things, such as candy and snacks, in multiples of 2 or 3 for 100 yen. Some stores also sell selected items for more than 100 yen, which are usually priced in multiples of 100 yen. These items will be clearly marked, and, although more expensive, are usually still a good value for the price.
What do 100 yen shops sell
100 yen shops are able to offer an amazing range of products, many of which are their own store-branded goods, at a price that is sometimes below the products' actual value. They do this mainly by purchasing products in huge quantities directly from manufacturers in countries with low production and labor costs.
Below is a selection of products typically found at 100 yen shops:
Where to find 100 yen shops
There are thousands of 100 yen shops across Japan, ranging in size from multi-story "department stores" to small corners in shopping malls. Market leader Daiso operates over 3000 stores nationwide. Below is a list of some large and relatively easily accessible Daiso branches in a few major cities:
The Arcakit Kinshicho Store is located on the 7th floor of Arcakit, a mall located a few steps from Kinshicho Station's north exit.
The Decks Tokyo Beach Store is located on the 4th floor of the Decks Tokyo Beach mall in Odaiba, a short walk from Odaiba Kaihinkoen Station on the Yurikamome.
The Aeon Mall Kyoto Store is located on the 4th floor of Aeon Mall Kyoto, which stands a five minute walk from the Hachijo exit of Kyoto Station.
The Nagoya Sakae Skyle Store is located on the 7th floor of Skyle, a mall standing a few steps from Sakae Station's exit number 11.
The Hakata Bus Terminal Store is located on the 5th floor of the Hakata Bus Terminal, a few steps from the west side of Hakata Station.
The Celesta Higashikuyakushoeki-mae Store is located in the Celesta shopping center, reached from exit number 4 of the Higashikuyakusho-mae Station along the Toho Subway Line.
Questions? Ask in our forum.