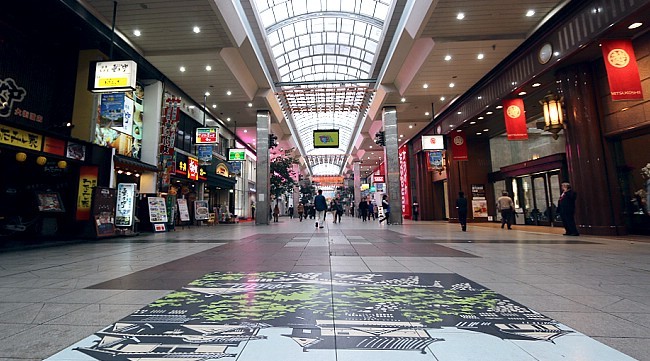 From Matsuyama-shi Station, a sheltered shopping arcade stretches about half a kilometer eastwards (Gintengai Shopping Street) before turning northwards and leading a further 600 meters towards the Okaido tram stop (Okaido Shopping Street). A large variety of establishments can be found along these arcades, including independent fashion boutiques, chain stores, cosmetic retailers, jewellery dealers, accessory shops, patisseries, pachinko parlors, cafes, restaurants and more.
North of the Okaido tram stop, the street leading towards the lower station of the ropeway to Matsuyama Castle is lined by several trendy shops selling local products from Matsuyama and Ehime Prefecture.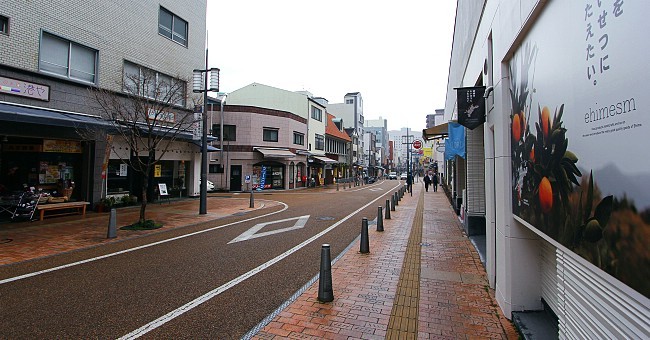 Northeast of the city center in the Dogo Onsen area, a sheltered shopping arcade connects the Dogo Onsen tram station with the Dogo Onsen Honkan bath house. The approximately 250 meter long arcade is filled with stores selling local specialties, gifts, snacks and designer desserts. Most shops here open into the night, and the shopping street remains lively with strolling visitors and ryokan guests in their yukata.
Shops and restaurants in Matsuyama maintain their individual opening hours and closing days. Stores along the Gintengai and Okaido shopping streets typically open from around 10:00 to 20:00, while restaurants typically open longer into the evening. The stores at the Dogo Onsen shopping street typically open from around 9:00 to 22:00 to cater to ryokan guests taking an evening walk. Many of the shops are open everyday, while others close on one day per month or week, typically Tuesday or Wednesday.