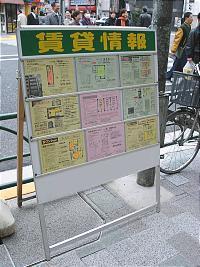 Apartments are usually rented through real estate agents rather than landlords. Real estate offices can be recognized by listings of available apartments in their show windows. They also advertise on signs in the neighborhood and in various publications.
Conventional real estate companies
The rental system of many conventional real estate companies is not very foreigner friendly.
Apartments are usually rented for a minimum of two years, which conflicts with the fact that many foreigners stay in Japan for less than two years.
Furthermore, most landlords are naturally reluctant to rent their apartments to foreigners who are not able to communicate in Japanese. Some of them will even categorically refuse their service to non permanent residents out of fear of frictions.
Many agents also require you to provide them with information about your financial background and to have a guarantor co-sign the rental contract as another security measure. Certain conditions apply as who can serve as your guarantor. It must usually be a Japanese national with a stable financial background.
Not at last, entering a rental contract with a conventional real estate company is very expensive. A number of refundable and non refundable fees have to be paid, often totaling two or more months' rent, depending on the company and apartment:
Reservation fee (tetsukekin)
The tetsukekin is paid when you apply for an apartment, and before the actual rental contract is signed. It serves as a guarantee for you that the apartment is not given to somebody else, and for the agent that you do not change your mind. It is refunded after the actual contract is signed and is usually equivalent to about one month's rent.
Deposit (shikikin)
The deposit is used to cover eventual future damage to the apartment. The deposit minus the cost for repairs is refunded when you move out. The deposit is usually equivalent to several months' rent.
Key money (reikin)
This is a non refundable payment to the landlord in the amount of up to several months' rent.
Service fee (chukai tesuryo)
This is a non refundable payment to the real estate agent in the amount of at most one month's rent.
In most cases, apartments come unfurnished, utilities are not included in the rent. Pets may or may not be allowed.
Real estate companies for foreigners
Real estate companies, which specifically target Japan's foreign community, exist mainly in Tokyo and other large metropolitan areas. They offer private and shared apartments for conditions that are much more suitable to the needs of foreigners, and often have staff trained in foreign languages.
For example, they offer rental contracts for much shorter time periods and lower and fewer initial fees than conventional companies. In addition, their apartments are often already furnished, and the cost for utilities may be included in the monthly rent.
Many real estate companies for foreigners operate so called gaijin houses ("foreigner houses"), a very inexpensive type of accommodation, while others target individuals and businesses on larger budgets and with higher requirements.
Questions? Ask in our forum.