Kawasaki: Getting there and around
How to get from Tokyo to Kawasaki
Multiple train lines, especially those that run between Tokyo and Yokohama, travel through Kawasaki, as shown on the map below: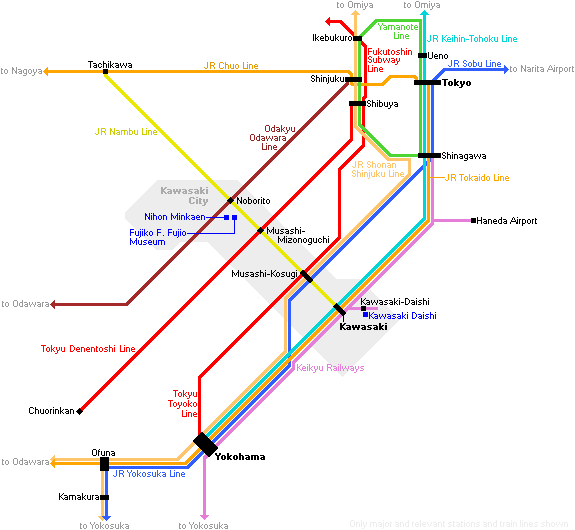 Above fees and schedules are subject to change. Be sure to check current yen exchange rates.
Getting around
Kawasaki is served by several train lines that run through the city. Of particular usefulness are the JR Tokaido, JR Keihin-Tohoku and Keikyu Lines that connect Kawasaki Station with Tokyo and Yokohama, the Odakyu Line to Shinjuku and the Tokyu Toyoko Line to Shibuya. All these lines are connected perpendicularly with each other by the JR Nambu Line that runs lengthwise through the city.
Kawasaki's few tourist attractions are spread out around the city. Kawasaki Daishi Temple stands a short train ride from Kawasaki Station, but the Nihon Minkaen open-air museum and Fujiko F. Fujio Museum lie further out into the suburbs.
The Suica and Pasmo prepaid cards, as well as eight IC cards from other major cities of Japan, can be used on virtually all trains and buses in Kawasaki.
Questions? Ask in our forum.