Akita: Getting there and around
How to travel between Akita and Tokyo
By air
JAL and ANA operate multiple flights per day between Tokyo's Haneda Airport and Akita Airport. Flight duration is about 70 minutes. The regular one way fare is around 28,000 yen, however, discount tickets are usually available for between 14,000 and 18,000 yen. With an air pass you can fly for even less. Buses connect Akita Airport with Akita Station in the city center (40 minutes, 950 yen one way).
By train
Direct Komachi trains on the JR Akita Shinkansen travel between Tokyo and Akita. The one way trip takes around four hours, costs about 18,000 yen and all seats require seat reservations. There are hourly departures, and the trip is fully covered by the Japan Rail Pass, JR East Tohoku Area Pass and JR East South Hokkaido Pass.
By night bus
Akita Chuo Kotsu and Odakyu Bus operate overnight buses between Tokyo and Akita. The one way journey takes about eight hours and costs around 9,500 yen, while a round trip ticket costs 17,000 yen and must be used within ten days. The route is also served by discount bus companies, such as Willer Express, with one way fares from around 5,000 yen. If used effectively, the Japan Bus Pass can reduce the cost for the bus trip to around 3,000 yen. Online reservations can be made through Willer and Japan Bus Online.
Above fees and schedules are subject to change. For the current yen exchange rate, click here.
Getting around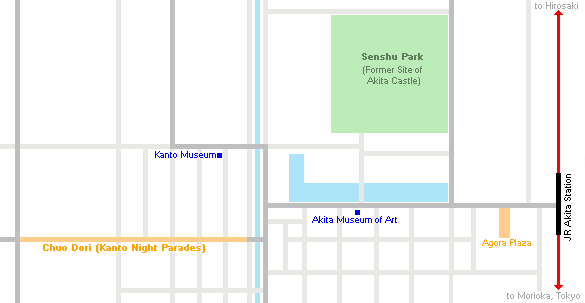 Akita City is relatively small compared to other prefectural capitals, and the city is best explored on foot. The major attractions are located to the west of the station, with the Akita Museum of Art about a ten minute walk away, and Chuo Dori, the main street where the Kanto Festival is held, an additional five minutes walk. Akita Station is the city's transportation hub where all the regional and interregional train and bus lines meet, including the Akita Shinkansen and airport buses to Akita Airport (40 minutes, 950 yen one way).
Questions? Ask in our forum.