Aso: Getting there and around
How to travel between Aso and Kumamoto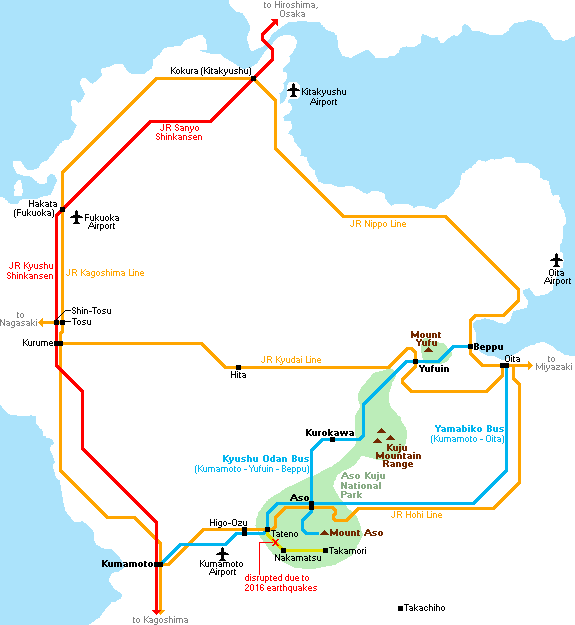 By train
Kumamoto and Aso stations are connected by local trains (100 minutes, 1130 yen one way, almost every hour) and limited express trains (70 minutes, around 2000 yen one way, every two hours) along the JR Hohi Line. All trains are covered by the Japan Rail Pass and the Kyushu Rail Pass (All Kyushu and Northern Kyushu versions).
By bus
Two types of buses ("Yamabiko" services and "Kyushu Odan" services) travel from Kumamoto (stopping at Kumamoto Station, the Sakuramachi Bus Terminal and the airport) to Aso Station before continuing on across Kyushu to Oita and Beppu respectively. The one way trip between Kumamoto Station and Aso Station takes around two hours, costs 1530 yen and is covered by the Sun Q Pass. "Yamabiko" buses operate once every 1-3 hours, while "Kyushu Odan" buses operate only twice per day. Reservations for the "Kyushu Odan" buses can be made online.
Above fees and schedules are subject to change. Be sure to check current yen exchange rates.
Getting around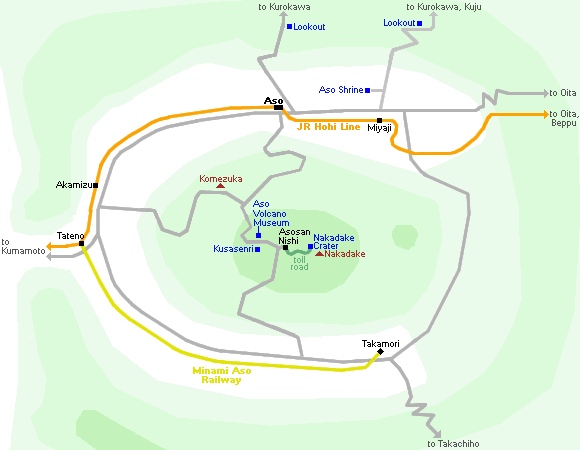 A rental car is the recommended means of transportation in the Aso area. Although most tourist sites are served by public transportation, the trains and buses are not very frequent, and a rental car provides considerably more flexibility and comfort. Many rental car outlets are located in Kumamoto City and at Kumamoto Airport, but only a few can be found in the Aso area.
The transportation hub in Aso is Aso Station on the JR Hohi Line, which runs across Kyushu between Kumamoto and Oita. Buses run between Aso Station and the peak of Mount Aso. The Minami Aso Railway is for the most part only useful for travelers who plan on continuing to Takachiho, as there is a bus connection to Takachiho from around Takamori Station.
Questions? Ask in our forum.