Kagoshima: Getting there and around
How to travel between Kagoshima and Tokyo
By train
Tokyo and Kagoshima are connected with each other by the Tokaido, Sanyo and Kyushu Shinkansen. One transfer of trains is required along the way, typically at Shin-Osaka or Hakata Station. The one way trip takes about seven hours and costs around 30,000 yen. Japan Rail Pass holders will require an additional hour, because they cannot use the faster Nozomi and Mizuho trains, and have to use Hikari and Sakura trains instead.
By air
JAL, ANA, Skymark and Solaseed are operating frequent flights between Tokyo's Haneda Airport and Kagoshima Airport, while Jetstar and Peach connect Kagoshima with Narita Airport. Flight time is around two hours. The regular one way fares by JAL and ANA are around 46,000 yen, while discount tickets are usually available for between 12,000 and 30,000 yen. The fares by Solaseed Air are roughly 15 percent lower than the ones of JAL and ANA, while the fares by Skymark Airlines, Jetstar and Peach are even cheaper.
Kagoshima Airport is a 40-60 minute bus ride outside of the city center. The one way fare between the airport and various stops in the city center is 1300 yen. Many rental car outlets are located at Kagoshima Airport.
Above fees and schedules are subject to change. Be sure to check current yen exchange rates.
Getting around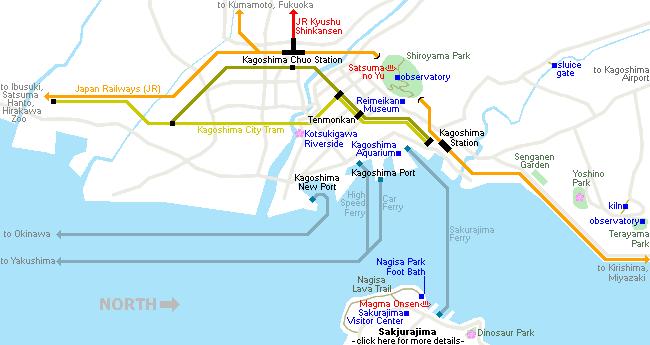 Kagoshima's main train station is Kagoshima Chuo Station, while Kagoshima Station is a smaller station on the opposite side of the city center. There are two tram lines which serve both railway stations and provide quick and convenient service in the downtown area. One ride costs 170 yen regardless of the distance traveled.
Kagoshima also has an extensive bus network that provides access to sites not served by trains and trams. Two loop buses are particularly useful for tourists: the City View Bus and the Machimeguri Bus. Both run along similar routes that connect Kagoshima Chuo Station with Senganen Garden, Shiroyama Park and the ferry terminal to Sakurajima. The City View buses run every 30 minutes and costs 190 yen per ride or 600 yen for unlimited use on one calendar day, while the Machimeguri Bus runs every 20 minues and costs 170 yen per ride or 500 yen for unlimited use on one calendar day.
The Welcome Cute pass is a pass for exclusive use by foreign tourists (passport required at the time of purchase) on trams, the City View Bus, the Sakurajima Island View Bus, other city-operated buses and the Sakurajima Ferry on one or two consecutive calendar days. The 1-day pass costs 1200 yen, while the 2-day pass costs 1800 yen. The pass also includes discounts at some tourist facilities.
There are also a few sightseeing bus tours offered that take 3-6 hours to explore Kagoshima City, Sakurajima or both for around 2500 to 5000 yen. Tour guides in the buses give explanations in Japanese.
Kagoshima Airport is located quite far outside the city center, and is most easily accessed by airport buses that stops at a number of locations within the city, including Kagoshima Chuo Station and the high speed ferry terminal (高速船ターミナル, 1-2 buses per hour). The one way ride takes about an hour and costs 1300 yen.
There are four separate ferry terminals across the Kagoshima Port area for ferries leaving to nearby and faraway destinations (see map above): Shuttle buses operate every 15 minutes between Kagoshima Chuo Station and the terminals for ferries to Sakurajima and Yakushima (15 minutes, 160 yen one way). Ferries for Okinawa can be reached by the "Port Liner" bus which connects Kagoshima Chuo Station with Kagoshima New Port (20 minutes, 160 yen one way) once per day, timed to the ferries' departures and arrivals. All of the above mentioned buses also stop at Tenmonkan in the city center along the way.
Questions? Ask in our forum.