Beppu: Getting there and around
How to travel between Beppu and Tokyo
By train
Take the Tokaido/Sanyo Shinkansen from Tokyo to Kokura Station and transfer to the Sonic limited express train for Beppu. The entire one way trip takes about 6 hours and costs around 25,000 yen. Japan Rail Pass holders will require an additional hour, because they cannot use Nozomi trains along the Tokaido/Sanyo Shinkansen, and should instead travel by Hikari and Sakura trains with an additional transfer at Shin-Osaka Station.
By air
JAL, ANA, Solaseed, Peach Aviation and Jetstar Japan operate frequent flights between Tokyo (mostly Haneda Airport, except Peach and Jetstar which use Narita Airport) and Oita Airport near Beppu. Flight duration is 90 minutes. The regular one way fare by JAL and ANA is about 40,000 yen, but discount tickets are usually available for around 11,500 to 27,000 yen. Fares by Solaseed Air are typically 20 percent lower than those by JAL and ANA, while the fares by Peach and Jetstar start from around 6,000 yen.
The one way bus journey between Oita Airport and Beppu takes 40 minutes and costs 1500 yen. All buses stop at Beppu Kitahama, and a few buses also serve JR Beppu Station. Several rental car companies have an outlet at Oita Airport.
Above fees and schedules are subject to change. Be sure to check current yen exchange rates.
Getting around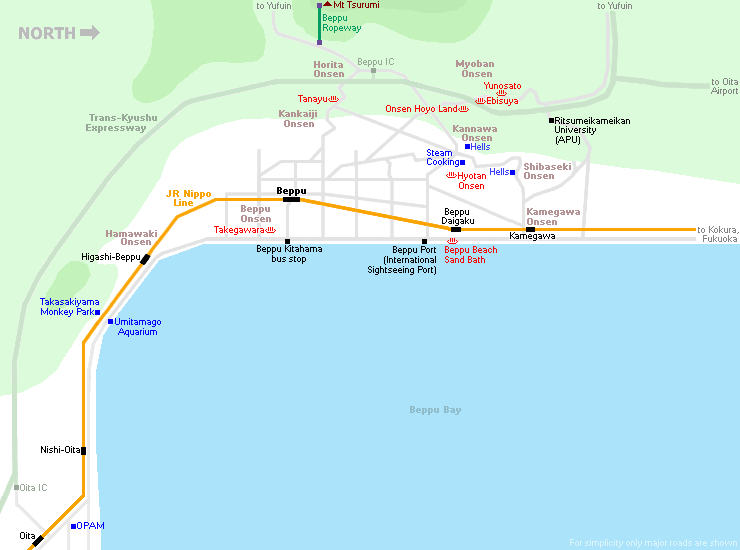 Beppu's attractions are spread all across the city and are best explored by rental car or bus. The city's bus network is operated by two companies: Kamenoi Bus and Oita Kotsu.
Kamenoi Bus provides access to most places in Beppu except the Takasakiyama Monkey Park and the Umitamago Aquarium. Kamenoi also offers practical one day and two day unlimited bus passes (900 and 1500 yen respectively) that cover all of the sites within central Beppu. Special wide versions of the passes (1600 and 2400 yen) include the buses to Yufuin. Oita Kotsu operates bus lines from central Beppu to the monkey park, the aquarium and to Oita Airport.
Highway buses and most airport buses stop at the Kitahama bus terminal, which can be reached from Beppu Station in about a 5-10 minute walk. Beppu Port, with ferry connections to Shikoku and Osaka, can be reached in a ten minute bus ride from Beppu Station or the Kitahama bus terminal.
The closest airport to Beppu is Oita Airport. Buses connect the airport with Beppu's Kitahama bus terminal in 45 minutes and for 1500 yen one way.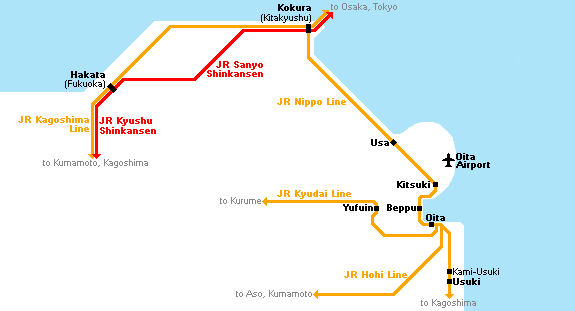 Questions? Ask in our forum.