How to get to Usuki
Usuki and Kami-Usuki are stations along the JR Nippo Line which connects Kokura Station in Kitakyushu with Beppu, Oita and Kagoshima. Local trains stop at Kami-Usuki Station, but limited express trains do not.
The JR trains to Usuki are covered by the Japan Rail Pass and the full version of the Kyushu Rail Pass, but note that the Northern versions of the latter is not valid south of Oita Station. Furthermore, note that the Kyushu Rail Pass is not valid on the JR Sanyo Shinkansen.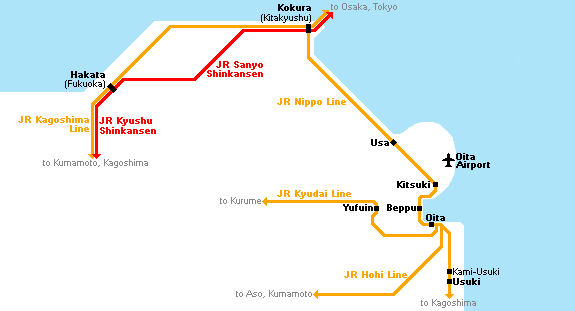 From Beppu (how to get to Beppu)
Hourly local trains run from Beppu to Usuki Station (940 yen, 60 minutes). Travel by limited express train (about 1800 yen, approximately 45 minutes) can be faster, but usually requires a transfer at Oita Station.
From Fukuoka (how to get to Fukuoka)
Take a limited express train from Fukuoka's Hakata Station to Oita Station (two hours) and transfer to another limited express or a local train to get to Usuki Station (45-60 minutes). There are about two connections per hour, and the whole trip takes approximately three hours and costs around 6000 yen.
From Shikoku
Uwajima Unyu Ferry and Orange Ferry each run multiple ferries per day between Usuki and Yawatahama on Shikoku. The one way ride takes approximately 2.5 hours and costs about 2500 yen in the cheapest class. The one way fee for a regular sized car is around 11,000 yen.
Above fees and schedules are subject to change. For the current yen exchange rate, click here.
Orientation
The main attractions of Usuki are found in two separate areas: the samurai district in the city center and the stone Buddhas about five kilometers southwest of the city center.
The samurai district can be covered on foot from either Usuki or Kami-Usuki Stations. Buses run from Usuki Station to the stone Buddhas area, but departures are made only every one to two hours, and therefore a taxi or a rental car would be a more convenient option to get there. A car rental outlet can be found near Kami-Usuki Station, but outlets are more readily available at Beppu, Oita and Oita Airport.
Bicycles can be borrowed for free at Usuki Station from 9:00 to 15:00 (return by 17:00 on the same day).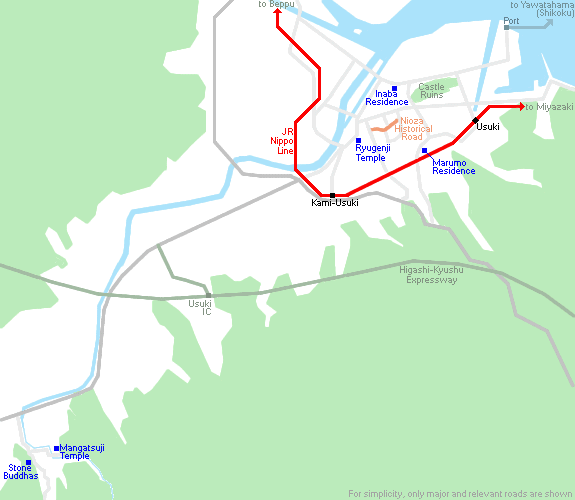 External Links and Resources