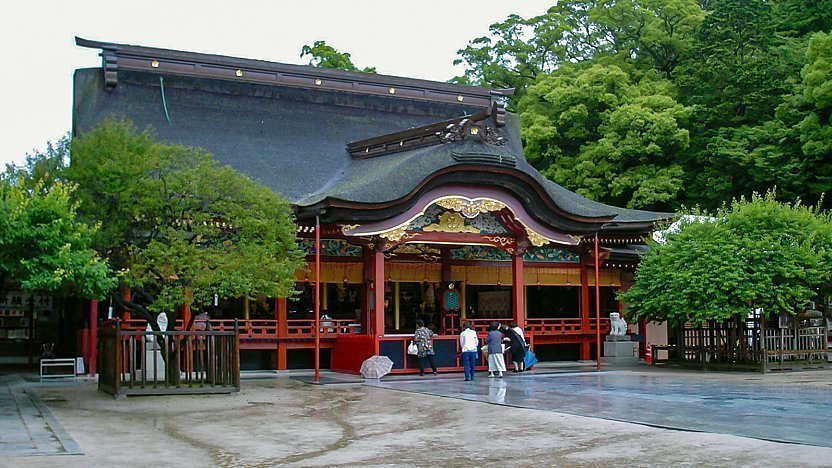 Among the hundreds of Tenmangu Shrines throughout Japan, Dazaifu's (太宰府天満宮, Dazaifu Tenmangū) is the most important one alongside Kyoto's Kitano Tenmangu. Tenmangu Shrines are dedicated to the spirit of Sugawara Michizane, a scholar and politician of the Heian Period. Because of his great learning, Michizane has been associated with Tenjin, a Shinto deity of education, and is popular among students.
Michizane displayed his remarkable talents from a young age, and had already begun composing poetry by the age of eleven. His political career developed quickly, and he was able to gain much influence within the imperial court, which was then dominated by the Fujiwara clan. However, his rise to power resulted in rivalries between Michizane and the Fujiwara, which ultimately resulted in Michizane's exile from the capital city of Kyoto to the far-off government office of Dazaifu.
Michizane passed away in Dazaifu in 903, just a few years after being sent into exile. Shortly after his death the country was ravaged by natural disasters, and people came to believe that the calamities were caused by the wrathful spirit of Michizane, still angered by his unjust treatment. Offerings were made to the spirit of Michizane and the tradition of Tenmangu Shrines was begun. The Tenmangu Shrine in Dazaifu was built on the site of his grave.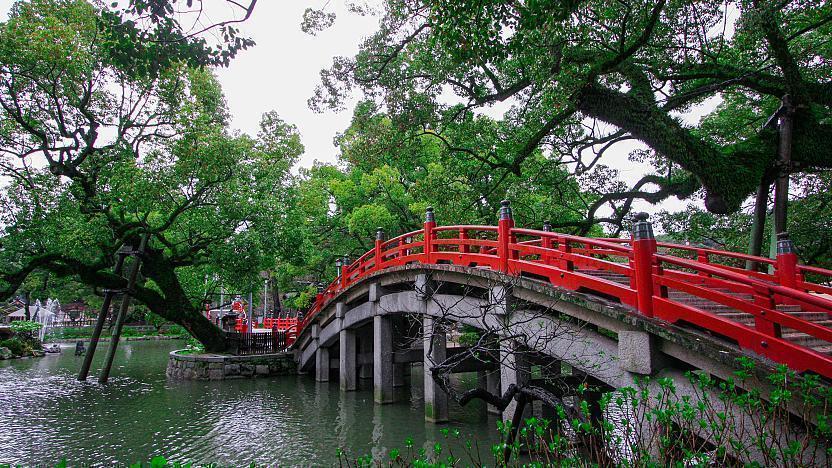 Tenmangu Shrine is located about 250 meters from Dazaifu Station, and the entire length of the approach is lined with shops that cater to the shrine's visitors. The shrine is rather large, stretching about 250 meters from one end to the other. After passing through the torii gate at the entrance, visitors will come across a pond that was built in the shape of the Japanese character for "heart". A path leads across two arched bridges and islands which represent the past, present and future.
After crossing the bridges, visitors approach a walled courtyard with the shrine's main hall (honden), whose current building dates back to 1591. The plum tree standing on the right of the main hall is the legendary tobiume (flying plum tree), which according to tradition flew from Kyoto to Dazaifu to accompany Michizane into exile. Michizane was fond of plum trees, and plum trees are typically found at Tenmangu Shrines. There are as many as 6000 of them on the grounds of Dazaifu Tenmangu, and are typically in bloom from late February to mid March.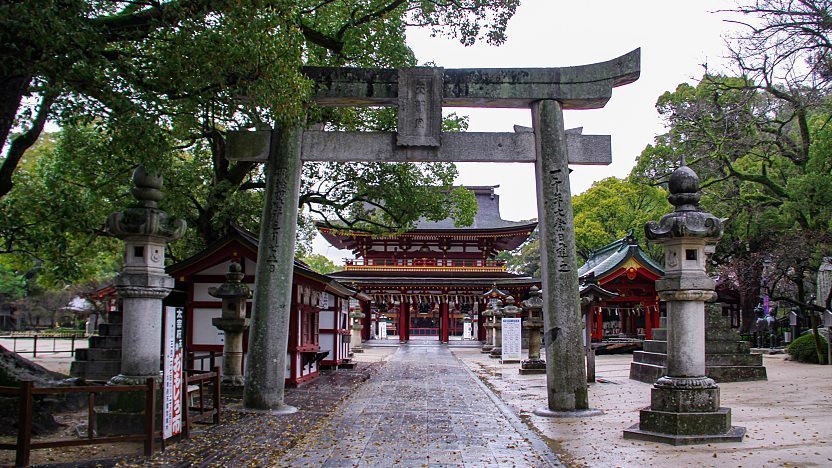 A wide range of good luck charms can be purchased from the shops around the main hall. Most popular are education related charms which are supposed to help students pass exams. The shrine enjoys great popularity among students especially during the entrance exam season, when enormous amounts of ema charms can be seen hanging on the shrine grounds.
Between the pond and the main hall stands the Dazaifu Tenmangu Museum, which houses and displays many of the shrine's treasures. And behind the main hall is the small Kanko Historical Museum, which displays the main events in the life of Michizane in small dioramas. Although the signs are written in Japanese, an English pamphlet is available that has explanations for each scene.
For travelers inspired by Michizane's example of dedicated study, more extensive learning can be done at the nearby Kyushu National Museum. A direct path to the museum has been constructed at the southeastern end of the shrine grounds.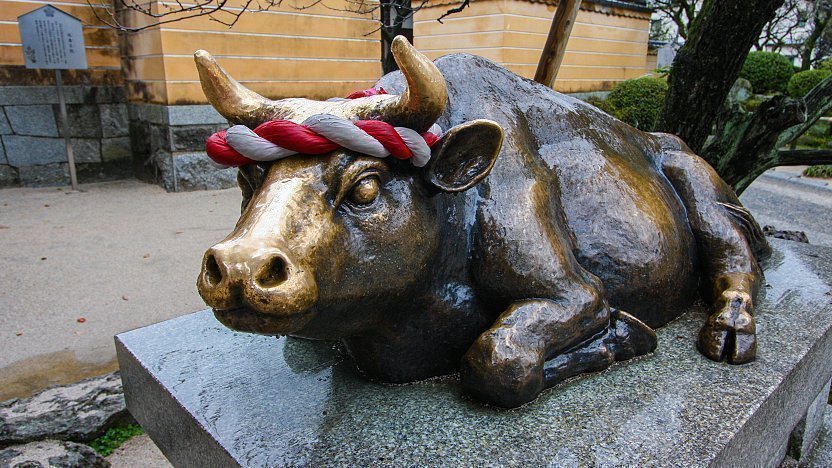 Dazaifu Tenmangu Shrine is located a five minute walk east of Dazaifu Station. Alternatively, the shrine can be reached in a one minute bus ride (100 yen, three buses per hour). Get off at Miya-mae bus stop.
How to get to and around Dazaifu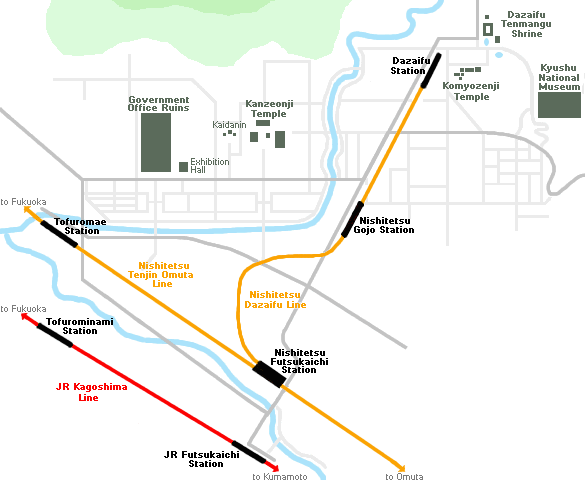 Main Hall
Hours
6:00 to 19:00 (April and May)
6:00 to 19:30 (June to August)
6:00 to 19:00 (early to mid September)
6:30 to 19:00 (late September to November)
6:30 to 18:30 (December to mid March)
6:00 to 18:30 (late March)
Opens until 20:00 on Fridays and Saturdays
Dazaifu Tenmangu Museum
Hours
9:00 to 16:30 (entry until 16:00)
Admission
400 yen (Dazaifu Tenmangu Museum only)
500 yen (also including Kanko Historical Museum and
Kyushu National Museum
)
Kanko Historical Museum
Hours
9:00 to 16:30 (entry until 16:00)
Closed
Tuesdays and Wednesdays
Admission
200 yen (Kanko Historical Museum only)
500 yen (also including Dazaifu Tenmangu Museum and
National Museum
)
Questions? Ask in our forum.