Dazaifu: Getting there and around
How to travel between Fukuoka and Dazaifu
Dazaifu is located about 15 kilometers southeast of central Fukuoka City and is most easily accessed by Nishitetsu Railway or direct bus (how to get to Fukuoka).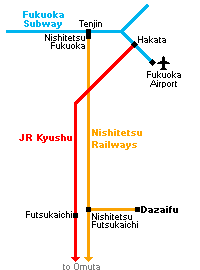 By Nishitetsu Railway
Dazaifu is the terminal station of a small branch line (Dazaifu Line) off of Nishitetsu's main line (Tenjin Omuta Line). The main line begins at Nishitetsu Fukuoka Station, which is directly beside the Tenjin subway station and can be accessed from Hakata Station by subway (5 minutes, 210 yen).
From Nishitetsu Fukuoka Station there are frequent trains to Nishitetsu Futsukaichi Station (15-25 minutes, served by all train categories), where a transfer can be made to the Dazaifu Line that leads to Dazaifu Station (5 minutes, departures every 10-15 minutes). The total journey from Nishitetsu Fukuoka Station to Dazaifu takes 25-40 minutes and costs 410 yen.
By bus
A direct bus connects Fukuoka (Hakata Bus Center) with Dazaifu (Dazaifu Station) every 20-30 minutes. The one way ride takes about 45 minutes and costs 610 yen. Along the way, the bus also stops at Fukuoka Airport (International Terminal) from where it takes 30 minutes and costs 510 yen to Dazaifu.
By JR
Take the JR Kagoshima Line from Hakata Station to JR Futsukaichi Station (15-25 minutes, 280 yen, departures every 10 minutes). From there travelers need to walk ten minutes to nearby Nishitetsu Futsukaichi Station, where the Nishitetsu Dazaifu Line can be taken to Dazaifu Station (5 minutes, 160 yen, departures every 10-15 minutes). The total journey takes 30-60 minutes and costs 440 yen (160 yen for Japan Rail Pass holders).
Above fees and schedules are subject to change. For the current yen exchange rate, click here.
Getting around
The main attractions of Dazaifu are all located within a kilometer and a half of Dazaifu Station and the city can quite easily be explored on foot. Rather than entering and departing the city from Dazaifu Station, visitors can save time by arriving to Dazaifu through Dazaifu Station and departing through Tofuromae Station, while covering the sites on foot along the way.
The Dazaifu area is served by a network of local "Mahoroba" buses. There are a couple of Mahoroba bus lines of interest to visitors which travel between Dazaifu Tenmangu Shrine, Dazaifu Station, Kanzeonji Temple, the Government Office Ruins and Tofuromae Station. There are about three buses per hour in either direction, one ride costs 100 yen, and a day pass is available for 300 yen.
Another good method of exploring the city is by rental bicycle. Rental shops can be found at Dazaifu Station (500 yen per day for a regular bike or 800 yen for an electric bike; 9:00 to 18:00) and Nishitetsu Futsukaichi (500 yen per day for a regular bike; 9:00 to 17:00).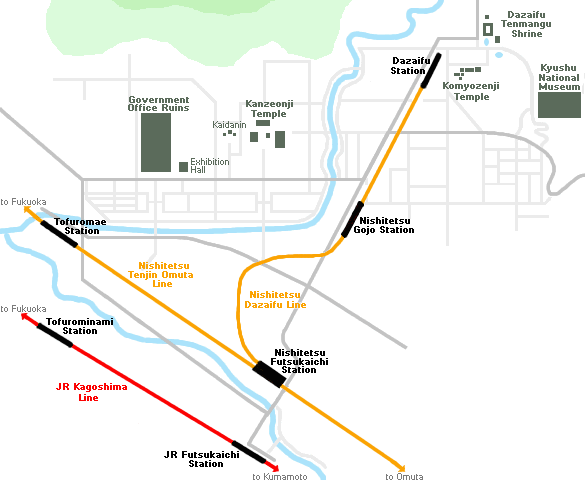 Questions? Ask in our forum.