Hongu Taisha
One of the three Kumano shrines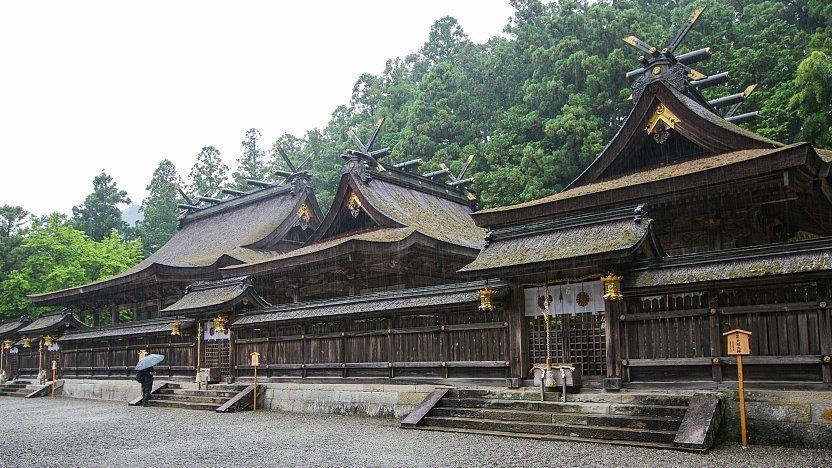 Kumano Hongu Taisha (熊野本宮大社, Kumano Hongū Taisha) is one of the Kumano region's three famous shrines. As well as enshrining its own deity, Hongu Taisha also enshrines the deities of the other two Kumano shrines, Hayatama Taisha and Nachi Taisha, and the Sun Goddess Amaterasu. It serves as the head shrine of over 3000 Kumano shrines across Japan.
Reference to Hongu Taisha was first documented in the 9th century, which the establishment of the shrine must have preceded substantially. Due to floods in 1889, the shrine was moved from its original location at Oyu no Hara to its present site one kilometer away. In front of Oyu no Hara stands the biggest torii gate in the world, which, at 33 meters tall, dwarfs visitors passing under it.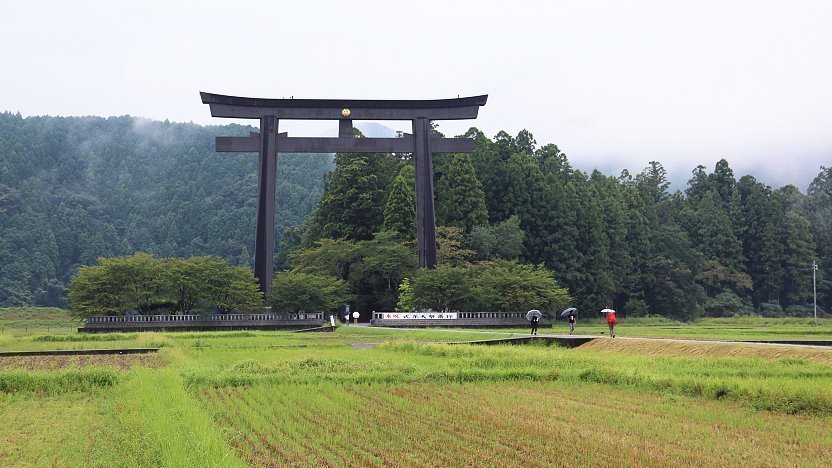 Hongu Taisha is located at the center of the Kumano Kodo network of pilgrimage routes. An enjoyable walk for visitors who wish to experience a pilgrimage trail but are pressed by time, is the final section of the Nakahechi route between Hosshinmon Oji and Hongu. It is seven kilometers long and takes about two hours. Hosshinmon Oji is accessible by bus.
There are three onsen (hot springs) near Hongu: Yunomine, Kawayu and Wataze. The first two are small onsen towns, while Wataze Onsen consists of only a single hotel complex, Watarase Onsen, which is known for having the largest outdoor bath in western Japan. The bath is also open to non-staying guests.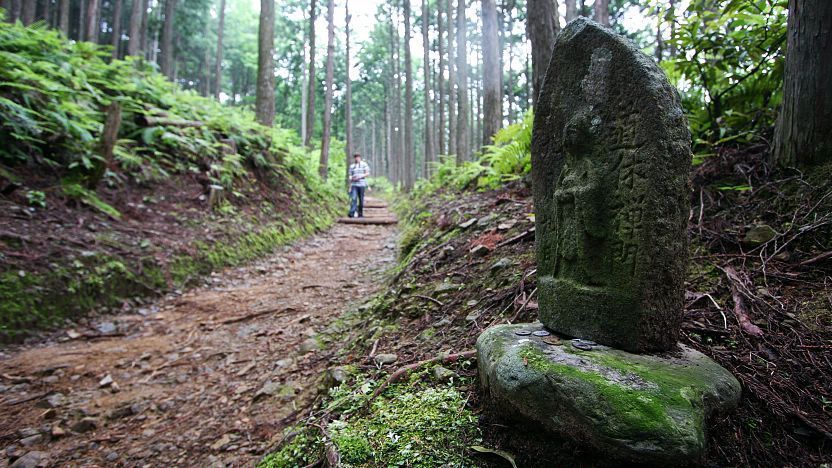 Kawayu Onsen is a unique hot spring town located along a river. To use the onsen, bathers dig a hole in the gravel riverbank into which hot spring water then flows. Cool river water is mixed with the hot onsen water to bring the water to a temperature particular to the bather's desire. In the winter, a giant rotenburo called the Sennin Bath is dug in the same manner, and is available for free public use.
Yunomine Onsen has such a long history that one of its baths, Tsuboyu, is designated as a UNESCO World Heritage Site. Pilgrims would perform purification rituals in the hot spring water as part of the religious process of their pilgrimage. Tsuboyu is one of two public bathhouses in Yunomine. The other is the larger, nearby Yunomine Public Bathhouse.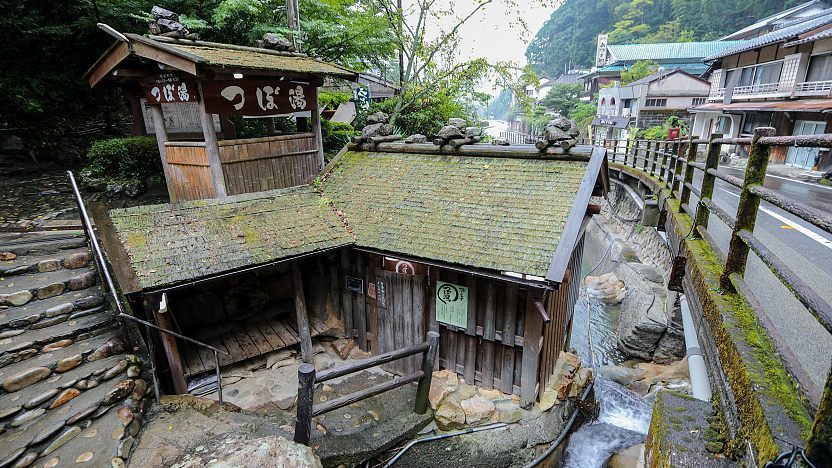 From Tanabe and Shirahama
Buses connect Kii-Tanabe Station with Hongu Taisha approximately every two hours. The one way trip takes 90-135 minutes and costs 2100 yen. Some buses continue from Hongu to Hosshinmon Oji (10 minutes), the starting point of a pleasant two hour walk along the Nakahechi pilgrimage route to Hongu Taisha. At the other end of the route, some of the buses serve the town and airport of Shirahama (around 2.5 hours, about 2500 yen one way). All of the buses stop at Takijiri Oji, the recommended starting point for the popular 2-day pilgrimage along the Nakahechi route to Hongu Taisha.
From Shingu Station
Buses for Hongu Taisha depart Shingu Station roughly once per hour. The one way trip costs 1560 yen and takes 50-75 minutes. Note that not all of the buses stop at the three hot spring resorts of Kawayu, Wataze and Yunomine Onsen before arriving at Hongu Taisha.
From Gojo Station
Three buses per day make an epic 6.5 hour journey from Yamato-Yagi Station in Nara Prefecture to Shingu Station with stops along the way at JR Gojo Station and Hongu Taisha. The one way trip between Gojo Station and Hongu Taisha takes four hours and costs 3250 yen.
How to get to and around Kumano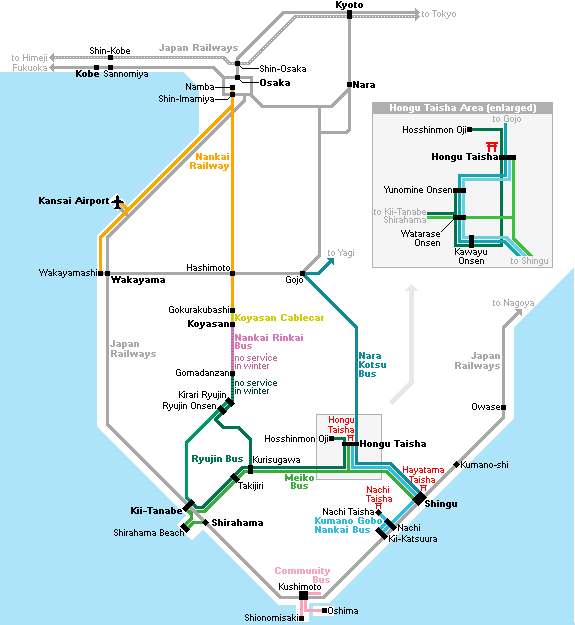 Watarase Onsen (for non-staying guests)
Hours
6:00 to 22:00 (admission until 21:30)
Kawayu Winter Rotenburo (Sennin Bath)
Closed
Not available from March to November
Tsuboyu
Admission
400 yen (during the closure of the Yunomine Public Bathhouse until summer 2022); the regular admission fee is 780 yen
Yunomine Public Bathhouse
Admission
400 yen (regular bath)
Questions? Ask in our forum.