Uwajima Castle
Original hilltop castle with a small keep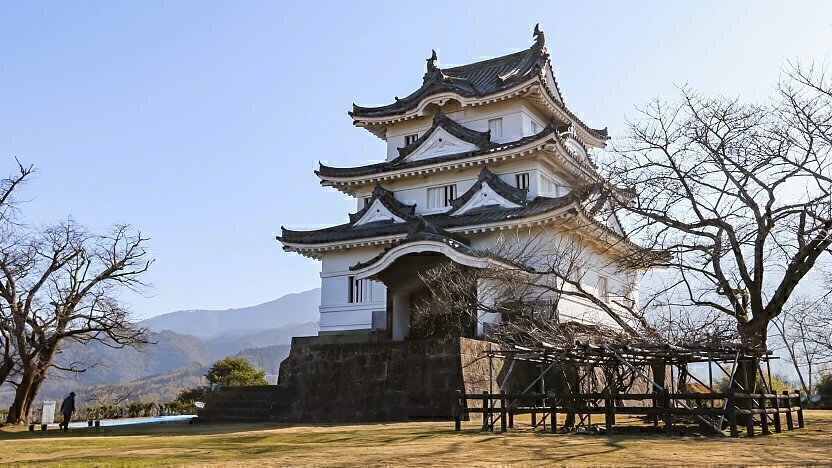 Uwajima Castle (宇和島城, Uwajimajō) is one of only twelve original castles that survived intact from the Edo Period (1603-1867). The small but atmospheric castle was built around the turn of the 17th century and was later refurbished when the Date family took over ownership in 1615. The Date clan continued to rule Uwajima from Uwajima Castle through the Edo Period. The castle stands on a hill which was situated just by the sea in the past, but land reclamation along the coast has resulted in it standing further inland today.
Visitors can approach the castle's keep starting from the north or south. The respective routes travel uphill on flights of stone steps meandering past moss covered stone walls and leading through the forest, which comprises of an interesting variety of vegetation. About halfway up the hill along the northern approach stands the Yamazato Soko, a storehouse built relatively recently in 1845. The structure now serves as a small museum, exhibiting festival props, craft tools, an old rickshaw and other items, and is free to enter.
After a 10-15 minute climb, visitors will reach the castle's three storied main keep at the hill's flat-topped summit. The keep's authentic wooden interior is well-preserved, and climbing up two floors worth of steep wooden stairs to the top floor rewards visitors with good views over Uwajima City. There are some exhibits within the main keep, such as armors and swords belonging to past feudal lords, as well as portraits of them.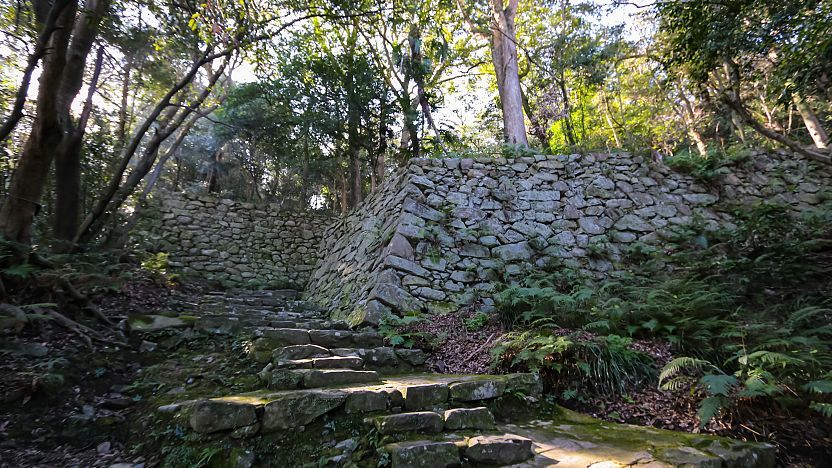 The northern trailhead to Uwajima Castle can be reached in a 10-15 minute walk from Uwajima Station. From there, it takes a further 10-15 minutes to climb up the hill and get to the main keep.
How to get to and around Uwajima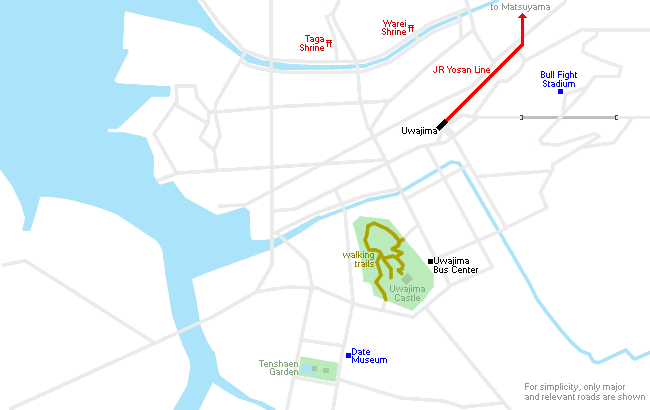 Castle Grounds
Hours
6:00 to 18:30 (until 17:00 from November to February)
Main Keep
Hours
9:00 to 17:00 (until 16:00 from November to February)
Questions? Ask in our forum.