Kochi: Getting there and around
How to travel between Kochi and Tokyo
By air
JAL, ANA and Jetstar Japan operate multiple flights per day between Tokyo (JAL and ANA use Haneda Airport and Jetstar uses Narita Airport) and Kochi Ryoma Airport. Flight duration is 90 minutes. The regular one way fare by JAL and ANA is around 35,000 yen, but discount tickets are usually available for between 13,000 and 27,000 yen. One way fares by Jetstar Japan start from around 5,500 yen. Kochi Ryoma Airport is connected with central Kochi (JR Kochi Station) by airport bus. The one way trip takes about 40 minutes and costs 740 yen.
By train
Take the JR Tokaido/Sanyo Shinkansen from Tokyo to Okayama (3.5 hours) and transfer to a JR Nanpu limited express train for Kochi (2.5 hours). The entire one way trip takes around six hours and costs about 20,000 yen. Because the Japan Rail Pass is not valid on Nozomi trains, pass holders have to use Hikari or Sakura trains between Tokyo and Okayama, which can add more than an hour to the travel time. Otherwise, the pass fully covers the trip.
By highway bus
Several overnight highway buses operate between Tokyo and Kochi. The one way trip takes about 11.5 hours and costs 14,500 yen. This route is also served by discount buses companies that offer lower fares. Online reservations can be made through Japan Bus Online.
Above fees and schedules are subject to change. For the current yen exchange rate, click here.
Getting around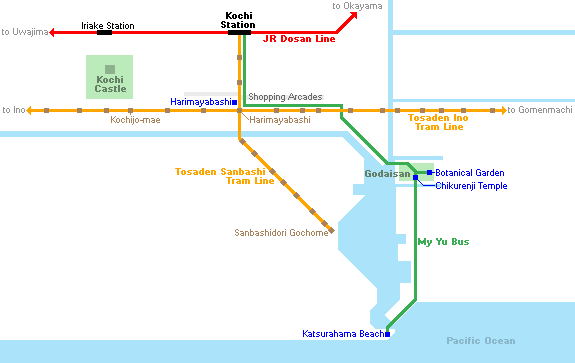 Even though Kochi is a small city, its sights are spread over a wide area. Kochi Station lies at the north end of town. While Kochi Castle and the downtown area around Harimayabashi are within walking distance of the station, Mount Godaisan (4 kilometers southeast of Kochi Station) and Katsurahama Beach (8 kilometers south of Kochi Station) are not centrally located.
Kochi is served by two tram lines, operated by Tosaden, the local railway company. One line runs north-south (Sanbashi Line) and the other runs east-west (Ino Line). They meet each other at Harimayabashi in the city center. The fare is a flat 200 yen per ride in the city center.
Trams are used in a similar way as local buses: You enter through the rear door and take a ticket, and you leave through the front door after depositing the fare into the box next to the driver. Passengers transferring between the two lines need to ask the driver for a transfer ticket ("norikae-ken") when exiting the first tram.
Tosaden also operates buses that provide access to Katsurahama Beach. Furthermore, there is the My Yu Bus, a bus line for tourists, which connects central Kochi with Godaisan and Katsurahama every 1-2 hours. The cost is 600 yen for a day of unlimited rides between Kochi Station and Godaisan, 1000 yen for a day of unlimited rides between Kochi Station and Katsurahama and 1600 yen for a 2-day pass. Foreign tourists qualify for a 50% discount if they purchase these passes at Kochi Station (passport required).
Kochi Ryoma Airport, named after local hero Sakamoto Ryoma, is located to the east of the city. It is connected to Kochi Station via an airport bus (40 minutes, 740 yen one way).

Questions? Ask in our forum.