How to get to Kurashiki
It is generally easiest to access Kurashiki by train from Okayama (how to get to Okayama). Okayama Station and Kurashiki Station are connected by frequently departing local and rapid trains along the JR Sanyo Line. The one way trip takes around 15 minutes, costs 320 yen and is fully covered by the Japan Rail Pass and the JR Kansai Wide Pass.
Kurashiki also has its own shinkansen station, Shin-Kurashiki Station, but it less conveniently located than Kurashiki Station and is only served by Kodama trains.
Above fees and schedules are subject to change. For the current yen exchange rate, click here.
Orientation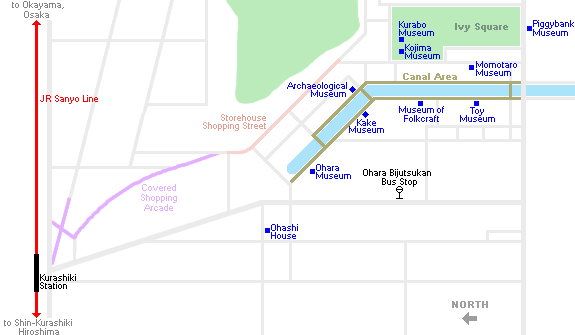 Kurashiki Station in central Kurashiki is served by local, rapid and limited express trains along the JR Sanyo Line. Shin-Kurashiki Station, located about nine kilometers outside of the city center, is served by both the JR Sanyo Line and the JR Sanyo Shinkansen. The one way train ride between the two stations takes about 10 minutes and costs 200 yen. There are frequent departures.
Kurashiki's attractions are all centered around the city's historic canal district, which is a 10-15 minute walk from Kurashiki Station's south exit. A main road, Motomachi-dori, leads south from the station to the canal area, but walking through a parallel shopping arcade is more enjoyable and almost as fast.
Travelers, who would rather not walk from the station, can take a bus to Ohara Bijutsukan bus stop (2 minutes, 170 yen), which is located just beside the Ohara Museum.
External Links and Resources