How to travel between Izumo and Tokyo
By JR daytime trains
Take the JR Tokaido/Sanyo Shinkansen from Tokyo to Okayama (200 minutes by Nozomi, 240 minutes by Hikari, multiple trains per hour) and transfer to a JR Yakumo limited express train to Matsue (2.5 hours, one train per hour) or Izumo (3 hours, one train per hour). The one way fare is slightly under 20,000 yen.
The Japan Rail Pass fully covers the journey if Hikari trains are used between Tokyo and Okayama, but the pass is not valid on Nozomi trains.
By JR night train
The "Sunrise Izumo" night train operates daily between Tokyo, Matsue and Izumo. One way fares including berth fee, start around 21,000 yen.
Japan Rail Pass holders have to pay around 9500 yen additionally for using a berth, except when using so called "nobi nobi" compartments, which can be used for free with the pass. Nobi nobi compartments are small spaces of carpeted floor to lie down. They are popular and often book out in advance.
By air
JAL operates multiple flights per day between Tokyo's Haneda Airport and Izumo Airport (flight time 90 minutes). The regular one way fare is about 34,000 yen, but by using a discount offer, you can usually fly for around 15,000 to 24,000 yen. Air passes can be even cheaper. Izumo Airport is a 30 minute bus ride from Matsue Station (1030 yen) and Izumoshi Station (720 yen).
ANA operates multiple flights per day between Tokyo and Yonago Airport. Flight time is 75 minutes. The regular one way fare is about 33,000 yen; however, discount tickets are usually available for between 15,000 to 24,000 yen. Yonago Airport is a 45 minute bus ride from Matsue Station (990 yen).
By highway bus
Matsue and Izumo are connected with Tokyo by a night bus, operated daily by Ichibata Bus and JR Chugoku Bus. The one way ride takes 12 hours and costs 11,400 yen to Matsue and 11,800 yen to Izumo Taisha. The route is also served by discount bus companies such as Willer Bus with tickets available from around 6,000 yen. If used effectively, the Japan Bus Pass can reduce the cost for the bus trip to around 3,000 yen. Online reservations can be made through Willer.
Above fees and schedules are subject to change. For the current yen exchange rate, click here.
Orientation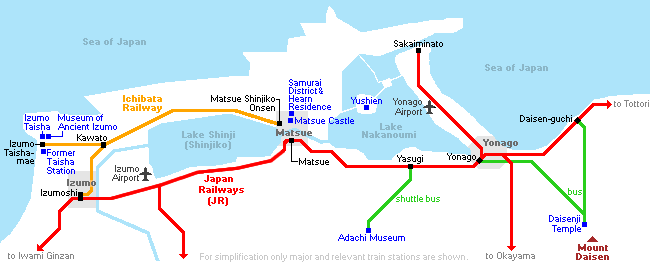 Izumo is located about 30 kilometers west of Matsue, the capital and largest city of Shimane Prefecture. The main entry point to Izumo is Izumoshi Station from where Japan Railways (JR) provides connections to Matsue and the rest of Japan. The station is also served by the local Ichibata Railways, whose network connects Izumo with Matsue and Izumo Taisha.
While Izumoshi Station is located in central Izumo, Izumo Taisha and the city's other tourist attractions are located several kilometers north of the city center. Direct buses (25 minutes, 520 yen one way, 2 buses/hour) and Ichibata Railway (25 minutes, 490 yen one way, one connection/hour, transfer required at Kawato Station along the way) connect Izumoshi Station with the shrine area.
Izumo Airport is located a few kilometers east of Izumo's city center and connected with Izumoshi Station by buses that are timed to flight arrivals and departures (720 yen one way).