Gujo-Hachiman: Getting there and around
Getting around
Gujo's town center is relatively small and can be explored entirely on foot. Alternatively, you can rent bicycles from the tourist information office for 300 yen per day. Of all major sightseeing spots, only the Iwasaki Sample Village near the railway station and the Otaki Cave are not located in the town center.
Gujo's railway station, Gujo-Hachiman Station, however, is situated more than one kilometer west of the town center, close to Iwasaki Sample Village. Similarly inconvenient is the location of the highway bus stop "Gujo-Hachiman Inter" where many highway buses from Nagoya stop.
Much more centrally located is the "Gujo-Hachiman Jokamachi Plaza" bus terminal, which is served by some buses from Nagoya and all buses from Gifu. A loop bus, called Mame Bus, runs hourly between the railway station, the "Shimo-Osakicho" bus stop near the expressway and Jokamachi Plaza in the town center in both directions. One ride costs 100 yen, while a day pass for unlimited rides on a given calendar day costs 200 yen.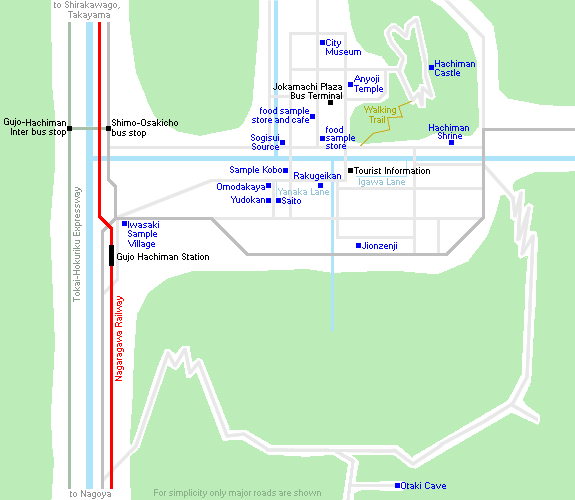 Questions? Ask in our forum.