Yamanouchi: Getting there and around
How to get to Yamanouchi
Most visitors to Yamanouchi will access the town from Nagano City (how to get to Nagano).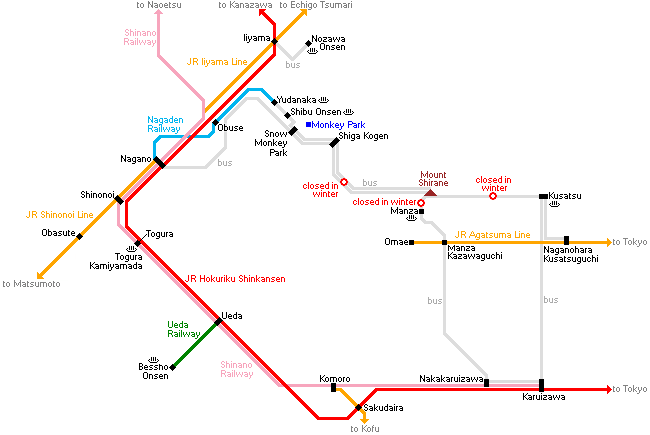 A useful pass for visiting Yamanouchi is the "Snow Monkey Pass", a discount ticket that combines unlimited use of Nagaden trains and buses between Nagano and Yamanouchi with admission to the monkey park for 3600 yen. The pass is valid on two consecutive calendar days and covers all trains between Nagano and Yudanaka (including limited express trains), express buses between Nagano and the Snow Monkey Park bus stop and local buses between Yudanaka and Kanbayashi Onsen. It can be purchased at Nagaden Nagano Station.
By train from Nagano
Nagaden (Nagano Electric Railway) operates one to two trains per hour between Nagano (underground Nagaden Nagano Station, next to JR Nagano Station) and Yamanouchi (Yudanaka Station). About half of the trains are local (70 minutes, 1190 yen one way, one transfer at Shinshu-Nakano Station along the way) and half are limited express (50 minutes, 1290 yen one way, direct). The trains are not covered by the Japan Rail Pass.
By express bus from Nagano
Nagaden operates express buses between Nagano (East Exit of Nagano Station) and Shiga Kogen. There are four buses per day in summer and around ten buses per day in winter. The buses do not stop in central Yudanaka or Shibu Onsen, but they stop at the Snow Monkey Park bus stop (40 minutes, 1500 yen one way) from where the Jigokudani Monkey Park can be reached. In Shiga Kogen, all buses stop at Hasuike (70 minutes, 1800 yen), and some continue in direction of either Oku Shiga Kogen or Mount Yokoteyama.
By bus from Kusatsu Onsen
From late April to early November, Yamanouchi and Kusatsu Onsen are connected with each other by hourly bus connections via Mount Shirane (currently out of service) where a transfer of buses is required. The bus ride between Yamanouchi (Yudanaka Station) and Mount Shirane takes 70 minutes and costs 1700 yen one way, and buses also serve the Snow Monkey Park bus stop. The ride between Mount Shirane and Kusatsu Onsen takes 30 minutes and costs 1150 yen. Some of the buses between Mount Shirane and Kusatsu Onsen are operated by JR and are covered by the Japan Rail Pass. All other buses are not covered by the pass.
Above fees and schedules are subject to change. Be sure to check current yen exchange rates.
Getting around
Yamanouchi is a municipality in northern Nagano Prefecture. Western Yamanouchi is relatively flat and consists of the area's populated areas, including the hot spring resort towns of Yudanaka Onsen and Shibu Onsen. East of those towns, Yamanouchi becomes mountainous and only sparsely populated. This is where the Jigokudani Monkey Park and Shiga Kogen are located.
Trains go only as far as Yudanaka Station. From Yudanaka Station, there are bus lines to Shiga Kogen (about one bus per hour) and Kanbayashi Onsen (also about one bus per hour). Both bus lines stop at Shibu Onsen and then at Kanbayashi Onsen, from where a hiking trail leads to the Jigokudani Monkey Park. Note that buses along the Shiga Kogen line stop at the "Snow Monkey Park (Kanbayashi Onsen-guchi)" bus stop as opposed to the "Kanbayashi Onsen" bus stop, which is a few steps closer to the trailhead.
Map of Shiga Kogen in winter: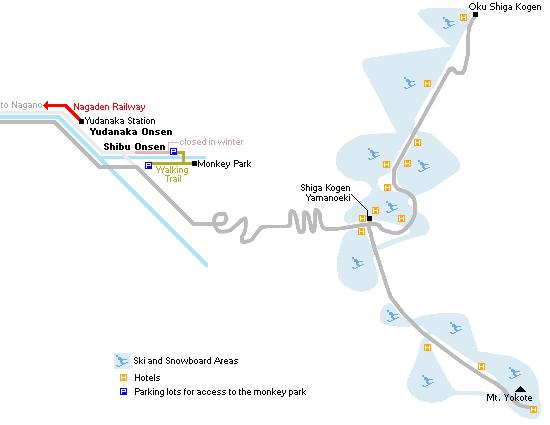 Questions? Ask in our forum.
Wafu-no Yado Masuya

A tasteful, authentic ryokan with over 140 year history. Free shuttle to the Monkey Park. Savor the award winning dinner. 100% natural onsen and Free Wi-Fi.

View site

Sponsored

Yudanaka Seifu-so

A traditional ryokan with wooden building by Yudanaka Station. Unique onsen - private, open-air, apple, leaf baths etc.

View site

Sponsored
Top rated in Yamanouchi
powered

by