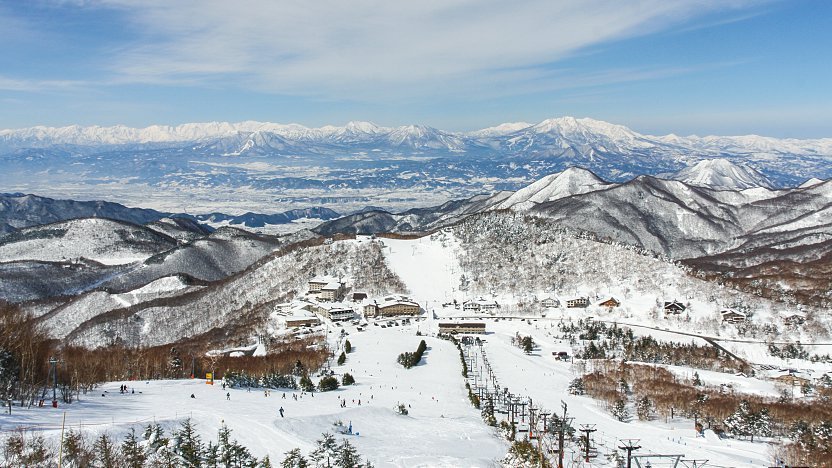 The Shiga Kogen Ski Area (志賀高原, Shiga Kōgen) is a group of 19 ski resorts that have joined together to create the largest combined ski area in Japan. Shiga Kogen is so large that it would take at least two days to cover it all, yet a single lift ticket gives you access to all 52 lifts, gondolas and ropeways in the area.
Located in the highlands of Nagano Prefecture, Shiga Kogen is divided into two areas that are joined at Hasuike. The southern area leads to the top of the 2305 m tall Mount Yokote and has ski runs and hot springs along the way to the summit.
The northern area leads to Oku Shiga Kogen and is flanked by a number of 2000 m high peaks providing an immense area for skiers and snowboarders to explore. The northern area's Higashidateyama Resort hosted the slalom and giant slalom events of the 1998 Nagano Winter Olympics.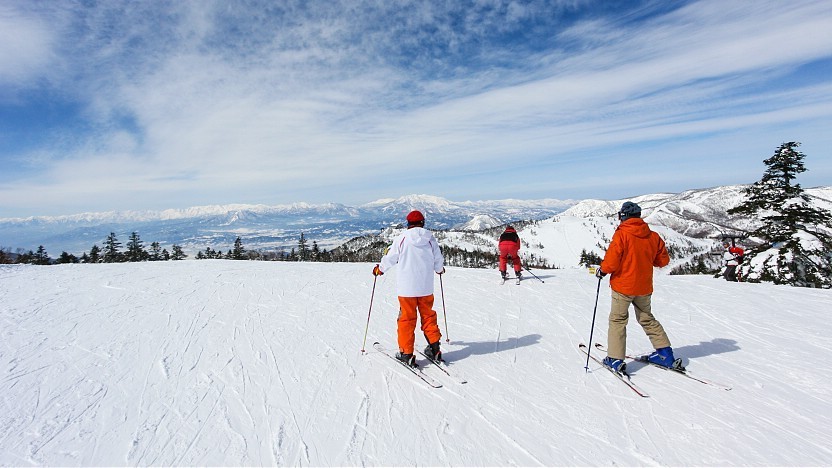 Lift tickets cost 5000 yen (plus a 500 yen deposit that is refunded when you return your IC card lift pass) and give you access to all of the resorts in Shiga Kogen. Most of the ski areas are connected such that you can easily travel between them on ski or snowboard; however, there is also a shuttle bus that serves the resorts from December to early May (free for lift ticket holders).
Accommodation is provided by the many hotels located throughout the area, especially around Hasuike. Shiga Kogen does not have much of a town, so after ski activities usually take place at the hotel. Entertainment can also be found at the nearby hot spring resort towns of Shibu Onsen and Yudanaka Onsen or the Jigokudani Monkey Park, whose wild monkeys bathe in natural hot springs.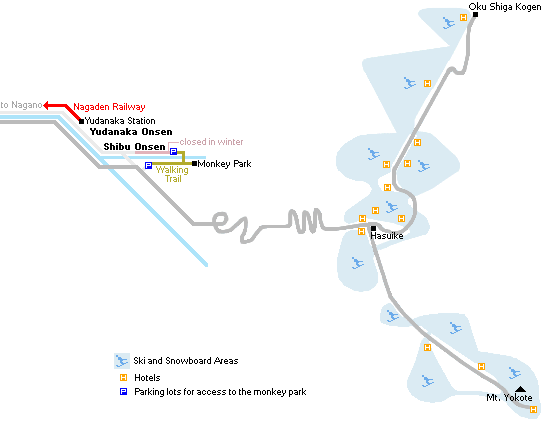 By local bus from Yudanaka Station
There is approximately one bus per hour from Yudanaka Station to Shiga Kogen, stopping at Shibu Onsen shortly after leaving Yudanaka. In Shiga Kogen, all buses stop at Hasuike (30 minutes, 840 yen) to make a connection with a bus bound for southern Shiga Kogen and before continuing on to Oku Shiga Kogen.
From late April to early November, some buses continue as far as Mount Shirane, where travelers can transfer to a different bus down to Kusatsu Onsen.
By express bus from Nagano Station
The Nagaden Shiga Kogen Express serves various stops in Shiga Kogen. During the ski season, buses depart Nagano Station about once an hour. All buses stop at Hasuike (70 min, 1700 yen) from where the majority continue on to Oku Shiga Kogen while a few continue south. In addition, there are shuttle buses serving the northern and southern resorts from Hasuike.
Outside of winter, express buses from Nagano to Shiga Kogen operate less frequently. From late April to early November, some continue as far as Mount Shirane, where traveler can transfer to a different bus down to Kusatsu Onsen.
How to get to and around Yamanouchi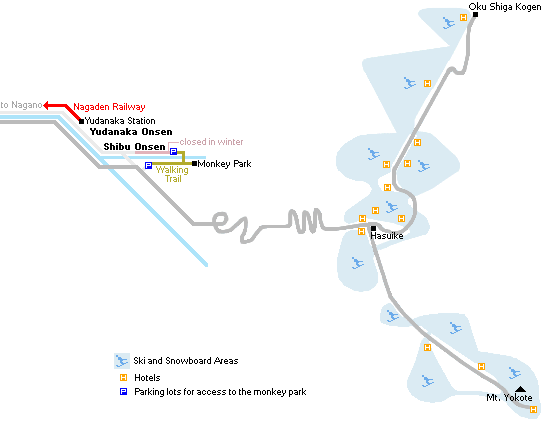 External Links and Resources