Shiga Kogen Ski Resort
The largest ski resort in the country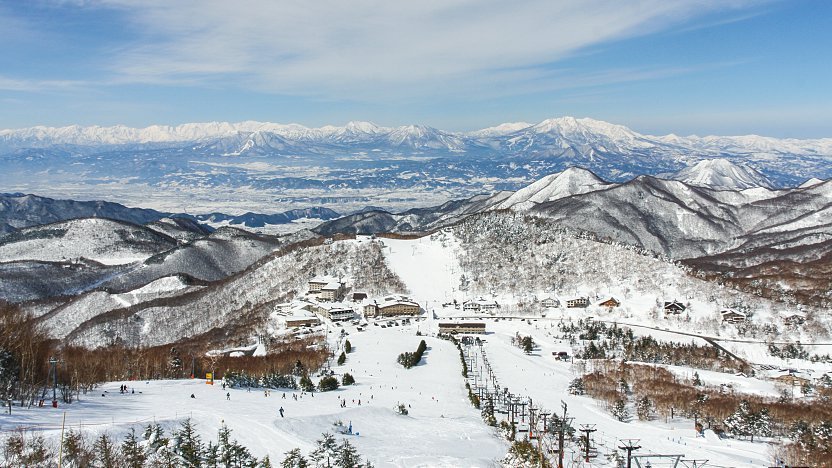 The Shiga Kogen Ski Area (Žu‰ê'Œ´, Shiga Kōgen) is a group of 18 ski resorts that have joined together to create the largest combined ski area in Japan. Shiga Kogen is so large that it would take at least two days to cover it all, yet a single lift ticket gives you access to all 48 lifts, gondolas and ropeways in the area.
Located in the highlands of Nagano Prefecture, Shiga Kogen is divided broadly into two areas that are joined at a central intersection near the Shiga Kogen Yamanoeki bus stop. The southern area leads to the top of the 2305 meter tall Mount Yokote and has ski runs and hot springs along the way to the summit.
The northern area leads to Oku Shiga Kogen and is flanked by 2000 meter high peaks providing an immense area for skiers and snowboarders to explore. The Higashidateyama Resort hosted the slalom and giant slalom events of the 1998 Nagano Winter Olympics.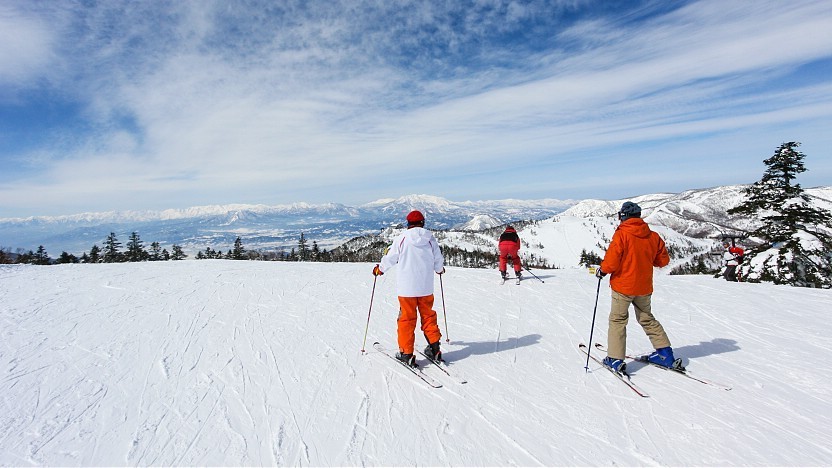 Lift tickets cost 6500 yen and give you access to all of the resorts in Shiga Kogen on one day. Most of the ski areas are connected such that you can easily travel between them on ski or snowboard; however, there is also a free shuttle bus that connects the various resorts during the ski season.
Accommodation is provided by the many hotels located throughout the area, especially around the central intersection. Shiga Kogen does not have much of a town, so after ski activities usually take place at the hotel. Entertainment can also be found at the nearby hot spring resort towns of Shibu Onsen and Yudanaka Onsen or the Jigokudani Monkey Park, whose wild monkeys bathe in natural hot springs.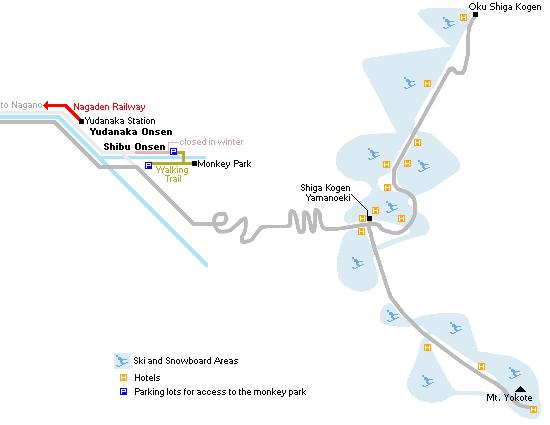 By local bus from Yudanaka Station
There is approximately one bus per hour from Yudanaka Station to Shiga Kogen, stopping at Shibu Onsen shortly after leaving Yudanaka. In Shiga Kogen, all buses stop at the Shiga Kogen Yamanoeki bus stop (30 minutes, 900 yen) to make a connection with a bus bound for southern Shiga Kogen and before continuing on to Oku Shiga Kogen.
By express bus from Nagano Station
Express buses from Nagano serve various stops in Shiga Kogen. During the ski season, buses depart Nagano Station about once an hour. All buses stop at the Shiga Kogen Yamanoeki bus stop (70 minutes, 2200 yen) from where the majority continue on to Oku Shiga Kogen while a few continue south. In addition, there are free shuttle buses that connect the various ski resorts with each other.
Outside of winter, the express buses between Nagano and Shiga Kogen operate only about once every 2-3 hours. From late April to early November, one round trip per day continues via Mount Shirane all the way to Kusatsu Onsen.
How to get to and around Yamanouchi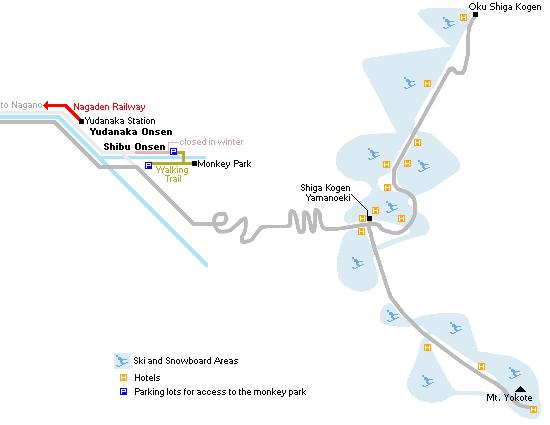 Questions? Ask in our forum.
Yudanaka Seifu-so

A traditional ryokan with wooden building by Yudanaka Station. Unique onsen - private, open-air, apple, leaf baths etc.

View site

Sponsored

Hotel Tsubakino

Hotel Tsubakino is an onsen ryokan with traditional setting and modern comfort. Enjoy the majestic views of mountains while bathing in the open-air private onsen. 3 min from Yudanaka Station.

View site

Sponsored

Wafu-no Yado Masuya

A tasteful, authentic ryokan with over 140 year history. Free shuttle to the Monkey Park. Savor the award winning dinner. 100% natural onsen and Free Wi-Fi.

View site

Sponsored
Top rated in Yamanouchi
powered

by