Shibu Onsen
Attractive, old-fashioned hot spring town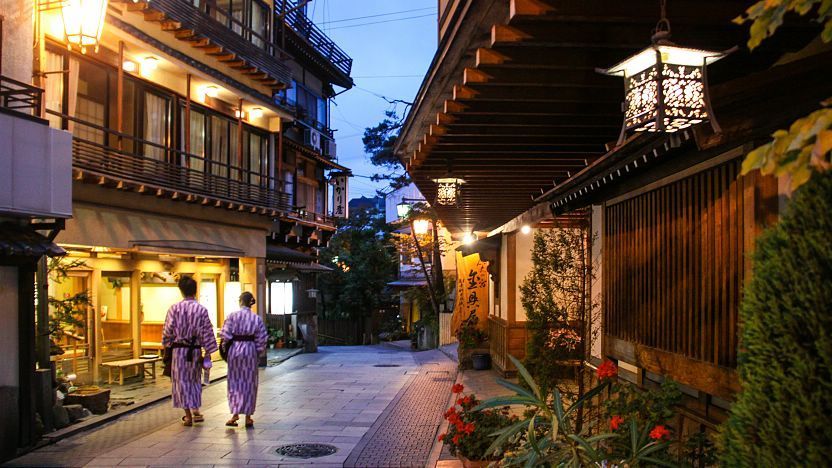 Shibu Onsen (a‰·ò) is a historic and attractive hot spring town in Yamanouchi, which has retained a traditional atmosphere. Nestled in a small valley, Shibu Onsen is spread out on a gentle slope beside the Yokoyugawa River, with Yudanaka Onsen located below and the Jigokudani Monkey Park above.
During its long history, the area has been visited for its hot spring water by a lot of people, including priests, samurai and poets. Some of the ryokan (Japanese style inns) that line Shibu's narrow streets, date back over 400 years, adding greatly to Shibu's atmosphere. Guests of the ryokan are encouraged to take a stroll around town in the traditional onsen clothing of yukata robes and geta sandals.
One incentive to walk around the town is to make use of the public bath houses, of which there are nine. The public baths are locked and, except for one, accessible only to locals and overnight guests, who are provided with a master key by their ryokan. The bath houses are small and gender-separated, and the baths themselves are quite simple. The bath houses are numbered, but also have special names and cure different ailments.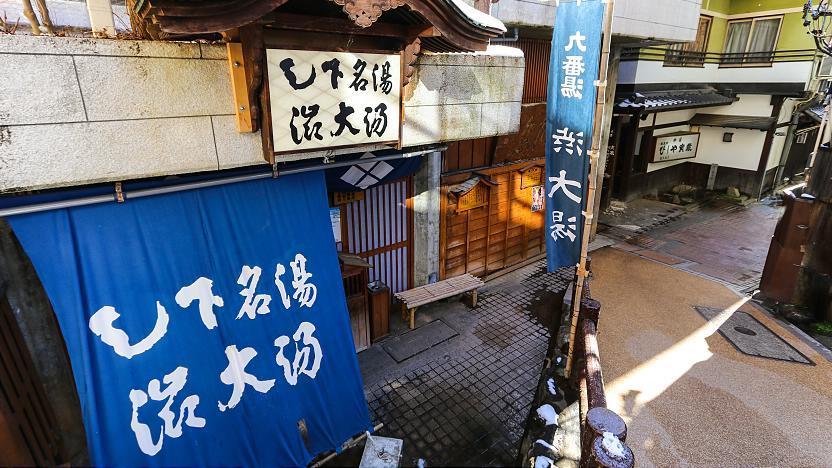 It is said that good fortune comes to those who visit all nine bath houses. Special cloths are sold for collecting stamps from each bath house and make nice souvenirs. The stamps are found in front of each bath house. Although the bath house tour can be done only by overnight guests, the ninth and largest of the bath houses, the "Oyu" bath house, is also open to day trippers. The Oyu is located in the center of town, and its waters are quite hot.
When passing through Shibu, people can often be seen in the streets wearing their yukata, likely traveling between public baths. There are also sometimes other, uninvited guests roaming the streets who wear nothing at all. Rarely observing proper onsen etiquette, monkeys from the neighboring forests occasionally descend into the town in search of food. It is unlikely to encounter the monkeys in the bath houses though, as they seem to prefer their own bath at the nearby Jigokudani Monkey Park.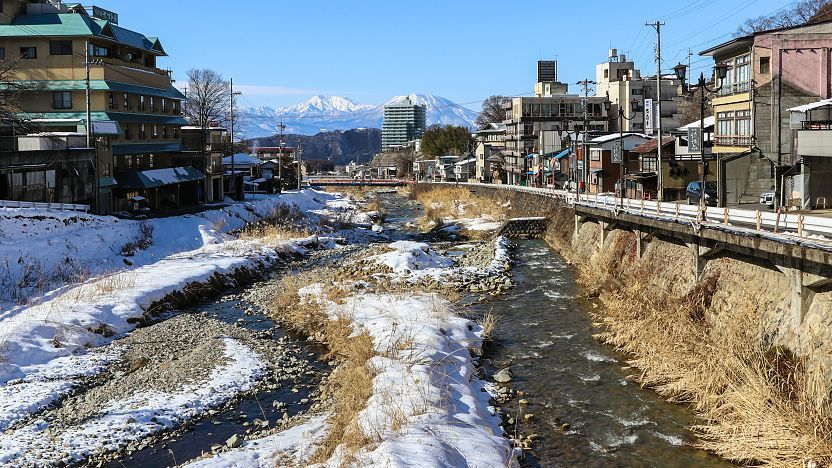 One or two buses per hour travel from Yudanaka Station to Shibu Onsen (5 minutes, 210 yen one way). Alternatively, it takes about five minutes and 1000 yen by taxi or around 30 minutes on foot.
How to get to and around Yamanouchi

Oyu public bath (for daytrip visitors)
Hours
10:00 to 17:00 (from 13:00 on Mondays, Wednesdays and Fridays)
Closed
Irregular closure for cleaning
Admission
500 yen (pay at the tourist information center)
Questions? Ask in our forum.
Wafu-no Yado Masuya

A tasteful, authentic ryokan with over 140 year history. Free shuttle to the Monkey Park. Savor the award winning dinner. 100% natural onsen and Free Wi-Fi.

View site

Sponsored

Yudanaka Seifu-so

A traditional ryokan with wooden building by Yudanaka Station. Unique onsen - private, open-air, apple, leaf baths etc.

View site

Sponsored

Hotel Tsubakino

Hotel Tsubakino is an onsen ryokan with traditional setting and modern comfort. Enjoy the majestic views of mountains while bathing in the open-air private onsen. 3 min from Yudanaka Station.

View site

Sponsored
Top rated in Yamanouchi
powered

by